Sunday mornings that start out with a skillet full of protein and vegetable love are good. No, let me rephrase that: they are great. We all know that Sunday mornings in my house are almost sacred; I'm in the kitchen, everyone is in pajamas still and I am almost always making a new dish that I have been waiting to try out.
People just don't eat enough beans for breakfast. There, I said it. I am a huge think-outside-the-box person when it comes to breakfast. I'll eat leftover dinner, if the desire hits me, while most people – my husband included- shudder at the fact that I eat leftover roast beef and/or noodles/perogies/you name it for breakfast.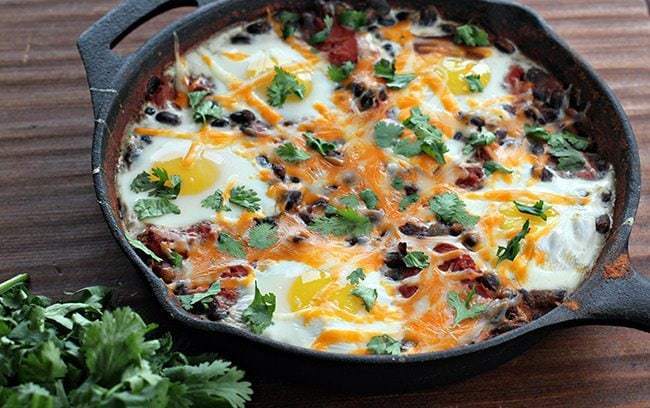 I really wanted something thick and beany. Not hot and spicy, not full of tomatoes so that it overpowered the bean taste, but a dish that you could taste the beans and savor the drippy egg yolk with.
This is that dish.
Let's take a closer look at those gorgeous, drippy egg yolks and cilantro over beans.
Just. So. Good.
It is seriously so darn delicious. My son took leftovers for lunch today at school and I couldn't be happier that he's getting a super healthy protein boost at lunchtime.
I could eat this every morning, if I didn't have to eat my darn oatmeal sometimes too.
Bah. Oatmeal.
Now while this isn't something that I generally have time for during the week, I was thinking of prepping the beans and tomatoes the night before. The reducing is what makes this so thick and lovely, instead of a watery bean dish, it's the most important step in the whole recipe. If you did the reducing the night before you could just warm it on the stove quickly, pop the eggs in and you have a ten minute breakfast!
So. Are you brave enough to eat beans for breakfast? I am certainly going to be playing around with more beans in skillets for meals the next few weeks, I have a few ideas that I can't wait to try out!
And another thing, is anyone else an "eat anything for breakfast" type of person like I am? Or is it just me?
Love you more than chocolate!
Karlynn
Mexican Bean Breakfast Skillet
A healthy protein packed skillet breakfast full of beans, stewed tomatoes and eggs on top!
Ingredients
1 tsp . ground cumin1 oz can black beans rinsed and drained well 19 .1 oz can of stewed tomatoes (use flavored if you can Italian spiced or peppers), 195 eggs1/4 cup grated low-fat cheesechopped cilantro for garnish optionalsalt & pepper to taste
Instructions
Pre-heat the oven to 450 degrees.Combine the beans, tomatoes and cumin in the cast iron skillet. Cook on medium heat until the tomato juice had been reduced almost completely. This can take up to ten minutes, but it's worth the effort! If you lack time, drain out most of the tomato juice and simmer a few minutes.Make five little pockets in the bean mixture and crack an egg into each.Place in the 450 degree oven and bake for approximately 5 minutes, you want the eggs still wobbly and not cooked all the way.Remove from the oven and sprinkle the cheese on top.Place back into the oven until the cheese on top is melted.Remove, garnish with cilantro and serve!
Nutrition Facts
Mexican Bean Breakfast Skillet
Amount Per Serving (5 g)
Calories 0
* Percent Daily Values are based on a 2000 calorie diet.
15