This post may contain affiliate links. See my privacy policy for details.
If I had a million dollars….I'd buy all theeeese…..
Be very,very glad you can't hear my singing voice in real life.
'Tis the season for everyone and their horse-this is Alberta, after all – to start compiling lists of everything they have coveted or fancied all year long and recommend it to their readers. It won't come to anyone's surprise that a lot of my recommendations this year involve food, things that have to do with eating, creating or looking at food.
If I had an unlimited budget, I would buy everything on this list.
They Live Local, They Give Local
For my local Edmontonians, I highly suggest a gift certificate to a local, non-chain restaurant. The places that top my list, in random order of course, are:
The Hardware Grill. The Hardware Grill has, for years, been the place to go for a night out. If it's where Gordon Ramsey decided to pop by when he was in Edmonton last year, then you know it's reputation is sterling. And well deserved, I might add. Giving this as a gift is going to make you someone's favorite person.
Highlands Kitchen. The Culina family of restaurants are fine Canadian prairie cooking at it's best, with just enough delightful multicultural twists thrown in to mix it up. Which exactly sums up what this amazing province is.
L2 Grill at West Edmonton Mall. Now in all fairness I have to admit a little bias on my part because I think Chef Shane Chartrand is a great guy in real life. L2 is where we chose to go for our anniversary this summer and he did not disappoint. This is your no-fail gift. The menu has something for everyone and if you give this, write a little note advising, nay, demanding that they try the Crepes Suzette. Plus everyone should go try out their award winning chili. The kids gave this idea a goofy thumbs up, as only they can.
Why only three? And why these three? There are so many fabulous places to dine in Edmonton, I had to come up with a method to narrow the list. A list of a bazillion restaurants is pretty pointless. Three. Done. Like it or ignore it.
There's an important underlying reason to my logic, one that made my decision easy this year with whom to feature. All three of these places are heavily involved in supporting their communities. There are lots of places that help out the community in Edmonton, but these are three I can name for sure. From the downtown chili contest, to supporting their local schools and even lunch programs, I know that these three give time, money and help to those who need it.
By purchasing gift certificates to these places you are supporting local businesses that turn around and support their community. I don't think many people realize this, because either they don't pay attention or it just doesn't end up in the papers. You don't see these businesses touting their good deeds all over town.
But since I am all-seeing and all-powerful, I know how great these guys are. All bow to Magpie the Great and Terrible.
Indulgence. Wicked, wicked indulgence.

Treat someone that you love very, very much to a gift certificate from Duchess Bakeshop. If I had my way I would have an unlimited gift card to Duchess. Which would result in my having to eat Brioche Pepin on the treadmill (Bride Wars, anyone?) but my god, it would be worth it. Or pick up their gift package of macarons guaranteed to amaze the recipient. Santa, I've been very good, (or naughty, if you like) please put one of these in my stocking.
Sylvan Star Cheese, the Old Grizzly Gouda, to be precise. We are addicted. Hit up the Italian Center here in Edmonton to get your fix.
Rhubarb wine with the irresistible name of Calypso from En Sante winery. Amazing organic wine from right here in Alberta! For another great taste, try their Saucy Saskatoon.
Stop Spending the Dime and Go For Time
Last Christmas/birthdays the best friend and I decided to skip the gifts for each other and spend a week together in BC, both families. Best Christmas and birthday present ever. Coming up with a unique idea that you follow through on can be the best idea of all. Combine this with helping others at Christmas time, and we have a winner, folks! And here we go with local ideas:
Because This Is My Site and I Can Dream If I Want To:
I want a Ryan for Christmas. Either model will suffice.
Canned unicorn meat from ThinkGeek. Because to be honest, Mr Magpie and I laughed our faces off when I showed him this. And then I read the caption "There's Magic in Every Bite" and we laughed until tears streamed down our cheeks. And then we went to the website and cried some more. Merry Christmas, you're welcome for the laugh.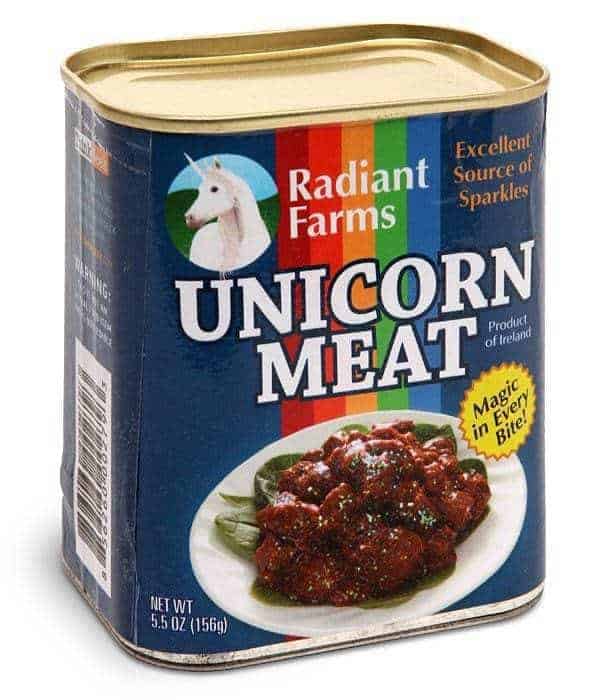 So there's my list. I warned you that it involved food, but I bet you never saw the canned unicorn coming. The deep, evil, sinister joker part of me wants to purchase it and stick it in the pantry, right next to the Cheerios. I wonder what would happen….
Love,
No Really, A Ryan For Christmas Would Be Great Magpie