I didn't know you could do dumplings on top of stews in the crock pot, so I figured maybe  someone else out there doesn't know. It is just a simple little recipe for tasty dumplings, but I love that you can throw them in the crockpot as well. I just tried it and it worked. Who knew?
Ingredients :
1 cup of flour
2 tsp of baking powder
1 tsp of sugar
1/2 tsp salt
1 tbsp butter/margarine
1/2 cup of milk
Mix your dry ingredients together.
Cut in the butter.
Add you milk and mix well.
Drop by large tablespoonful onto the top of your stew/soup concoction in the crockpot.
Seal the crockpot with tinfoil and the lid. Steam them for about 30 minutes.
Voila! Perfectly done dumplings!
Magpie's Crockpot Dumplings
Perfect way to make dumplings on top of your stew in the crockpot.
Course: Dinner
Cuisine: Dumplings
Servings: 4
Calories: 164 kcal
Ingredients
4 cups chopped Rotisserie Chicken dark and white meat
2 tablespoons butter
1 medium white onion finely diced
1 cup diced celery
2 cups chopped carrots
2 cups sliced fresh mushrooms
2 tsp poultry seasoning
6 cups of chicken broth
Homemade Dumplings
1 cup all purpose flour
2 tsp baking powder
1 tsp white sugar
1/2 tsp salt
1 tbsp butter
1/2 cup milk
Instructions
Place the chicken, butter, soups, broth, seasoning and onion in a slow cooker, and fill with enough water to cover.

Cover, and cook for 5 to 6 hours on High. About 30 minutes before serving, remove the chicken breasts and shred on a plate. Return to the slow cooker.

Heavily flour your work surface. Take the biscuits out of the containers and roll them out into thinner pieces on the flour. Cut into strips 1/2 inch wide and place in the slow cooker, making sure that the dough is submerged in the liquids to cook. Cook until the dough is no longer raw in the center, around 30-40 minutes.
Nutrition Facts
Magpie's Crockpot Dumplings
Amount Per Serving (4 g)
Calories 164 Calories from Fat 36
% Daily Value*
Total Fat 4g 6%
Saturated Fat 2g 10%
Cholesterol 10mg 3%
Sodium 332mg 14%
Potassium 326mg 9%
Total Carbohydrates 27g 9%
Sugars 2g
Protein 4g 8%
Vitamin A 2.8%
Calcium 14.7%
Iron 9.2%
* Percent Daily Values are based on a 2000 calorie diet.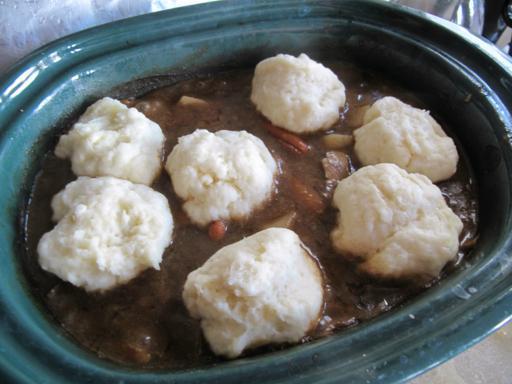 71