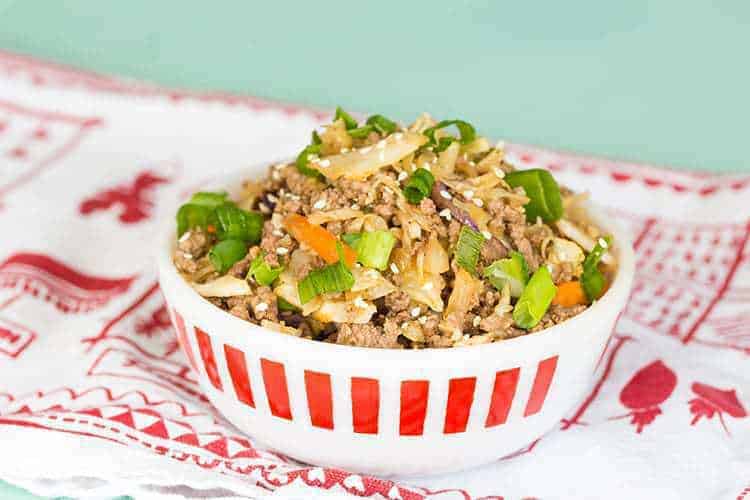 Crack Slaw.
I know, nice name, nice name, but I didn't name this dish. Which, by the way, I came across while on the hunt for low carb recipes for those family members of mine that like to stick to low carb. I like to blame them, but to be honest Mike and I both really try to stick to vegetables and proteins as much as we can for breakfast and lunch, to make up for all the breakfast poutine and cocktails we have on the weekends, of course.  So this crack slaw had really intrigued me, as everyone raves about it, calling it a low-carb saviour thanks to the delicious flavours.
Thus "crack" slaw, of course.
LOW CARB CRACK SLAW!

It actually IS dangerously delicious! Who's tried it?

Share and tag someone you know who needs a good low carb recipe.

Full recipe here: https://www.thekitchenmagpie.com/low-carb-crack-slaw-recipe-video/

Posted by The Kitchen Magpie on Friday, March 24, 2017
Now obviously I don't dabble in hard drugs, but really, is crack STILL the gold standard? It was when I was in high school – pretty sure that's when it became a commonplace phrase- but I'm pretty sure things have changed in the last 20 years. Not that I would know, but really, if we are always going to slap the word "crack" on something, let's be sure that we know what we're about.
That's right, you come here to read nonsense.
Now, this is GOOD. Mike and I whipped it up for lunch on a video shoot day and scarfed it back between takes. It's spicy ( you can adjust that either way with the sriracha sauce) and full of flavour.
While I do love the ground beef, I wouldn't hesitate for a hot second to make this with ground turkey to cut the fat for those of you not doing the Keto diet ( which relies on animal fats as an energy source).  This is originally a Keto recipe – with a few cheats like the Splenda – and it's become mainstream thanks to the one-two-three punch of flavour that the garlic, sesame oil and sriracha add to plain ol' cabbage and meat.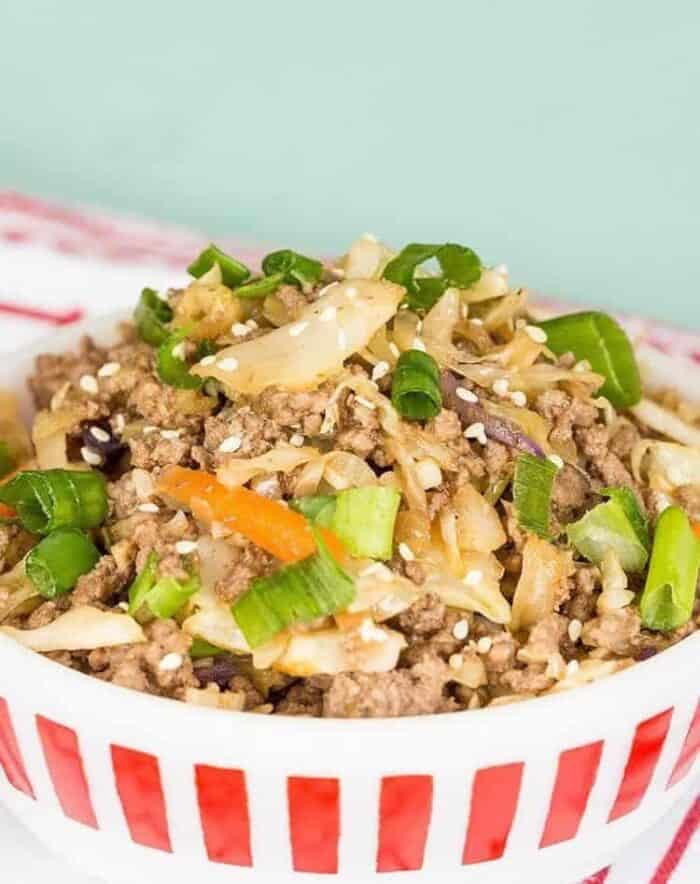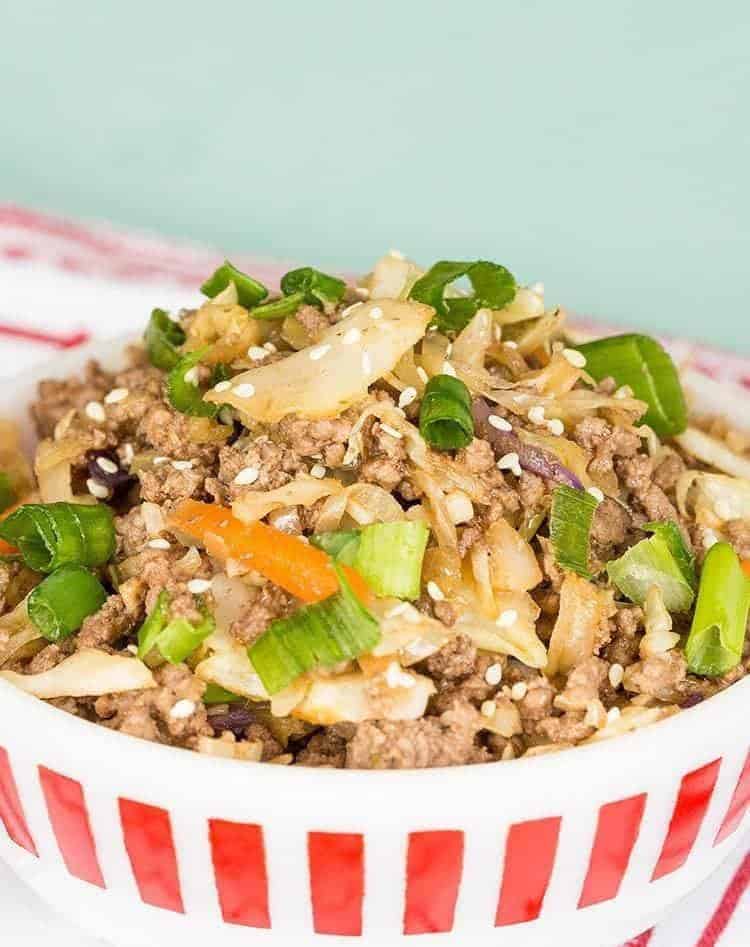 I will be making this with ground turkey and will check back in with an update, because this was hot, fast, easy and loaded with everything good for you protein and veggie-wise. What a way to get in your vegetables!
Have you made crack slaw before? What did you think?
Happy cooking babes!
Oh and for those who keep asking where I got my mermaid measuring spoons. Here you go:
Products from Amazon.com
‹
›
Love,
Karlynn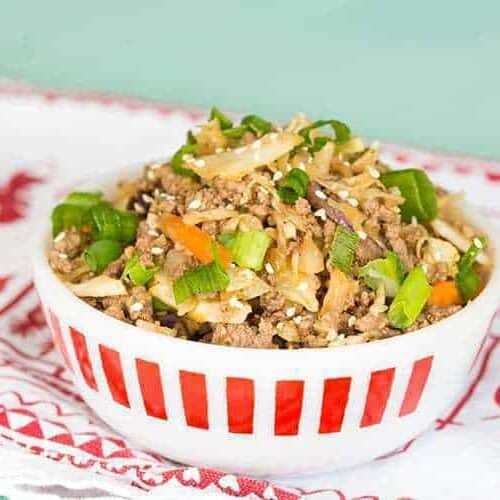 Low Carb Crack Slaw Recipe & Video
Ingredients
1

lb

lean ground beef

or chicken or turkey

4

cloves

garlic

minced

2

tbsp

sesame seed oil

6-7

cups

coleslaw mix

1-2

tbsp

sriracha

2

tbsp

soy sauce

2

tsp

white vinegar

1/2

tsp

white sugar OR splenda for low carb

1/2

tsp

salt

1/2

tsp

pepper

1

tsp

toasted sesame seeds

2-3

tbsp

green onion

chopped
Instructions
In a large skillet, fry the ground beef until cooked and no longer pink. Drain and return to the stove.

Push the ground beef to the side and add the sesame seed oil in the space. Add in the garlic and fry for 2-3 minutes, then mix into the ground beef.

Add in the coleslaw mix. Drizzle with sriracha, soy sauce and sprinkle with the sugar, salt and pepper. Fry for another 5 minutes until the cabbage is wilted to your liking.

Plate, then sprinkle with the toasted sesame seed and green onions.
Nutrition Facts
Low Carb Crack Slaw Recipe & Video
Amount Per Serving (4 g)
Calories 0
* Percent Daily Values are based on a 2000 calorie diet.
15