This post may contain affiliate links. See my privacy policy for details.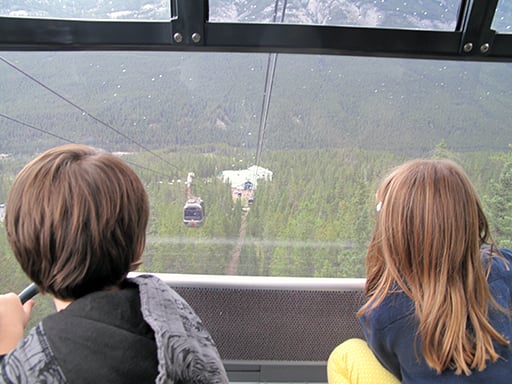 Only love for my children would have me pasting on a fake smile and not throwing up on my shoes.
Only love for my children would get me into a small tin container, held up only by cables strung up on a freaking mountainside.
Only love for my children would get me on a gondola.
And the mantra "there will be scenic pictures to be taken at the top."
Alas, it wasn't that scenic and it was pouring rain when we got up there. And we swayed our way up there, I might add.
That was a nice touch. Swaying on a thin cable wire.
But hey, that rain?
Phhht. We are tough, sturdy Canadian stock.
And smart.
We brought umbrellas.
Oh, so dismal, windy and wet.
But we were determined.
We were tough.
Gosh darn it, WE ARE CANADIAN!
So, being the true Canucks that we are, we traipsed into the cafeteria for some poutine.
And not only are we Canadian, we are Albertans.
Anyone know our famous weather adage here in Alberta?
"If you don't like the weather, wait 15 minutes!"
Taaaa-daaaaaa!
Good ol' Alberta magic!
Some seriously beautiful mountain shots are about to be shown.
My dad and brother.
The two children I love enough to go with them up here, even though I am terrified of heights.
I love this country.
Those gondolas sure look better when you aren't on one of them.
Remember the adage? Wait 15 minutes?
Our 15 minutes were up.
The clouds started rolling in again and by the time we hit the bottom-only figuratively thank god!– it was pouring rain.
It will be a long, long time before I get on another gondola. My knees are still knocking together with remembered fear.