We were so fortunate on our five-week long vacation that we only caught a bad cold literally the last day of it! How on earth that happened I don't know, but I suspect it was my militant hand washing regime that I enforced on the kids plus a pack of handwipes in my backpack at all times.
I knew the not-getting-sick honeymoon was over, however, when we were standing in line at Roger Rabbit and had a family of six literally coughing on our backs. Oh you guys, I wanted to bathe in hand sanitizer. A small, dark enclosed line up and a whole family just filling the air….I'm a not a germaphobe, but that just made me literally shiver in squeamishness.
And sick we did get. Horrible sore throats, runny noses, aches. Blech. We most certainly had our flu shots this year, there was no way we were travelling all over the place without it. So most likely we just picked up a cold – or because we had our shots, a milder flu which I suspect since Mike was achy and feverish one night- but we came home sick, sick, sick!
So sick the kids spent another three days at home recuperating instead of going back to school.
During that time, no matter how sick I was, I was so happy to get back into my kitchen. The first thing on my list was a cold butt kicking, nutritional powerhouse soup.
Onions and garlic – Allium superfoods. Garlic has allicin, a powerful antioxidant.
Carrots and sweet potatoes:  beta-carotene that our body converts into vitamin A, which is essential for maintaining a strong immune system.
Mushrooms: immune-boosting antioxidants, along with potassium, B vitamins, and fiber.
Chicken – we need protein to build antibodies and fight infection in the body
Kale-  Vitamin K, C and A and so much more that I can't list all the benefits here.
I added orzo to get some carbohydrates into the soup, something else our body needs while fighting a cold. So this is a one bowl meal for colds.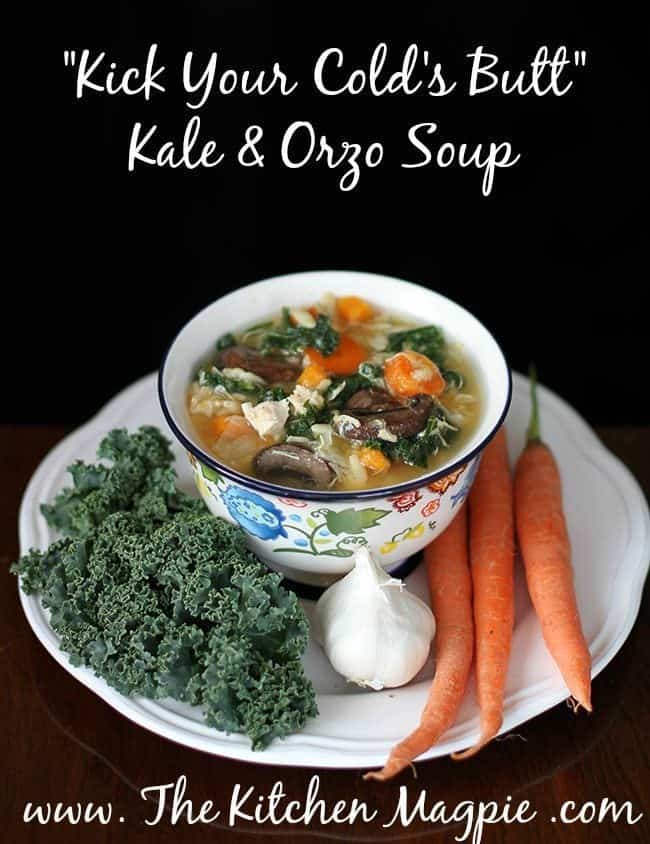 It was also absolutely delicious and I would make this again and again, especially during cold season, to keep your immunity boosted. Not only that, it's great for work and school lunches!
So how has everyone been this cold/flu season? Did you get your shots this year and are they keeping the flu at bay?
Happy cooking! Let me know if you make this one and what you think!
Love,
Karlynn
"Kick Your Cold's Butt" Kale & Chicken Orzo Soup
Super food soup with kale, chicken, garlic and more to chase away that winter cold or just give yourself a boost!
Ingredients
6

cups

vegetable stock

1/2

large sweet potato diced

3

carrots chopped

1

onion chopped finely

3

cloves

garlic sliced

2

cups

chopped chicken breast

1

cup

mushrooms of choice

3/4

cup

orzo

1

cup

kale washed and trimmed
Instructions
Place the first seven ingredients into a crockpot.

Cook on low for 8-10 hours. You can either cook the orzo according to the package instructions and add to the crockpot OR place uncooked orzo into the crockpot one hour before serving and cook for one hour.

Add in the kale ten minutes before serving, cover the crockpot again and let it cook until wilted and soft. Serve and enjoy!
Nutrition Facts
"Kick Your Cold's Butt" Kale & Chicken Orzo Soup
Amount Per Serving (8 g)
Calories 135
Calories from Fat 18
% Daily Value*
Total Fat 2g 3%
Cholesterol 24mg 8%
Sodium 579mg 24%
Potassium 374mg 11%
Total Carbohydrates 17g 6%
Protein 11g 22%
* Percent Daily Values are based on a 2000 calorie diet.
0