This post may contain affiliate links. See my privacy policy for details.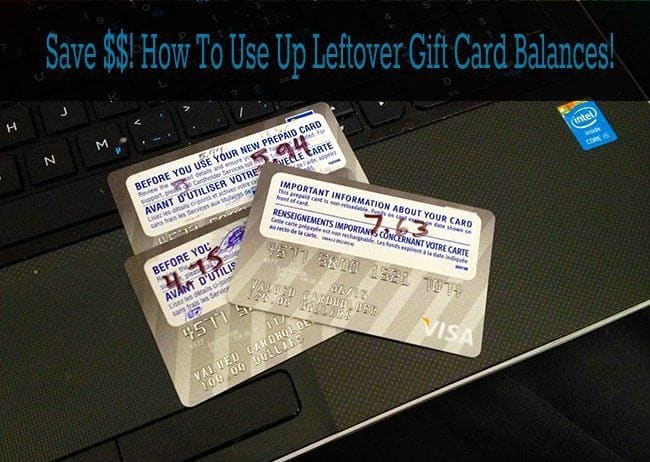 If you are like me, you might have a few Visa gift cards hanging around that have an unused balance on them. If you are like me, you never actually know what that balance is when you are at the cashier, or the cashier doesn't know how to split up a transaction in order to use up the amount on the visa.
If you are like me, you are also cheap. Man, there is NO way I wasn't going to use up all these little balances on these gift cards. Not. Happening. There's no way that money was ending up in the bank's pocket to increase their profits.
This cool way of using up your leftover little tidbits of money has been around for a while, but I wanted to share with you all just in case you didn't know.
First, call the number on the card and get the exact balances. Write them in black ink. Trust me, pen doesn't cut it, just get yourself a marker.
Then head on over to Amazon.
Click purchase an Email Giftcard.
Then type in the exact amount on your card, like below. I had a $6.12 card this time around.
Make sure you are sending the card to YOUR email so you can redeem it!
(Click on the pics below to see a larger version)
When it comes time to put in a NEW visa number, add in the Visa, with the correct expiry date. Sorry, I had personal info on that page, you don't get to see it!
Then head to your Inbox.
Woot! Look what arrived for me!
Click redeem now.
Taaaa-daaaa!
You have now added to your Amazon account!
How easy was that? It need a big red easy button!
NOW this money does NOT expire! That's the beauty! So you can keep adding to it until you have enough to order something you really want!
I bought three books that I have been coveting…and yes, I might have spent another $6.73. I couldn't help it. These have been on my list to buy for a long while now!
And that my friends, is that! Treat yourself to some books- because everyone needs books – and know that you spent every penny on those cards!
I was a little cranky with myself, I waited too long and I lost two cards to expiry dates. BAH! I would have had enough to cover the books entirely! So make sure that you start doing this now and don't wait over a year like I did.
Now I have to anxiously wait until those books arrive!
Love,
Karlynn