One of my favourite pasta dishes is one that isn't very well known or popular. Spaghetti Aglio E Olio is simply spaghetti pasta tossed in an olive oil and garlic "sauce", as one might call it. To me, it's the epitome of comfort food: carbs and garlic. Oh, and when you add some fresh Parmesan cheese on top? HEAVEN you guys, heaven!
I'm trying out Philips Avance Pasta Maker the next while and decided to start with the noodles that my family loves best… spaghetti, of course. Let me be honest, I would love to make fresh pasta but I have never found a single moment to do so. I have attachments for my mixer that have been sitting in the cupboard for years, unused. I was intrigued to try out a machine that did it all. The Philips Pasta Maker automatically mixes, kneads and extrudes the pasta, all in one go! I didn't have to mix or feed the dough; I was in!
The machine is incredibly simple to use. You follow the instructions in the book (using a kitchen scale to measure the ingredients) and you literally get one pound of freshly made pasta in 15 minutes!
This batch of fresh spaghetti noodles pictured was done on the setting for Program 1, that makes 300 grams of pasta – a main meal for two people. For this recipe I used Program 2, that makes 600 grams of pasta and is enough for a family of four as their main meal.
Which translates into one big skillet full of fresh pasta!
I was nervous about how the fresh spaghetti was going to hold up, I'll admit it. Spaghetti Aglio E Olio is not a dish where you are inherently gentle with the pasta – you swirl and Sautee and reduce the small bit of liquid you add to it.
As you can see, I shouldn't have worried. The noodles held together like a boss.
I added some red pepper flakes to mine, which turns Spaghetti Agilo E Olio into Spaghetti Agilo Olio E Pepperoncino. Just so we are exact with the name here.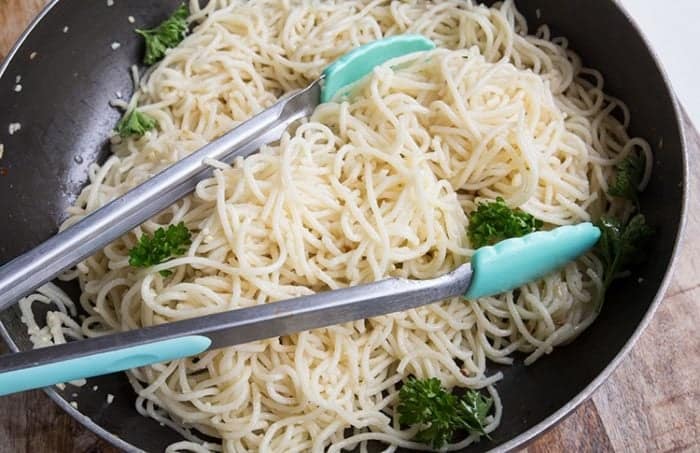 I was thrilled with how good a job the Pasta Maker did with those noodles! I followed the directions precisely and the noodles came out perfectly. The cleaning part wasn't as bad as I thought it would be, but you do have to take some time. My advice is to make a few batches of the pasta. The kids and I are going to make fettucine nests for my next post and those can stay in the fridge for a few days.
And now for the VERY BEST PART! I am giving away this awesome pasta machine to one lucky reader! Simply enter the contest below! This retails for $299 and will make one lucky reader very happy!
Happy cooking all and good luck with the contest!
Love,
Karlynn
While this post has been generously sponsored by Philips, all opinions and words are my own.
How to Make Spaghetti Aglio E Olio!
How to Make Spaghetti Aglio E Olio! This simple pasta is often overlooked, but combines pasta with garlic and olive oil to make a delicious easy dinner!
Ingredients
500-600

grams

of fresh spaghetti noodles

½

cup

good olive oil

with more for drizzling later

¼

cup

finely minced fresh garlic

½

tsp

crushed red pepper flakes

if wanted

Parmesan for topping if wanted
Instructions
Bring a large pot of salted water to a boil. Cook the noodles for 5-6 minutes until almost entirely cooked. If you are using packaged noodles, cook to al dente according to instructions.

While the pasta is cooking, add the olive oil & garlic to a large skillet. Fry until the garlic is a soft golden brown. Add in the red pepper flakes and fry for another minute.

Drain the noodles (reserving 1 cup of the pasta liquid to the side) and add to the pan. Pour the reserved liquid over the top.

Simmer the noodles, tossing and turning, until the liquid has been reduced and you get a creamy type coating on the pasta.

Drizzle a bit of fresh olive oil onto the pasta right before serving and top with Parmesan.

Enjoy!
0