Crockpot Rotisserie Chicken.
I think the heavens just opened up and the angels sang choruses of "Hallelujah, it's what's for dinner!"
It's seriously that good and that easy.
This is another recipe that I made only a day or two ago and had to rush, as fast as I could, to edit the photos and write it up for you. I wanted you all to have this for the weekend, as fast as possible, because I am that darn excited to share it with you.
This recipe is going to be a mainstay in your dinner rotation, I guarantee it! I already know that this is going to be THE way that I make crockpot chicken, at least when I roast it whole.
The secret to keeping the chicken intact and not have it fall apart is two parts; one, you simply must truss the chicken and two, you simply must cook it on top of either a rack that fits in your crockpot or balls of tinfoil.
I have tinfoil, but boy, would I love to find a rack that fits in here!
This video shows you how to truss with and without string!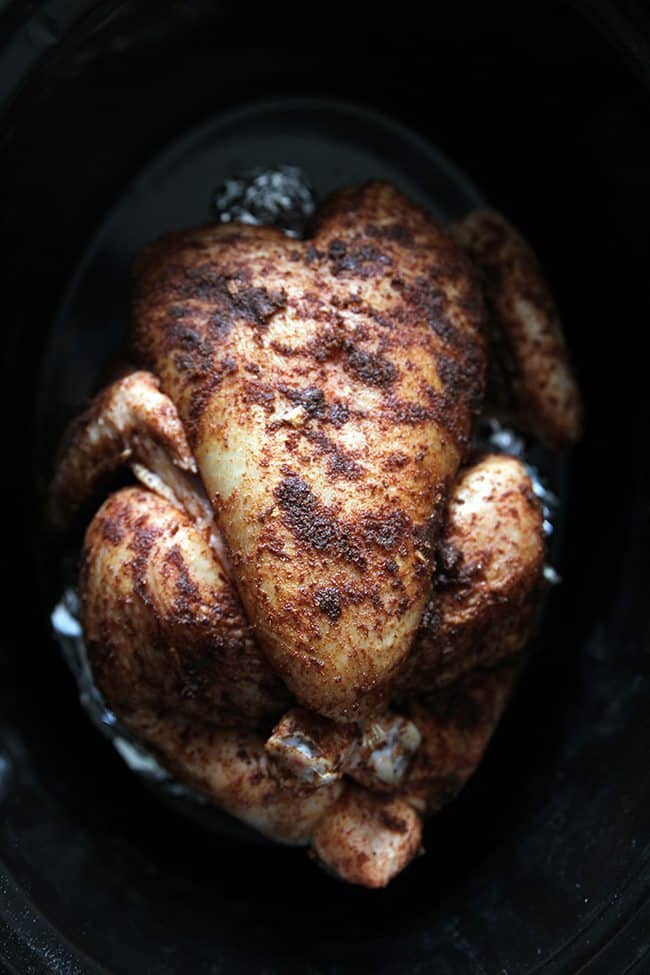 After cooking for a good 8-9 hours, depending on your crockpot, you end up with this beauty!
We were amazed. Astounded. Absolutely in love with this new recipe.
The chicken is exactly how it should be, moist, fall-off-the-bone delicious. Look at that thigh meat and yes, look at that grease. Just like store-bought.
However there is SO much less grease that I actually prefer this chicken to store-bought. The store-bought ones actually make me a little queasy from the grease on occasion!
Pop it into the oven for around 5 minutes, crisp up the skin and voila! Homemade rotisserie chicken!
My family of four demolished this chicken.  It was like a pack of wolves descended upon it, chicken and bones flying everywhere. I can't believe that it's taken me this long to finally make it, I'm almost kicking myself for not having done it before!
Happy Friday everyone! I really hope you make this chicken this weekend, let me know what you think!
Love you more than weekends!
Karlynn
How To Make Rotisserie Chicken in Your
Crockpot
!
Delicious fall-off-the-bone rotisserie style chicken done in your
crockpot
! A few tips and tricks help make this the best chicken you'll ever eat!
Ingredients
1

lbs

broiler/fryer chicken around 4

2

tbsp

paprika

1

tbsp

onion soup mix crushed

2

Tbsp

garlic powder

2

tbsp

olive oil

1 1/2

tsp

fine sea salt

tsp

optional : 1.2 black pepper and 1/2 tsp cayenne pepper for heat or extra salt if you like it salty!
Instructions
Rinse and pat chicken completely dry with paper towels.

Truss with or without string. (do NOT skip this step or it will fall apart in the

crockpot

)

Combine the remaining ingredients together in a small bowl until it forms a paste. If it's too dry, add small amounts of oil until you get a good spreading consistency.

Rub the paste all over the chicken, inside and out., making sure not to tear the skin.

Cover the

crockpot

with the lid and cook on low for 8-9 hours.

When the thigh area has reached a minimum of 185 degrees, carefully remove from the crokcpot and place on a baking sheet.

Cook for 5-7 minutes in a 450 degree oven to crisp up the skin, watching carefully.

Remove and serve!
Nutrition Facts
How To Make Rotisserie Chicken in Your
Crockpot
!
Amount Per Serving (4 -5)
Calories 0
* Percent Daily Values are based on a 2000 calorie diet.
17