How to Make Homemade Granola Bars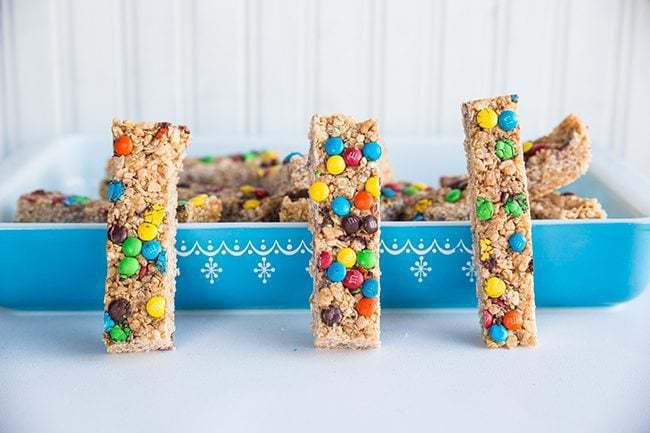 I love granola bars, they make me happy. They are easy to pack into lunches, they are a nice sweet treat and most of all, they are a sanity saviour. Sadly, commercial granola bars are the equivalent of junk food. Sigh. Oh, I know it, I don't pretend that putting a granola bar into my kids lunch is in any way, shape or form a healthy choice. No matter what, granola bars are a sweet treat, no matter how you dress them up, but you can make them slightly healthier.
To do that, I need to show you how to make homemade granola bars yourself!
This recipe – while I did treat it up with mini M&M's – is a very good base granola bar recipe. You can go endless ways with this, with various tasty possibilities.
What I love is that these shriek TREAT!!! when the kids see them at lunch. I'm ok with the ingredients : a few mini M&M's on top is just enough to impress the kids.
The rest is honey, sugar, butter, oats and Rice Krispies, putting these in the same category as a cookie, but longer burning in little tummies for the rest of the school day thanks to the oats. You can't use any hearty oats, it will be too tough to chew, so you have to use quick oats. You CAN sneak in a tablespoon or two of flax, or hemp hearts if wanted, without sacrificing taste or texture.
You can also press your choice of toasted nuts into the top as well, if your school doesn't have a nut policy, or keep them for snacks at home. Play around with the base recipe and see what healthy ingredients you can sneak in there.
It also makes 2 dozen bars, which is a money saver as well. That's four boxes of commercial granola bars (usually filled with corn syrup and endless other ingredients) that you just made. And they are easy, you guys, so so easy to make. This will honestly take 10 minutes out of your day, perhaps on a Sunday before the school week begins. You can make half a pan of one flavour, and half a pan of another by pressing different ingredients into the top.
Slice and wrap them up and store at room temperature for up to a week; they will absolutely toughen up in the fridge.
Happy baking everyone!
Karlynn
Homemade Granola Bars
Pre-make a week's worth of granola bars for your (and your children's) lunches in a mere 10 minutes!
Ingredients
3/4 cup salted butter
2/3 cup brown sugar
3/4 cup honey
3 teaspoons vanilla extract
4 cups quick-cooking/instant oats
3 1/2 cups of Rice Krispies
1 cup mini M&M's
Instructions
Line a 9x13 pan with tinfoil or parchment paper, leaving overhang over the edges.

Place the oats and rice krispies into a large mixing bolw, set aside until later.

Combine the butter, brown sugar and honey in a medium sized pot. Bring the mixture to a boil over medium-high heat, stirring constantly. Lower the heat and simmer until the sugar dissolves and the mixture is slightly thickened, about 2 minutes. Remove the pan from the heat : stir in the vanilla .

Pour the sugar mixture over the oats/rice krispies and fold with a rubber spatula until well combined.

Spoon into the prepared pan and press down lightly.

Sprinkle the M&M's over the top and press firmly into the tops of the bars. Make sure that the bars are tightly compacted in the pan.

Let set on the counter : do NOT refrigerate, it dries the bars out!

Remove the bars using the edges of the tinfoil and place onto a cutting board.

Cut into rectangles. Store the bars in an airtight container on the counter. These will last up to 5 days, an entire school week!
Nutrition Facts
Homemade Granola Bars
Amount Per Serving (24 g)
Calories 0
* Percent Daily Values are based on a 2000 calorie diet.
47