This post may contain affiliate links. See my privacy policy for details.
Eggs are one of the quintessential breakfast items that every household needs. The tricky thing, though, is figuring out how long do they really last.
For more kitchen tips and ways to preserve essential ingredients, why not learn How to Store Cilantro? Or answer the question, Does Honey Go Bad?
Table of Contents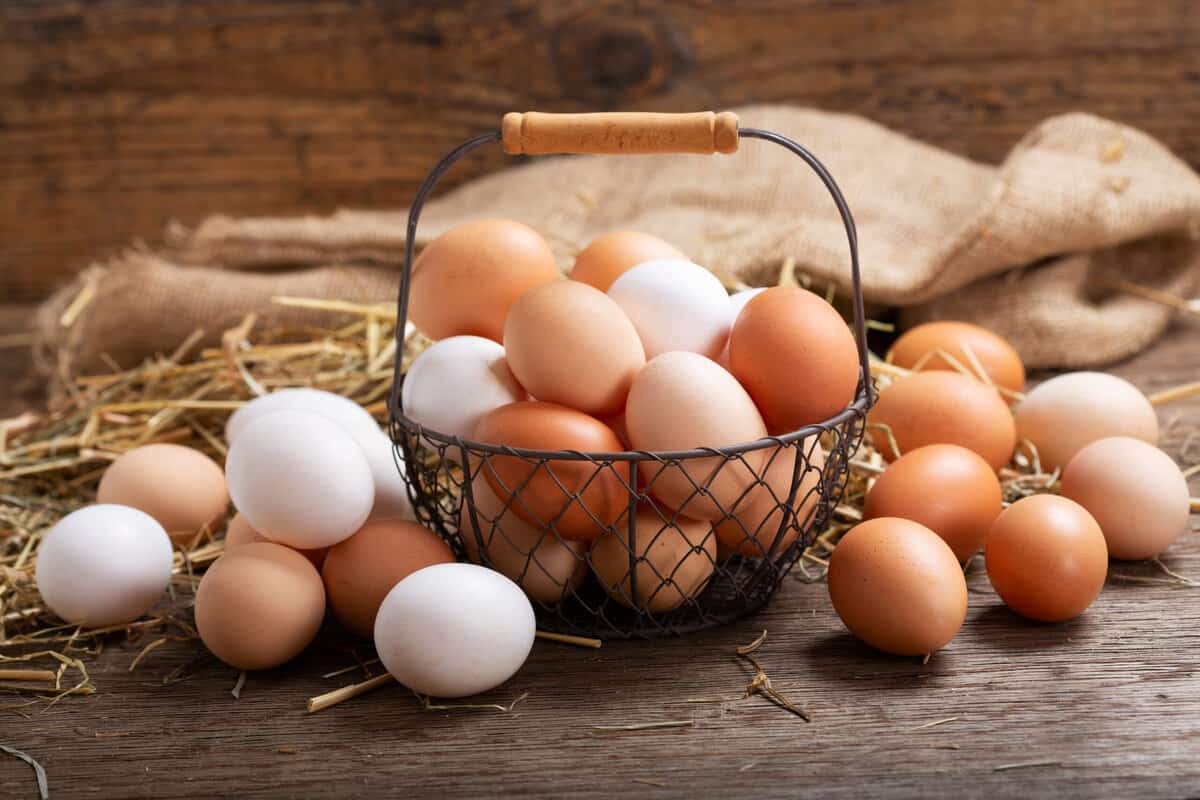 How Long Do Eggs Last?
Every household needs eggs on hand – whether for cooking up breakfast, making a great topping for any burger or sandwich, or using them in a billion different recipes, from baking to savory items.
However, the rate that an average person can go through eggs is actually pretty quick, which is a pretty significant problem for those that don't have the ability to go to the store every few days.
It would be a lot easier to just buy a huge amount of eggs, enough to last you until your next grocery trip, instead of having to buy a constant small amount of eggs to try and keep with the always insanely short sell-by dates.
But are those sell-by dates really honest? How long do eggs really, truly last once you buy them?
How Long Do Regular Eggs Last?
Just like all things that you buy in the supermarket, it seems that eggs have an insanely short sell-by date printed on their labels.
Sometimes you can buy a dozen eggs, only to discover that they supposedly go off after only a few days.
How is this possible? Have the eggs been sitting in a warehouse for weeks on end?
Well, it turns out that eggs take an insanely long time to actually expire. You can actually keep your eggs in your fridge for something like a month; usually far longer than the sell-by date claims they last.
When you think about it, however, it does make sense – a chicken egg is designed by evolution to stay warm by the chicken in the nest and nourish and protect the baby chick inside it. It makes sense that eggs should last for a pretty long time.
The only reason why eggs have such a short sell-by date listed on their packets is that egg distributors want the eggs to be sold at the height of their freshness and tastiness.
As eggs get older, their taste gets a little bit worse over time, tasting a bit less fresh, but they are still basically edible.
How To Tell If Your Eggs Are Still Good
Everyone has had the worrying position of having some eggs in their fridge that they aren't quite so sure about – should you just throw them away?
Luckily, there is a super easy way to test an egg for freshness – just dunk them in some water!
If you fully submerge your eggs in cold water, keep an eye on what the eggs do.
If the eggs sit firmly on the very bottom, then they are as fresh as fresh can be.
If they start to float slightly, but with the tip of the egg itself still resting on the bottom, then they are approaching going off but are still perfectly fine to eat.
However, if the eggs are floating on the top of the water, or are looking like they are just about to do so, then you can safely throw them out – if the eggs float, then that means that they have broken down inside the shell that potentially dangerous and unpleasant gasses have developed, which is what causes them to float.
If you tried to crack them open, then you would probably notice an intense smell of Sulphur, the quintessential smell of rotten eggs.
Why Do Some Countries Refrigerate Their Eggs?
A lot of advice surrounding keeping eggs usually mentions keeping eggs in the fridge, but depending on where you live in the world, you might find yourself pretty confused, as not every country keeps eggs in the fridge as standard.
The main reason why countries like the USA advise consumers to keep their eggs in the fridge is that it is actually legally mandated that eggs be typically kept in the fridge.
This is because of the methods of preparing eggs for sale – to be able to legally sell eggs in the USA, they first need to be washed clean.
Many other countries, such as the UK, do not wash their eggs because washing them actually reduces their longevity.
Eggs come out of chickens with a thin, almost invisible membrane that coats the shell completely and helps protect the egg from being exposed to the elements and bacteria.
However, even if your country does not wash its eggs, keeping them in the fridge can be a really good idea if you are hoping to store your eggs over a longer period.
If you're looking for inspiration as to how you can use up eggs before they go off, why not try these Egg recipes?
Happy Cooking!
Love,
Karlynn