This post may contain affiliate links. See my privacy policy for details.
Phew.
Let's start with the fact that you all know that the MGM Grand is huge, so I am going to post a few of the highlights from inside of it. I couldn't possibly cover it all, even if I had days – which I don't- or even if I wanted to – I don't really want to either haha!
We rolled into Vegas this past Sunday for a conference for Mike's website. We had to stay one night before we moved to the conference hotel and being the Expedia gal that I am, I was looking at hotel rooms on my IPad while rolling into Vegas. To be exact, about 45 minutes before we were in Vegas because let's face it, I work best under pressure.
The MGM popped up on Expedia for $70 a night so I figured what the heck, let's try it out. As you all know, I have a slight hotel addiction. I love them. Whether they are fancy or simply a place to lay my head briefly while on a road trip, I love trying out new ones. We haven't ever stayed at the MGM, so I quickly booked it and 40 minutes before we were in Vegas, we had a place to sleep!
The rooms were quite nice with very comfortable pillows and great mattresses. While I had booked a king, when we arrived I asked for a low floor room. Y'all are familiar by now with my fear of heights, yes? Well, that's a problem with Vegas hotels ;).
However the front staff were more than happy to place us on the ground floor (shout out for some great customer service there!) and thus we had our two queen room.
The decor is quite nice, crisp, clean and bright.
Did I mention those comfortable mattresses? SO important.
A desk completed the room and yes, I had my crap on there before we even opened our suitcases.
Now, I know that you are all toiletry addicts like I am, and the MGM had some great ones! I rarely use hotel toiletries but someone who shall remain unnamed forget the shampoo/conditioner in the last hotel. His name rhymes with Bike.
There were pretty little luxe touches around the room adding nicely to the ambiance.
To sum up some of the biggest things to be found at the MGM, there is the Cirque de Soleil show Ka. While we haven't seen it yet, it certainly is on my list!

Wolfgang Puck Bar and Grill is there as well and it was good. I can't say that it's phenomenal, but again, always take my food advice with a grain of salt; I am spoiled horribly by some of the best chefs in Edmonton, so realize I am a total prima donna when it comes to food.
I had the hand cut fettucine with wild mushrooms and it was quite good, however totally overpriced at $24. I know it's Vegas, but this was WAY overpriced for what I ate. A few mushrooms and pasta doesn't equate that cost.
The MGM is also the home of Joel Robuchon's two restaurants, neither of which I ate at.
I would love to. My secret dream is to spoil myself rotten one day and eat at one of his restaurants, in a gorgeous setting filled with natural light where I can take photos of his masterpieces to share with you all.
While my heart says yes, my bank account says NO.
Atelier looked beautiful inside and I can imagine it's quite the culinary experience!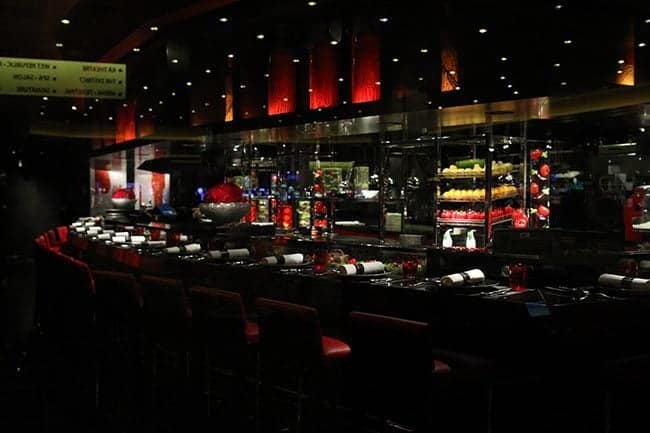 It has more than one Starbucks. This is a very important thing.
And it had me on the way to check out the pools, also a very important thing. Me, that is. Who cares about the pools?
The pools are amazing, however there was no time to check them out.
But my hair is amazing, so check it out instead.
😉
I would love to head back to the MGM and watch Ka, eat at one of the Robuchon restaurants and spend some more time exploring it. Alas, not this trip, we are now at the Aria (another MGM property I do believe) and it's time for some work!
I hope you are all having a great start to the week! I'll be posting the hotel room walk-through for the Aria soon!
Love you more than travel,
Karlynn