This post may contain affiliate links. See my privacy policy for details.
I laugh every time I see this picture of myself. Could I be more of a smart aleck? I mean, seriously, if you could only read my mind as to what I was thinking at this moment when Mike told me to pose while he took a picture.
I honestly don't know how he puts up with me. Oh right, wait, it's because I bake him stuff. Yah, he doesn't have it that bad.
All that aside, the Aria was one beautiful hotel. The rooms were large, with crisp, clean modern lines and being so new, hardly any wear showing to them at all.
The bathroom was large and in charge.
The shower tub combo was a little weird.
I honestly thought to myself and then said out loud to Mike " How many drunk people have fallen and killed themselves in this slippery shower?"
It's NOT tipsy friendly. Oh my word. Sharp corners and slippery marble EVERYWHERE. There's no little stop-slip ANYTHING on the floor.
Beautiful but deadly.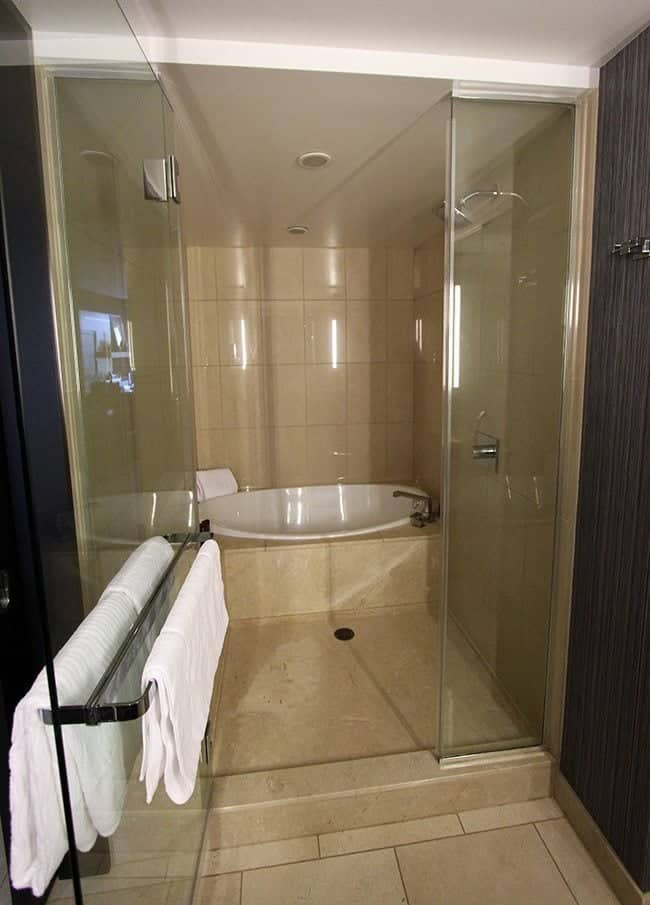 It was so large that I could sit on the tub and then proceeded to take a selfie of myself in the sink mirror.
I loved the huge amount of storage when you walked in.
Voila! Like magic you have a ton of space for your clothes and luggage!
The room was, all in all, very lovely.

My only real complaint was the snack bar and the fridge.
We were warned when we checked in to not even PUT a single thing on the counter beside the snack bar (those bottles of water and assorted things you see in the picture below), Apparently if there was any movement or weight change, it would automatically assume that you took something out and charge you for it. (And they had no interest or intent in refunding you the money for any mistakes, was the impression I received at the front desk) Don't bump it, knock it, nothing.
So. Let me tell you how stressful anything like that would be with kids. *I* was stressed out, because let's face it, I put all my things all over counters, all the time. And I did. And then I had to freak out that I set off the silly sensor. Bah.
All in all, it was a really beautiful hotel. I loved that the casino was classy, with very good ventilation (which gets rid of the cigarette soke VERY well) AND served an open bar when you were gambling, Yes, I had many mojitos there while playing the penny slots 😉
It also had a really nice patisserie, Jean Phillipe which I thought was delicious. There were some truly delicious, decadent offerings, like the trio shown below.
I also loved the Aria buffet, a seafood feast if I've ever seen one! I ate more crab legs than I could count!
The other restaurants…well, to be honest I preferred the offerings at the MGM Grand. I wasn't dazzled by them at all.
Would we stay here again? Absolutely. I loved it. The lack of restaurants I liked doesn't really matter, as there are so many more within walking distance of the hotel. I loved how clean and modern it was, how the cigarette smoke was barely noticeable in the casino area ( it can really bug Mike and I, headaches, etc) and how fun the casino was!
Have you stayed at the Aria? Thoughts?
Love you more than travel!
Karlynn