Ah, raspberry season, which means it's time to put on those long-sleeved shirts and start picking those coveted red berries and make some jam. While we love a good raspberry galette in this household, nothing beats a good homemade raspberry jam to savour in the cold winter months.
That taste of summer can be captured in a jam quite easily, but in order to make a superb raspberry jam, it does take a little more work. I was determined this year to try the no sugar needed pectin, as the amount of sugar I pour into my jams each summer makes me cringe slighty.
Yes, I know that you need a sugar to set your jams and I definitely consider jams and jellies a "treat" in our house. I did however, want to try to find a way to cut the sugar out and to taste test the no-sugar needed jams.
The one piece of sage advice I can give regarding raspberry jam making is that you simply have to remove the seeds in half of your crushed raspberries. I do not enjoy an overly seedy jam and neither does my family.
I absolutely adore my old-fashioned berry crusher, also known as a chinois. If you are lucky, you can find them at antique stores – mine was only a $20 purchase! There is a gorgeous three piece set here, and while it doesn't have the same feel as using an antique, I highly suggest purchasing one to use!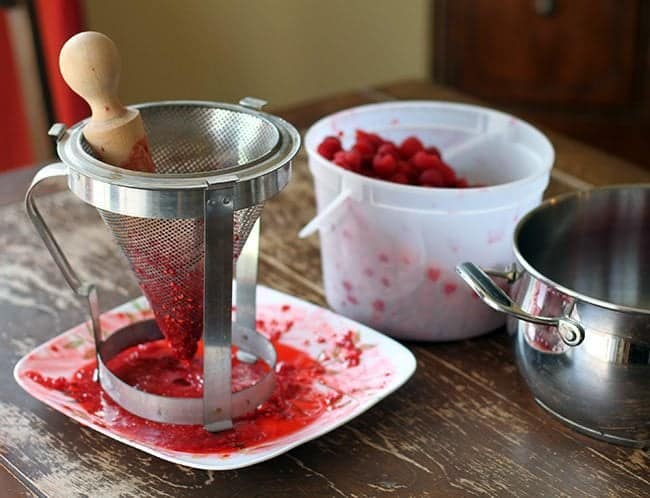 Old-fashioned simplicity at it's finest.
Place the berries in the chinois.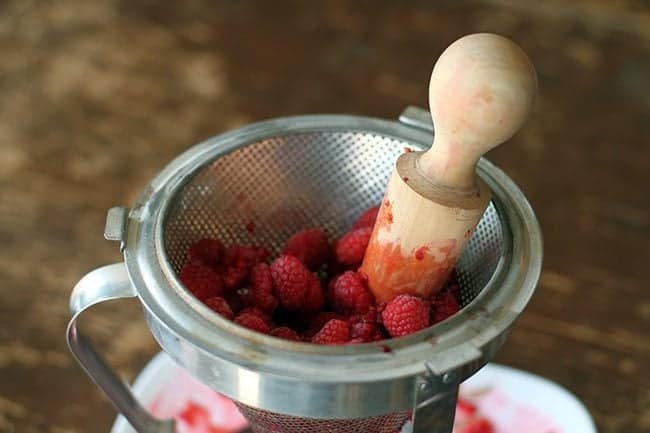 Swirl the wooden pestle around, crushing the berries.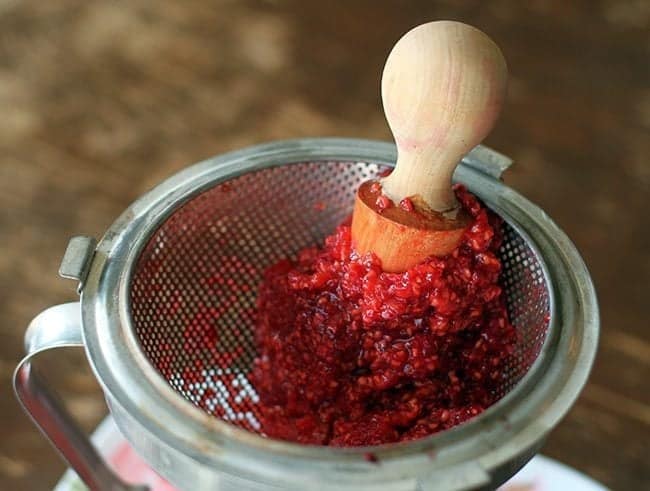 Keep on rolling and swirling and then look at the beautiful raspberry liquid that comes out!
My dears, I may only use this during canning season, but it is one of the most important pieces of canning equipment I have.
Oh, the smell of crushed raspberries, ready to be cooked and made into jam, what a seasonal delight this is. The tangy scent wafting through my kitchen, the red spatters on my apron, nothing says summer to me like this does.
Since jam making is a long process and thus a very long-winded post, I have put all the step by step instructions in the recipe format at the end of this post for you to print out and use.
I tried the honey in the recipe and I must admit, it's fantastic. When you are using the honey make sure to use the ripest, sweetest raspberries possible as you can only use up to one cup of honey.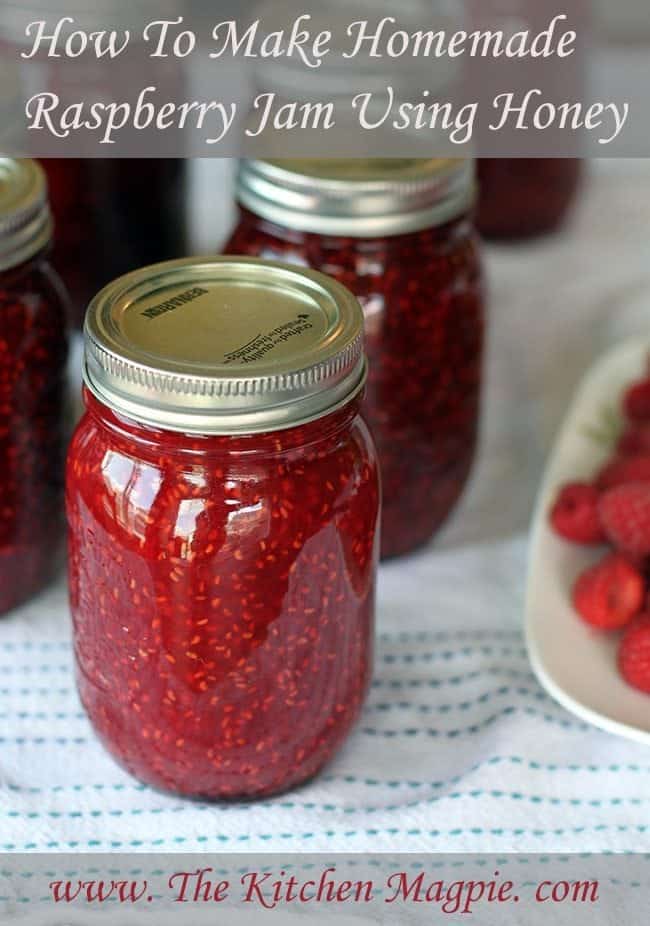 So one of these is the honey jam and one of these is the sugar.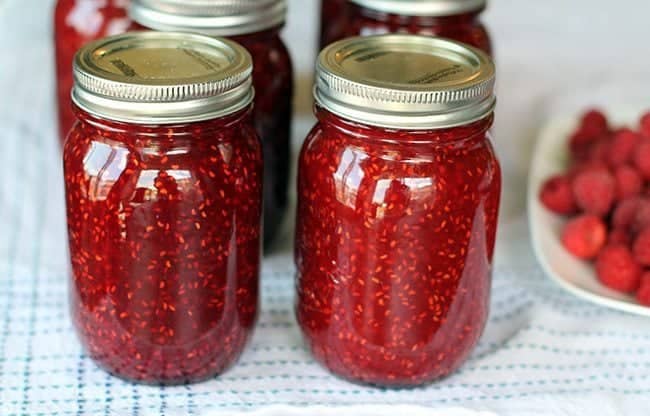 Which jam do you think is which? What a color difference! Both batches are from the same bucket of berries, the only difference is that one of these jars was made with honey and the other sugar.
Now, look at all the seeds in this jam as well! Now you can see how important it is to the quality of the jam that you sieve out the seeds, you would have a jam that is entirely seeds and no jelly if you didn't.
Make sure not to double the recipe but you want to know my trick? I get out two pots at the same time and cook two batches side by side on the stove. I then have all the jars ready to go – I do 500 ml jars – and can then process all the jars at once since they are larger. Really, a 500ml jar does not last that long in our family!
As these two stinkers can attest. The honey jam started rapidly disappearing as soon as it was made!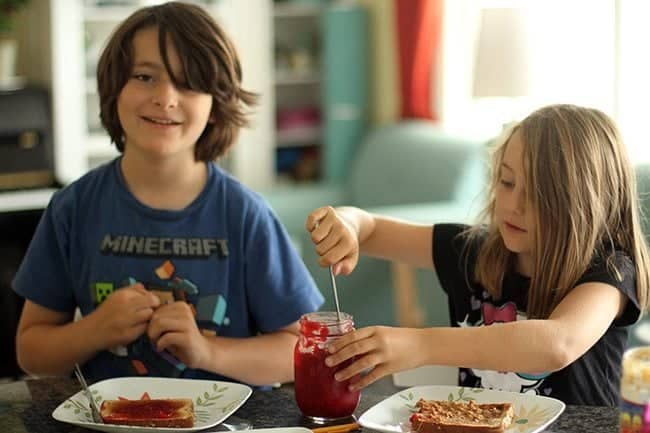 Happy Canning Everyone!
Karlynn
Homemade Raspberry Jam Using Honey
Ingredients
2

cups

of crushed raspberries

2

cups

of crushed raspberries with seeds removed

1

cup

of unsweetened apple juice

49

gram

pkg Bernadin No-Sugar Needed Fruit Pectin

1 to 3

cups

of granulated sugar OR up to one cup honey base this on taste test

this will yield 4-6 250ml jars of jam, depending on how much sweetener you add.

Do NOT double this recipe!
Instructions
Place your clean mason jars (keep the lids aside) on your canner rack in your canning pot. Cover the jars with water, and heat to a boil. Heat the lids in hot (not boiling!) water to sterilize. Keep both the jars and lids hot until ready to use.

Crush the raspberries one layer at a time. To remove the seeds, press the raspberries through a sieve and proceeded to measure two cups after the seeds are removed. Place the 4 cups of raspberries in a large pot and whisk in the No Sugar Needed Fruit Pectin until dissolved.

Bring the mixture to a boil, stirring constantly. Stir in your sweetener of choice and bring to a boil again.

Bring to a boil again for three minutes, stirring every now and then to make sure it's not burning. When done, skim off any foam that may be on the top.

Remove your jars from the heat source and ready them to be filled.

Quickly ladle the jam into the hot jars, filling to within ¼ inch (0.5 cm) of the top of jar which is called the headspace.

Remove any air bubbles using a non-metallic utensil and then refill to ensure the proper headspace if needed.

Wipe the jar rims removing any jam residue; this is very important or the jars will not seal!

Screw the jar band down tightly until you start to feel resistance, then screw the jar shut using your fingertip strength. Basically this means do not tighten them using your entire strength!

Place each jar in the canner rack and make sure they are covered with water at least once centimetre deep.

***Water-bath canning processing guidelines***

Usually recipes are written for water bath canning at altitudes less than 1000 feet. If you reside at an altitude higher than 1,000 feet above sea level, follow these guidelines:

For processing times of less than 20 minutes: Add 1 additional minute for each additional 1000 feet of altitude.

For processing times of more than 20 minutes: Add 2 additional minutes for each 1000 feet of altitude.***

Remove the jars from the canner without tilting.

Cool upright, undisturbed for 24 hours; and do not retighten the screw bands, no matter how much you want to!

When they are cooled, check the jar seals; the lids will be popped inwards. If you push on the top, it will not click or make a noise because the pressure has sucked the lid in.

Label your gorgeous goods and store jars in a cool dark place!

You are ready for a taste of summer during the winter months!
Nutrition Facts
Homemade Raspberry Jam Using Honey
Amount Per Serving
Calories 130
% Daily Value*
Sodium 28mg 1%
Potassium 243mg 7%
Total Carbohydrates 32g 11%
Protein 1g 2%
* Percent Daily Values are based on a 2000 calorie diet.
8