This post may contain affiliate links. See my privacy policy for details.
Last weekend you all saw my crazy, wonderful time spent in Calgary, Alberta with my family, hitting all sorts of fabulous attractions, from the Calgary Stampede, to Calaway Park. I was Instagramming and tweeting and Facebooking, oh my! I also had a lot of questions as to why there was also a video crew following us all weekend as well!
I am taking part in a seriously amazing campaign with the Calgary Hotel Association and myself and six other fabulous local bloggers are part of the Momblr.ca campaign. We are all visiting and enjoying what Calgary has to offer and then writing all about it on our websites and on the Momblr website as well. Make sure to check out the website and read everyone's posts!
Not only that, there will be a series of videos about us all that will be on the Momblr site! I will be sure to let you all know when those are up!
Last weekend we packed our bags, dropped Root Beer off at my sister's house to have a playdate with his Scottie Dog cousin for a few nights and we headed to Calgary to check out some attractions and adventures!
The first thing on our busy agenda was the fabulous Heritage Park and while we have been to the park before, it has been a few years since we last visited.
The very first thing we did was hop onto the paddlewheeler, the S.S, Moyie, which other than the train, is my children's favorite large ride at Heritage Park.
The cool breeze as you travel around the Glenmore Reservoir is the perfect way to cool down on a lovely hot summers day. Make sure to check it out when you visit!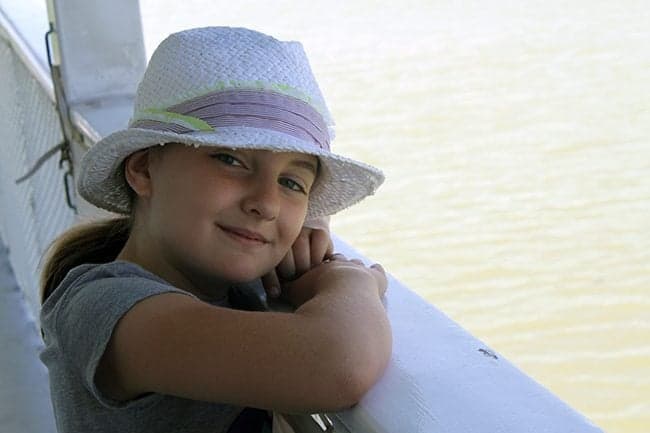 The newest exhibit at Heritage Park that we made sure to check out was the Famous Five Centre of Canadian Women, a gorgeous representation of Nellie McClung's home. You can take a tour of this gorgeous residence and hear stories about the Famous 5 Canadian Women who shaped our history so greatly due to their commitment to women's rights.
Now, the area that is my children's absolute, number one favorite place to go at Heritage Park is the Midway! There are rides and snacks galore to be found and they could spend the entire day at the Conklin Lakeview Amusement Park if I let them!
Their very favorite ride here – if they had to choose- would be the caterpillar ride. This delightful old-fashioned ride is so neat! You spin around in a circle in your little car, then a fabric "hood" drops down over you and all of a sudden you are in the dark!
Their next favorite ride is The Whip.
You sit in a little car and zip along, until the corner comes around and then whoosh! You are whipped around the corner!
You can tell from the smiles that they were having quite the good time!
The Ferris Wheel is everyone's favorite ride and I love how it brings to mind everything old-fashioned. How many movie feature old-fashioned Ferris wheels? How many romantic couples (remember the Notebook?) scenes have been shot in Ferris wheels? I prefer the old ones to the newer versions, the nostalgia that comes along with these old versions is priceless.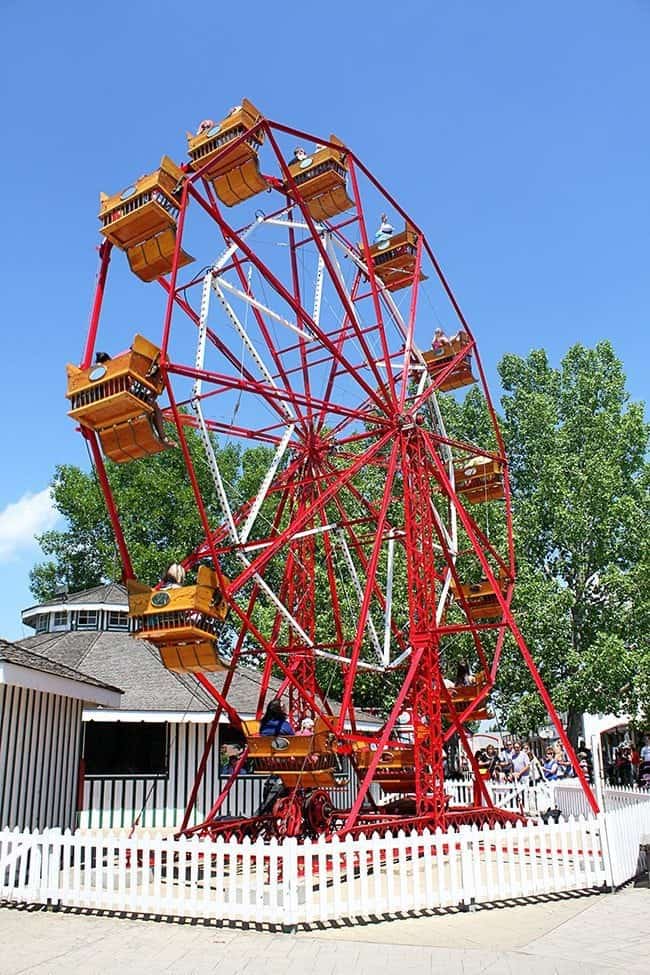 I also have a few tips that I want to share for visiting Heritage Park!
1) I know that everyone says it, but really, go early in the day! I would buy tickets online and go right for opening.
2) Make a game plan of what you want to see first. We almost always hit the midway first, before it gets busy, then we wander around and enjoy the exhibits.
3) Get ice cream from the ice cream parlour about midday when it's nice and hot out. We never leave ice cream until the last, I've found that it's a refreshing pick me up and waiting all day is seriously far too long for me the kids.
4) Plan the paddlewheel for when it's hot out and you need a break. It seriously is such a breezy, shaded glorious trip!
5) Make sure to check out all the shops in and out of the park. I have found such delightful treasures for the house, including an old-fashioned wooden mermaid for my beach themed house.
Happy Travels everyone! Stay tuned for my next posts coming up soon!
Karlynn
I am part of the Calgary Hotel Association Blogger Campaign and I receive special perks as part of my affiliation with this campaign. As always, my opinions and photos on this blog are my own.