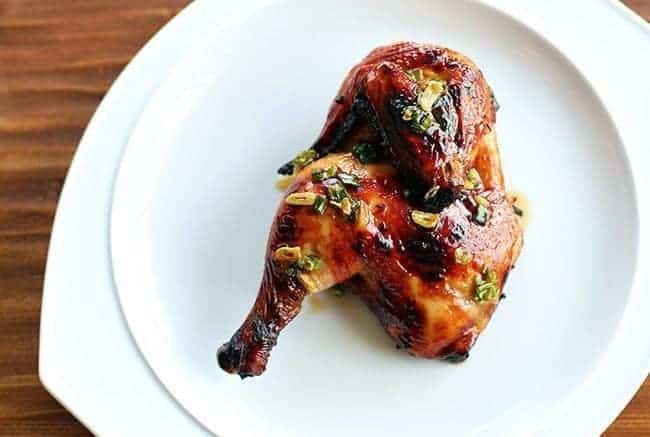 Oh, I love honey sesame chicken. I love the thick batter on it, the crispy, fried yumminess that it is.
I don't,  however, like how unhealthy it is for you.
I wanted to recreate honey sesame chicken in a healthier, no breading or flour version,
Barbequed, for sure. Gorgeous sesame taste, absolutely!
This BBQ Honey Sesame Chicken is probably one of my favorite BBQ chicken dishes that I have ever done, but then again I am in love with sesame oil. It is my favorite oil to use for flavor, bar none.
Add in garlic, honey and a little bit of ginger? Oh so delicious!
You most likely already have the ingredients in your fridge or pantry as I did, making it a nice easy recipe to whip up the night before and leave it to marinade all day long in the fridge. All you have to do is come home, pour yourself a glass of wine and put the chicken on the BBQ! Add a side of corn and a salad? Dinner is served!
Happy Cooking everyone!
Love,
Karlynn
** Remember to join ZIPLIST to create your own online recipe box and then click SAVE on my recipe below to add it! I use my online recipe box ALL the time!  And please rate my recipes every chance you get!** 
Healthier BBQ Honey Sesame Chicken
Ingredients
lb

One 2-3 chicken cut in half

Sesame Marinade

1

cup

chicken stock

1/2

cup

soy sauce

1/4

cup

honey

tablespoon

sesame oil

Sesame Glaze:

3

tablespoon

sesame oil

2

cloves

garlic sliced

1/3

tsp

ginger powder OR 1 tsp fresh minced ginger

1

green onion diced

2

tbsp

honey or to taste

1

tsp

salt or to taste
Instructions
Combine the ingredients for the sesame marinade. Pierce chicken with a fork in a few places, then place the chicken in a large container, pour the marinade over the top. Refrigerate for a couple of hours or all day.

Pre-heat your barbeque to 350 degrees.

Place the chicken on the top grill (less flare ups that will char the chicken) or place on one side of the BBQ and leave the element off underneath the chicken. (the other two elements will be enough heat). Direct flames under the chicken can flare up and burn it.

Cook the chicken until done.

Fifteen minutes before removing the chicken from the BBQ, place all of the ingredients for the sesame glaze into a small skillet. Fry until the garlic is browned.

Remove the skillet from the heat and brush the glaze over the chicken several times during the last 15 minutes of cooking.

Remove the chicken from the BBQ and serve!
Nutrition Facts
Healthier BBQ Honey Sesame Chicken
Amount Per Serving (4 g)
Calories 0
* Percent Daily Values are based on a 2000 calorie diet.
1