This post may contain affiliate links. See my privacy policy for details.
If I counted the times I've been asked to write and share more gluten-free recipes, I would be here until 2014 counting all my emails. I hear you, all my lovely readers who have written me or commented on the site asking for gluten-free recipes. I truly read all the emails and I'm listening.  It's my goal this year to share as many gluten-free, dairy free and possibly even egg free recipes that I can muster up.
For starters, while I am not celiac by any means, I have found out that I have a very small gluten intolerance. Minute. It just registers on the scale of food intolerance testing that I had done via my Naturopathic Doctor this past November.  In fact, coffee is more of an irritant to my system than gluten.
I've given up coffee for the past few months. Yeeehaaaw. Thus the reason I am such a chai tea addict.
So while I am not by any means severely affected by gluten, I've always thought that cutting down on the amount of gluten you eat is a very good thing, even before I was tested for food intolerances.
Excepting most of the breads and desserts, a good portion of my recipes on this site are already gluten-free or easily made gluten-free. I will be looking back in my archives and start a gluten-free category soon and will be posting everything that applies in it.
Soups usually simply need a gluten-free vegetable stock to be made gluten-free and I highly recommend Vegeta. I've been using it for years and just by searching found out it's gluten-free. I purchase mine at the Italian Centre here in Edmonton. Easy as pie and it's definitely one of the most tasty stocks out there, win-win.
When you are talking thickeners, nothing beats potatoes. Red potatoes will slightly crumble and start to break down into your soup while retaining their shape until the bitter end. Russets will completely fall apart and thicken your soup as well. Pureeing a part of your soup makes it thicker using the natural flavors already there, a method I always use instead of flour or cornstarch when I can, gluten-free or not. It simply makes your soups, stews and chili's lack that floury taste, which is how I prefer them
This was a killer tasty soup. The amount I made is enough for two dinners and I paired it with Bob's Red Mill Cornbread, which is my go-to until I start fiddling around with a recipe of my own.
Thanks to ads on this website, readers of The Kitchen Magpie are now sponsoring 2 families a month through the Edmonton Food Bank. Learn how you can help here.
Learn to cook like the Kitchen Magpie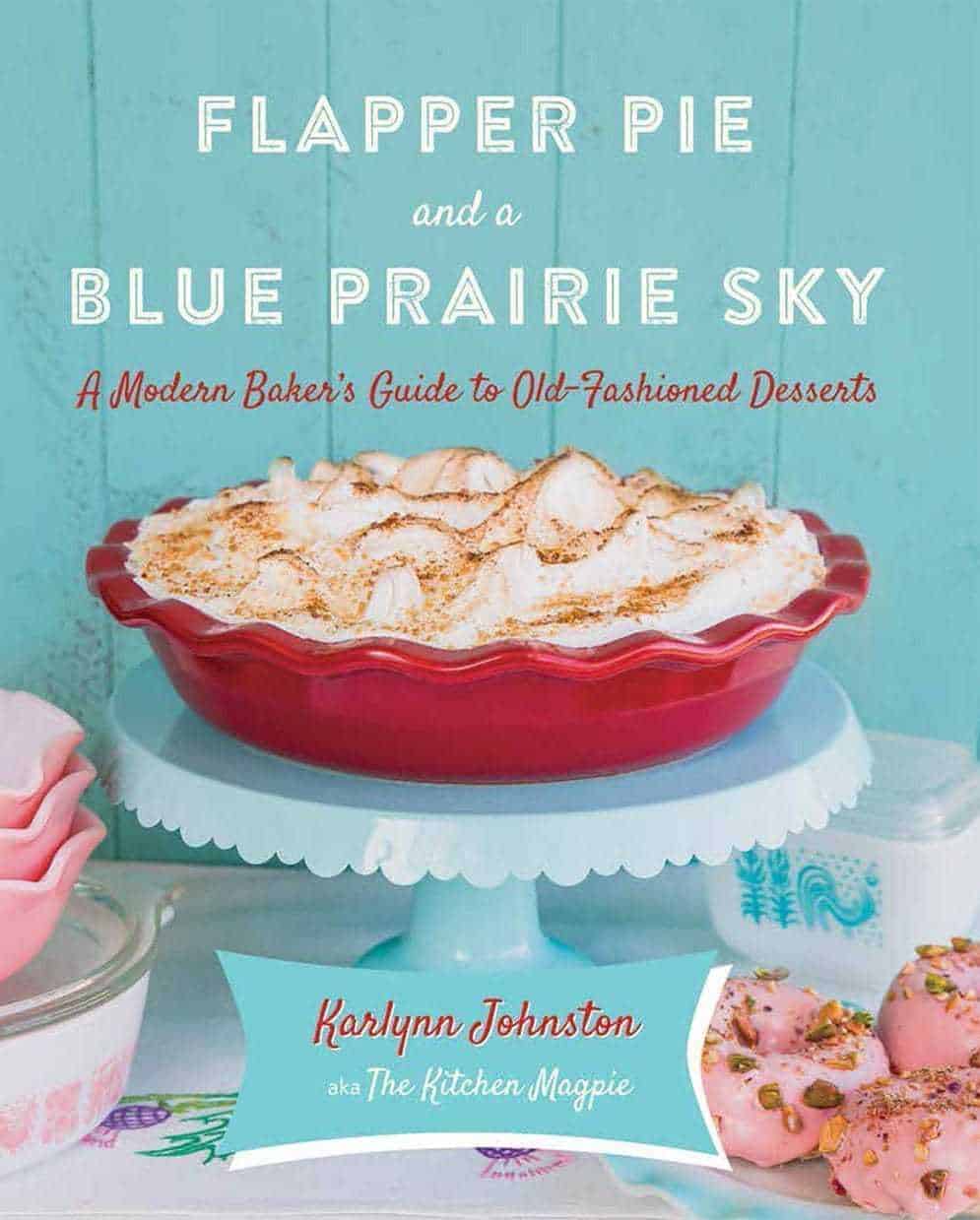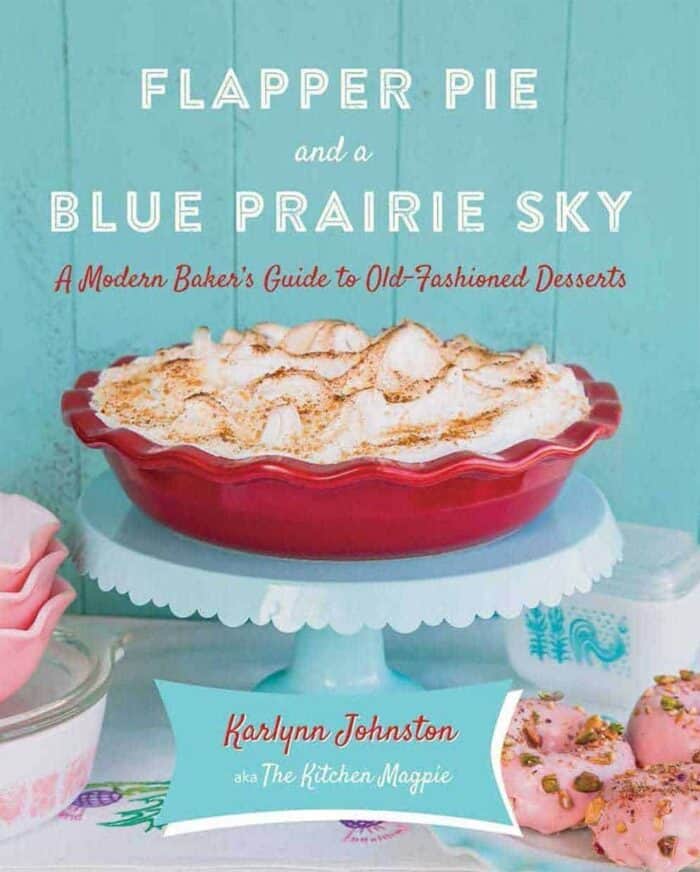 A Modern Baker's Guide to Old-Fashioned Desserts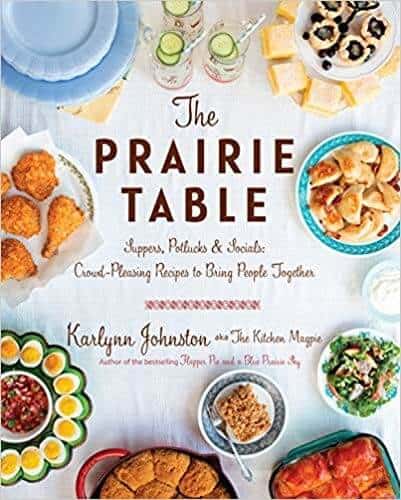 Suppers, Potlucks & Socials: Crowd-Pleasing Recipes to Bring People Together
Subscribe to The Kitchen Magpie on YouTube
One click and you'll get notified of new videos added to our YouTube account!
Subscribe on

YouTube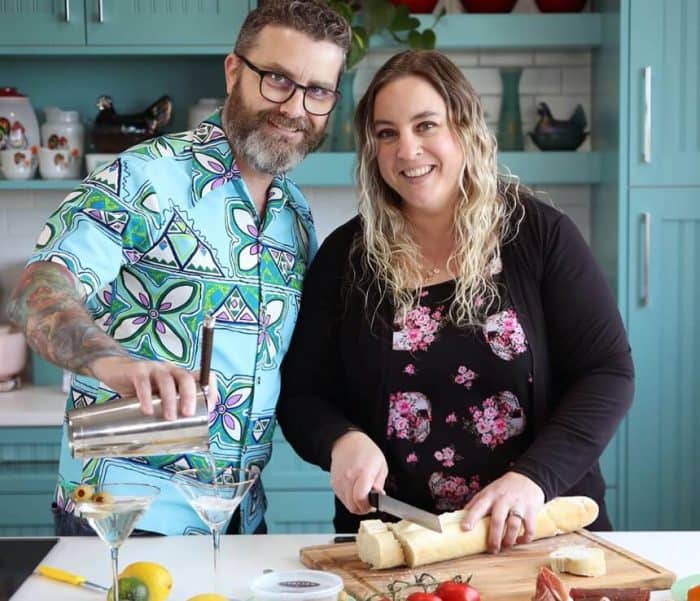 Gluten Free Bean, Potato and Sausage Soup
Gluten free bean,potato and spicy Italian sausage soup done in the crockpot.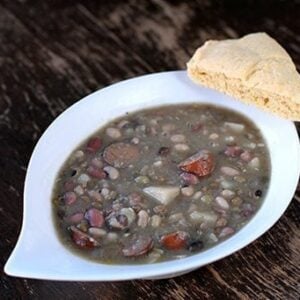 Prep Time

10

minutes
Cook Time

6

hours
Author
Ingredients
2

cups

of mixed beans soaked in a large bowl of water overnight8 cups of vegetable stock6 cloves of garlic minced 1/2 white onion chopped1 tbsp olive oil6 gluten-free spicy Italian sausages pre-cooked and sliced

I find mine at Costco4 cups of potatoes cubed
Instructions
Take 2 cups of your favorite bean mix – I use a 9 bean mix from Costco- and soak them in a large bowl of water overnight.When you are ready to prepare your soup, drain the beans and rinse them off well with water in a colander.Place the rinsed beans, stock, potatoes and sausage into your crockpot.In a small frying pan, sautee the onions in the olive oil until soft; add in the garlic and cook another 2-3 minutes.Add the onions and garlic to the crockpot.Cook on low for 8-9 hours or on high for 5-6. Depending on the type of beans you use, it may take a longer or shorter amount of time.When the beans are soft enough for your palate, the soup is ready.Serve with gluten-free cornbread and enjoy!
All calories and info are based on a third party calculator and are only an estimate. Actual nutritional info will vary with brands used, your measuring methods, portion sizes and more.
Made this recipe?
Share a photo of what you made on Instagram or Facebook and tag me @thekitchenmagpie or hashtag it #thekitchenmagpie.
Please rate this recipe in the comments below to help out your fellow cooks!
If you go with a nicely flavored Italian sausage, the flavors will simmer out into the soup over the course of cooking, turning it from good into fantastic. I LOVE this brand at Costco, no preservatives, gluten and lactose free, pre-cooked and turkey/chicken. With the big package we heated up the whole thing the night before, ate sausage, quinoa and vegetables for dinner then saved 6 of them for soup the next day. One large package is two meals.They ARE spicy, so if you can't take the heat, go for milder ones.
I had mentioned that the soup makes two meals and so does the cornbread. I bake the cornbread in two 8 inch round pans instead of one like the directions say, my family of four won't eat more than the one bread and even that will have leftovers. One for dinner, one for wrapping up and freezing with the leftover soup.
This is prepped to go into my freezer, onto my little rack, to wait for supper in a week or two, once we are ready to have it again. Make sure to wrap the cornbread very well as it can absorb flavors in the freezer.
So have patience with me as I slowly start working on recipes for all of you who have asked, gluten-free, egg free and dairy free. The recipes are a' coming, just slowly.
Love,
I Guess Everyone Needs a Project Magpie