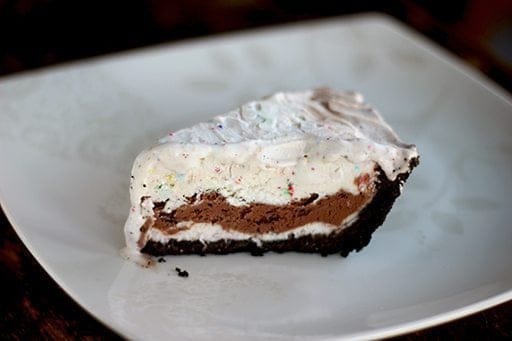 You know what's awesome about this recipe?
It took me about 5 minutes to put together and freeze, but I received about 20 minutes of accolades from my family.
Talk about a good return on my "baking" time! Which, by the way, there isn't. This is a no bake pie. Just what I needed today!
This pie comes at the end of a crazy week. We're starting landscaping, buying trees and shrubs and ordering sod. Throw in my mom and dad visiting and you have the social equivalent of a 3 ring circus.
I have been mulling around the idea of an ice cream cake- and this wasn't it. This was a throw-it-together-fast for tonight's dessert and PieDay. There's another one – or two- ice cream pies coming.
They won't be as easy as this.
Easy Ice Cream Pie
Ingredients Needed:
2 cups of chocolate baking crumbs
1/3 cup of melted butter
2-3 kinds of ice cream
10 inch deep dish pie plate
Combine the melted butter and crumbs together thoroughly, then press into the bottom of the pie pan and up the sides, like below.
Choose your poison.
I love the President's Choice ice creams. They have amazing flavors that you won't find anywhere else and come in small containers at a great price.
I chose Strawberry Shortcake, Chocolate Crunch and…Sprinkle Party Cake!
I'd like to point out that Sprinkle Party Cake ice cream is the best thing since confetti cake mixes. It has actual cake in it with a multitude of awesome sprinkles. We have a new favorite treat in this house.
Let the ice cream soften enough that you can easily spoon it into the pie plate and smooth it out, but NOT melted.
I started with a layer of the Strawberry shortcake…topped with with a layer of chocolate and then a LOT of the sprinkle party cake.
So fill up the pie dish as you wish! When you have reached the top and filled the pie, cover with Saran Wrap. Freeze the pie for 3 hours and all those layers will meld together! To serve, defrost a few minutes then use a warm knife to cut it, the pieces will pop out beautifully in one piece if you are careful. You do have to eat it right away. Shucks.
This was so amazing for a throw-it-together pie! The flavors I picked were super yummy and a crunchy chocolate crust just made it awesome.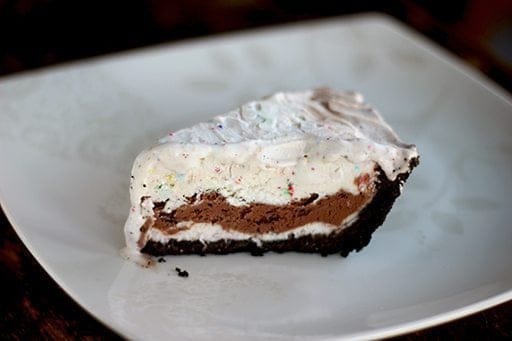 Happy Pie Day everyone! I've had such an amazing week and will get to writing about it so very soon. I however, have to go and dig about 6 holes for trees, pull weeds and dread laying sod tomorrow.
Love,
I Hate Landscaping Magpie
1