This post may contain affiliate links. See my privacy policy for details.
Good grief, I have to catch up on all my travel posts before I go somewhere again! This time I'm heading back to Disneyland in the good ol' U S of A and I'm taking you to the Carnation Cafe!
The Carnation Cafe is located on Main Street USA in Disneyland and has been on my list to try for a couple of trips now.
This place was two worlds in one for food.
I LOVED the kids meals.
Look at this gorgeous healthy lunch option they had. Bran muffin, yogurt and a pile of fruit. This made me happy. Price: $7.49.
My son went for the PB&J Mickey Painter's Palette, where kids build their own sandwich with Peanut Butter & Jelly and it's served with carrots, celery, and raisins. Again, he loved it and I was happy with it as well. Price: $7.99.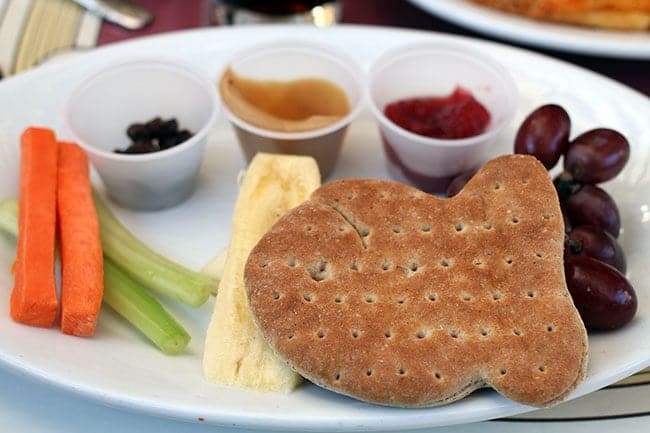 The adult meals, however, left much to be desired.
This is the description of my burger:
Angus Chuck Patty, Tillamook Cheddar, Tomato, Red Onion, Lettuce, and House Sauce on Toasted Brioche. Served with your choice of Fresh Fruit or Seasonal French Fries – $11.99.
So. Not to be a picky pants here, but does anyone else not see tomato? Onion? Nope. None that I can see. House sauce? Nope. I see a slip of lettuce… I was really disappointed in this meal. I was hoping to find a great burger deal – yes, $12 for a burger would have been great in Disneyland!) but this is an overcooked dry patty on a torn apart brioche bun. The bun was torn apart and was totally crooked, as you can see my burger is sitting on a hump of bread. Pet. Peeve. My burger patty needs to sit right flat in the bun.
Mike's was barely better.
Angus Chuck Patty, Manchego Cheese, Roasted Poblano Chile, Tomato, Lettuce, Fried Egg, and House Sauce on Toasted Brioche. Served with your choice of fresh Fruit or Seasonal French Fries 14.99
This is literally how it came, falling apart and thrown on the plate. Now, seriously, I am not picky. But a little care here folks, goes a long, long ways. Taste-wise, once Mike put it together, was ok. The house sauce was non-existent but the egg helped with the dryness of the burger.
The fries were ok, nothing to write home about.
So all in all this is not a place I would recommend for Disneyland food. Try the New Orleans Cafe first, make your reservations there instead of here. I don't think we will be going back here for lunch again.
Have you tried the food there? What did you think?
Love,
Karlynn