This post may contain affiliate links. See my privacy policy for details.
Disneyland Food Review: The Blue Bayou.
The Blue Bayou restaurant in Disneyland, Anaheim has been on my "must" list for Disneyland dining a long time now. If you have been on the Pirates of the Caribbean ride at Disneyland, then you've floated by the Blue Bayou on your way to the watery depths of the best pirate ride in the world.
The number of times I have sat in those wooden boats, listening to the plinking banjo music coupled with chirping crickets, my eyes searching the tables at the Blue Bayou restaurant as I floated on by are countless.
And every single time I vowed to myself that I would get around to eating there.
The Blue Bayou is a Cajun/Creole restaurant right smack dab in my favorite area of Disneyland, New Orleans Square. Tucked away on a side street, you leave the hustle and bustle of the main pathways of Disneyland and find yourself in one of my very favorite Disneyland spots. I'll be talking soon about this a little bit more!
The blue Bayou is, as they say, in perpetual twilight, meaning that as a photographer it is a very hard place to capture in photos. You are literally "in" the Pirates of the Caribbean ride, just off to the side, so lighting the place up would completely ruin the atmosphere.
Beautiful balloon lanterns hang above you, casting just the right amount of light on your table.
Spanish moss hangs from the buildings, adding to that aura of the Deep South perfectly. Drawn shades with dim lights glowing behind them give the appearance of an occupied building in the middle of the night, as you sit out on the street in New Orleans.
The tables are simply set, with a dim lantern on each welcoming you. The blue sky you see over this table is the Pirates of the Caribbean ride. This table was right at the edge of the water, so you were able to watch the ride goers in their wooden boats floating on by… soon to meet their splashy demise!
Ah, the sounds of people screaming as their boats flew down the watery paths into the depths of the ride made us chuckle every single time we heard it. It's all the more fun because you have been there yourself and can envision exactly where they are on the ride.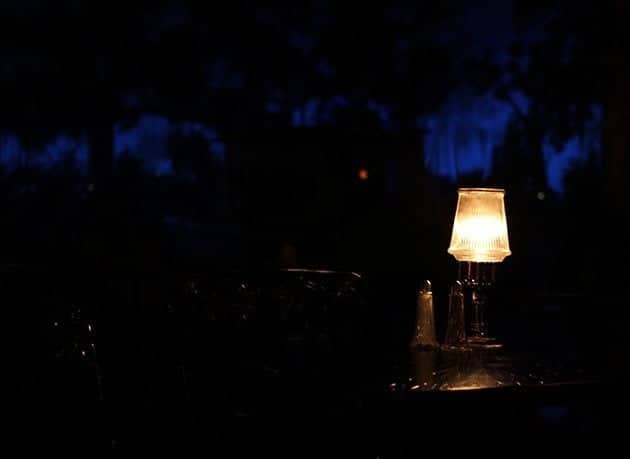 What a pleasure it is to discover Disneyland as an adult and take your children back, I swear I am having more fun now that I did as a child. When I was smaller, I didn't even think about the food possibilities in Disneyland. My children, on the other hand, being the product of a food blogger, enjoy food experiences more than some adults I know.
That doesn't mean that they eat anything other than Mac n' cheese (which my daughter certainly did) but that they are learning to cherish the details of where they are eating and that a meal is more than just the food.
The Blue Bayou is bursting with charm, atmosphere and that feeling of being somewhere special that simply cannot be bought, no matter who you employ as an interior designer for a restaurant.
This boy is always happy as long as you provide him with a pop. Mr K tried out the kids Roasted Beef Strip Loin and it's a testament to how good the food is that he actually ate beef.
I didn't get pictures of most of the food, as the light was so dim it was pushing the capabilities of not only my lenses but my talents as a photographer as well. Mike ate the slow-roasted Beef Strip Loin served with crispy shoestring onions, Blue Bayou Au Gratin potatoes, seasonal vegetables, and Armagnac green peppercorn sauce. The beef was perfectly done, but the best part of this meal was the crispy shoestring onions, which were crunchy onion perfection, in my opinion.
However, even thought I didn't get pictures of the other dimly lit food – I refuse to use flash, nothing looks more disgusting that flash photo food- I did make sure that I got a shot of the Blue Bayou's renowned dish.
The Blue Bayou is famous for their Monte Cristo Sandwich. Turkey, Ham, and Swiss Cheese are battered and then fried to golden brown crispy delight, topped with a luscious dusting of icing sugar and a trio of sweet dips.
Those of you who know me, know that this combination of sweet and savoury sent me straight to food heaven.
This sandwich was the reason that I finally made the trip to the Blue Bayou and it was worth every bite.
If you are a hardcore Disneyland fan and haven't tried this yet, put it on your Disneyland bucket list and make sure to check it off next time you go.
Now, the pricing.
I'm just going to come out and say it.
That was one darn expensive meal.
You can see the prices below, they are not for the faint-hearted. I myself, despite being someone who has eaten in too many cities to count and rarely blinks at the price tag, was a little taken aback at the pricing.
Then I readjusted my line of thinking.
One doesn't equate these types of meals with Disneyland, that's just the bare truth. Fine dining? In a theme park? Nah.
However, when you look at the quality of some of the dishes, the reasoning behind the pricing becomes more apparent. You also have to throw in the setting and the experience of eating there, plus let's remember, you are in a theme park after all.
Would we go again?
I would go back for the Monte Cristo.
Would I head back there for dinner? I'm still debating that.
That said, if you are looking for top of the line meals for dinner, I say why not eat it in Disneyland with the amazing twilight ambience of the Pirates of the Caribbean ride enveloping you as you dine?
The Monte Cristo thrilled me, to the very tips of my toes. It was different, the price point was a little better than most and it was not something I could get anywhere else.
It's very important to note that the Monte Cristo is only available on the lunch menu.
It's also equally important that you make reservations by calling Disney Dining at (714) 781-DINE or (714) 781-3463. Drop-in's are luck of the draw and I can't suggest enough that you pick a day and time and call before you even travel to Disneyland. We called a mere two days ahead and barely squeaked in for lunch! Lesson learned!
You can check out the Lunch Menu and the Dinner Menu from the Blue Bayou page and see what peaks your interest dining wise.
I hope you have enjoyed this little glimpse into Disneyland Dining! It's something that I have been meaning to write now for months and now with the launch of my new website design I knew it was time to start.
I simply love everything that has to do with travelling, especially to Disneyland, so you are going to be seeing more and more posts about travel, Disney, food in other cities and more!
Love,
Karlynn