This post may contain affiliate links. See my privacy policy for details.
A few weeks (ok fine it's more like a month or more but come on, I have to have a life outside writing these posts you know) Mike and I decided to head over to the Fairmont MacDonald in downtown Edmonton and try out their new menu. The new menu had piqued my interest because the Fairmont team had put together a new concept ; building your own menu for $59.
The Fairmont MacDonald has long been known for being THE night out in Edmonton, special occasions, anniversaries and the like, but what about maybe just date night instead?
Date night for Mike and I usually involves dinner OR a movie, never the two. Either we choose a movie and eat popcorn for supper ( I am completely serious) or we head out for a nice, relaxed dinner.
We decided one date night that a nice dinner was in order. Drinks, good food and a relaxing experience was the order of the day.
Since I like a good deal, we went for the Three Course Meal from the Chef's Menu. You know what the best part of it was?
It's not like other places where you get a set of three or four dishes to choose from. No, you get to choose from the entire menu, one dish from each category.
The options are amazing, there's no other word for it.
I love this concept!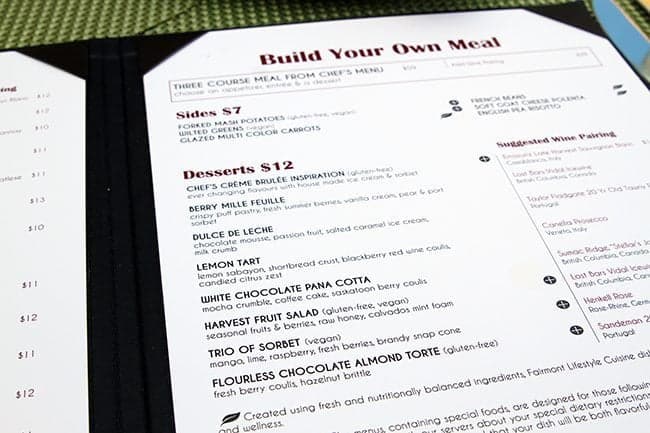 Mike is always predictable; if there are delicious seared scallops on the menu, it's what he's eating.
These scallops were not only works of art, but seriously scrumptious, melt-in-your-mouth perfectly cooked delights.
I went for the Rabbit and Truffles and as a terrine lover, it was fabulous. The pickled vegetables were a perfect addition to cut the richness every few bites as well.
My main was the poached lobster atop mushroom ravioli, which was absolutely decadent. Two of my favorite things on one plate, mushroom and lobster. While I can always do without foam on a dish, this parmesan foam didn't bother me.
Mike ordered the sablefish, one of our absolute favorite choices when it comes down to seafood. It flaked apart in buttery bits of bliss, just as it should.
Dessert was the Dulce de Leche, chocolate mousse with a passion fruit interior and a salted caramel ice cream. I could have eaten that ice cream until the cows came home.
Mike opted for the lemon tart, a perfect tangy ending to a decadent meal.
I think that this new menu idea is a great value, indeed, if you add up what I ordered my expensive Rabbit Terrine was entirely free. It's a great way to check out the Fairmont, have a fabulous meal and not have it break the bank.  When you think of what you can spend at a crummy restaurant, $59 for food of this quality is a great deal!
Have you been to the Harvest Room lately? What are your thoughts?
Love,
Karlynn