Detroit Honey Hot Wings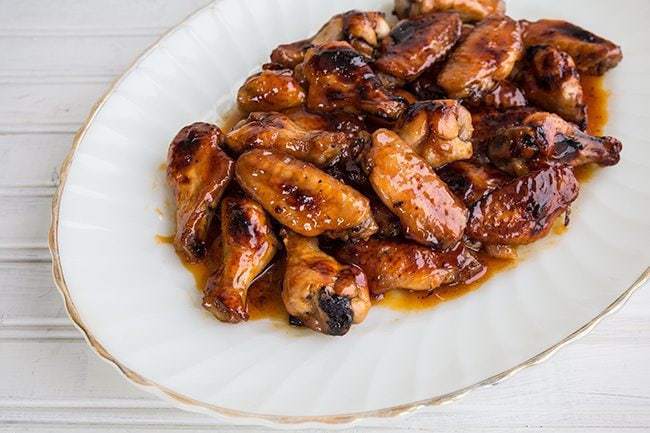 I tried to find out why these are called Detroit Honey Hot Wings and to be honest Google let me down. I assume that these delicious little sticky, drippy, amazing bites o' heaven were created in Detroit (natch, right? Why else would they have Detroit in the name?) but hey, I'm not going to start false rumours here.
What I can start, is a WING REVOLUTION!
Er, or maybe not. Sorry, I've had a lot of coffee this morning and when I get too much caffeine in me, I get a little wired and start yelling about chicken wing revolutions. True story.
I digress as always.
I L-U-V these chicken wings. These wings make two people in our house happy – Mike and me. Mike likes spicy wings and I love the flavour of hot sauce ( I craved it while I was pregnant with The Rose) but I don't like the heat, aka burning chicken wing mouth.
The butter calms and soothes the hot sauce down, as well as the honey, thus the name Detroit Honey Hot Wings, I'm sure. Makes sense, right? Mike liberally doused his with extra hot sauce on his own plate and I ate these as is.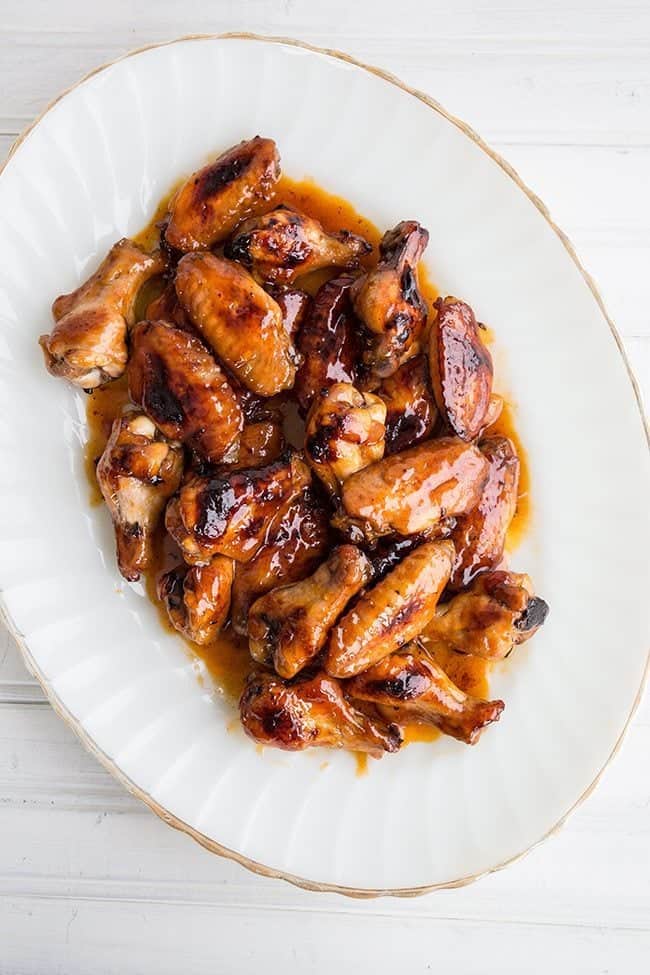 We demolished these for lunch. There were Detroit Honey Hot Wings and chicken bones flying, paper towels with sticky honey handprints all over the table…it was carnage.
Delicious, delicious carnage.
While most Detroit Honey Hot Wing recipes call to grill these on the BBQ – and you certainly can when the summer months get hot- I personally will keep making them in the oven, until the house is too hot and the thought of using the oven makes me want to scream. They are delicious!
I do recommend finishing them off in the oven for an extra 5-10 minutes or so with the sauce, it always seems to "set" the sauce a bit better.
These are a 10-napkin kind of chicken wing, so make sure you have your finger bowls or wet naps at the ready!
Happy Cooking!
Love you more than chocolate,
Karlynn

Detroit Honey Hot Wings
Hot and sweet in the same bite, these chicken wings are amazing! Did I also mention EASY??
Ingredients
2-3

pounds

of chicken wings cut and the wing tips discarded & patted dry with paper towel

1/2

tsp

- 1 tsp cayenne pepper

optional I didn't use this

sprinkle of salt and pepper to taste

1

tbsp

vegetable oil

1/2

cup

honey

1/2

cup

butter melted

1/4

cup

hot sauce
Instructions
Pre-heat your oven to 400 degrees or pre-heat your BBQ, making sure to oil the grill.

If using the oven, line a large baking sheet with tinfoil.

Toss the chicken wings with the peppers, salt and then the oil to coat.

Cook the chicken wings on the BBQ grill until completely cooked through and the juices run clear, 20 to 30 minutes. I using the oven, cook on the foil lined sheet until the juices run clear.

Melt the butter, pour into a large bowl and mix in the 1/2 cup of honey and hot sauce. This is where you can season the sauce to your liking. My husband likes more hot sauce in this, I like it perfectly as it is. Taste test and see what you'd add more of right now!

Remove the wings from the grill or the oven and toss them in the hot butter sauce to coat.

If wanted, you can return to the oven for another 5 minutes to "set" the sauce a little more, but they can also be eaten right away!
Nutrition Facts
Detroit Honey Hot Wings
Amount Per Serving (24 g)
Calories 0
* Percent Daily Values are based on a 2000 calorie diet.
0