Crockpot Flat Iron Steak with Portobello Mushrooms & Potatoes
It snowed this week and while you may think that's nothing, to me it was Mother Nature (or the Alberta weather) letting us know that she ain't done with us yet. Oh, we may have had the mildest winter that I can ever remember, with very little snow and days so nice that I've lived in a sweater instead of a winter coat for weeks upon end, but it's not over until Mother Nature says so. And she usually says so right after she dumps a large amount of  snow on us for the May long weekend.
We're still quite a few weeks away from May long weekend, so as much as I had enjoyed my BBQ (and the snow-free deck that it sits on) it's STILL crockpot weather. It's still the comforting, hot-food-that-cooks-all-day time of year, so I thought I'd try crockpot flat iron steak.
Flat iron steak is a cut of beef that comes right off of the shoulder-blade area of the cow. This thin strip of steak is a tender, lovely piece of beef that I prefer to cook low and slow, contrary to popular use. The flat iron has come back in style lately, with a lot of restaurants serving it up along with flank and hanger steaks. Sadly, it's very hard to get one properly cooked and sliced. I am getting cranky in my old age and to be honest, there are very few cuts of steak that I enjoy as a grilled item anymore. I know. Forty is when the descent into senior-ism starts.
However I am completely serious, all jokes aside. Trendy or not, I'll take a tenderloin for the BBQ and skip everything else. That sounds really hoity-toity (have I ever used that phrase here? Well, it's about time I did) but for the very few times we that actually eat steak, it's not that bad.  Go for small portioned, good quality steak for grilling every time and you will be a happy griller.
Flat iron steak does not have to be fancy. It doesn't always need a chimichurri – although it really is my favorite way to eat flank steak- and it doesn't need 11 herbs and spices.
This was the simplest recipe that I could possibly think of and it is scrumptious. Crockpot Flat Iron steak is SO the way to go!
I stopped by ACME Meat Market here in Edmonton, the perfect place to pick up cuts of meat that you won't find at your regular grocery store.
You can see with the meat how it will be better when you cook it low and slow. See all that fat marbling?
It will dissolve with the right amount of cooking time, leaving you with meat reminiscent of short ribs. Falls apart and into your mouth.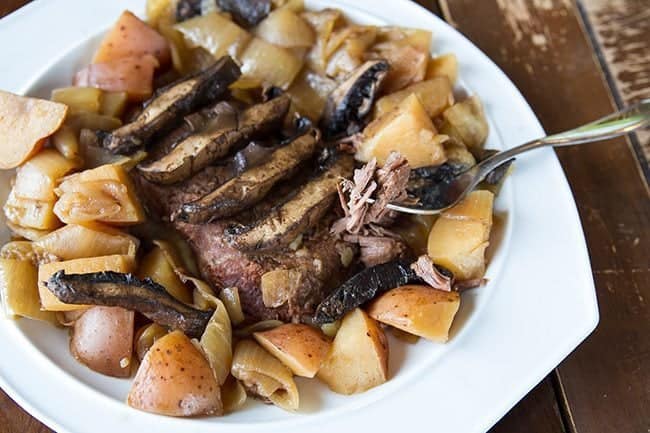 Low and slow is meant for the slow cooker, and so are large chunks of onion and massive portobello mushrooms.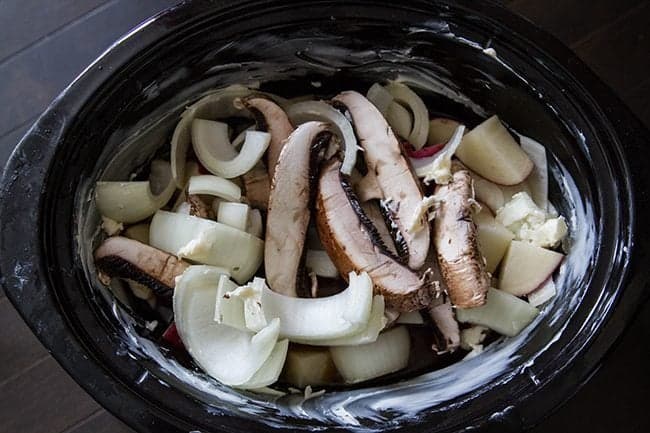 This right here?
Dinner perfection.

It's such a comforting dish, with simple yet delicious flavours, which is my favorite kind of meal. Prep it, set it, let it cook all day and then come home to a hot, delicious meal ready to go.
Happy Cooking everyone! How's the weather been where you live? How was your winter?
Love you more than chocolate,
Karlynn

Crockpot Flat Iron Steak with Portobello Mushrooms & Potatoes
Easy and delicious flat iron steak done in the crockpot.
Ingredients
2-3 lbs of flat iron steak
1 lb of sliced portobello mushrooms
1 can of beef consomme
1 large white onion sliced into large rings
3-4 inch large red potatoes washed and chopped into 1 pieces with skin still on
butter for greasing crockpot
Instructions
Grease the interior of your crockpot with a generous amount of butter.

Place the flat iron in the bottom of the crockpot.

Place the vegetables on top, then pour the beef consomme over the top.

Cook on low for 6-8 hours, until the potatoes are tender.

Serve and enjoy!
Nutrition Facts
Crockpot Flat Iron Steak with Portobello Mushrooms & Potatoes
Amount Per Serving (4 servings)
Calories 0
* Percent Daily Values are based on a 2000 calorie diet.
61