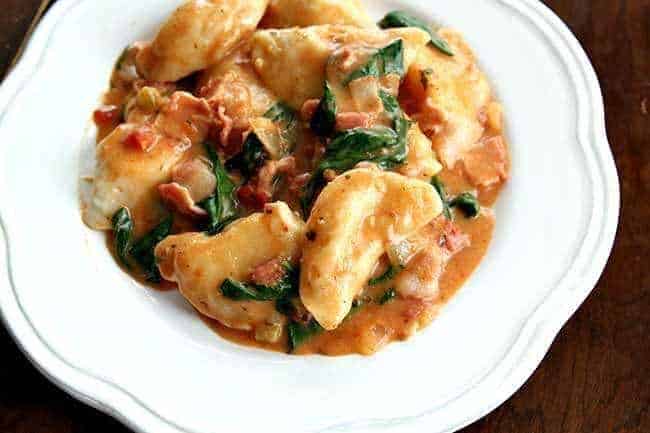 For my second post with Campbell's I tackled a recipe that I was really on the fence about. I knew that I was going to have to try it, but I have to be honest, my eyebrows were a bit raised over the salsa and cream of celery soup used in it.
This is exactly the type of recipe that I need this time of year, easy, fast and someone else developed it. Oh, that last part is SO true. I am a little brain-dead this time of year. I am so busy coming up with new Christmas baking ideas that I don't have the time or the inclination to be messing around with new dinner ideas.
Add in the fact that I am hosting my dinner club this Saturday for a games and dinner night, well, I'm one busy little bird. I am baking up a storm this week getting ready for it.
So this recipe was a welcome one and I have to admit, I liked the fact that you start with bacon.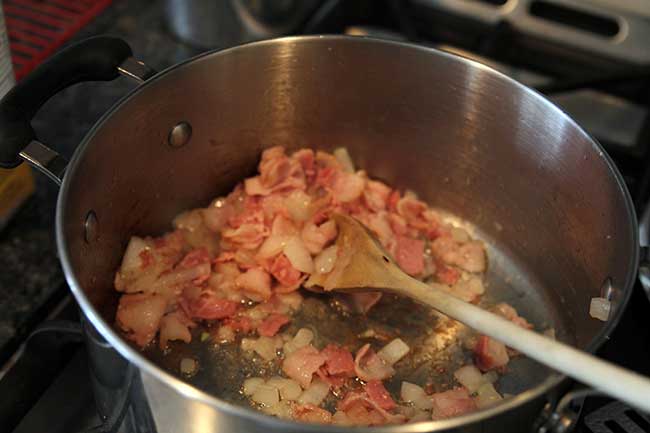 The verdict? It turned out to be really delicious and that's coming from a Ukrainian girl who is pretty darn serious about her perogies.
It was delicious enough that Mike ate it willingly and yes, I mean my husband, not one of the kids. Sometimes he's the one that's the picky pants in the family. I knew that my son would like it – and he scarfed back a plate at lunch – but I wasn't so sure about Mike. My daughter has apparently sworn off perogies, something that I haven't told her Grandmother about yet.
Eeek. Nana is going to find out at Christmas that The Rose isn't eating her special, Nana-made perogies anymore. I have no idea why. She literally told me " I've moved on to other things."
Sassy much?
The only thing I changed was to add more spinach and I would actually add even more next time. It was a nice fresh taste addition to the dish and I would honestly use a whole bag since it shrinks into almost nothing by the time you were done.
To keep the sodium low, make sure to use a no salt added broth AND get a lower sodium bacon for sure if it's a concern.
Happy Cooking everyone!
Love,
Karlynn

Creamy Perogy Dinner
If you are a perogy lover this is the dish for you!
Ingredients
5

slices

bacon diced into small pieces

1

onion finely diced

1

tbsp

garlic minced

15 mL

1

tsp

ground black pepper 5 mL

1

box frozen perogies 907 g

1 284 mL can CAMPBELL'S ® Condensed Low Fat Cream of Celery soup

1/2

cup

CAMPBELL'S ® Ready to Use No Salt Added Chicken broth

1

cup

salsa 250 mL

2

cups

baby spinach loosely chopped

500 mL

1/4

cup

grated Parmesan cheese 125 mL

1/4

cup

sour cream 125mL

garnish
Instructions
Cook bacon until crisp at medium heat in large skillet. Drain bacon on paper towel; remove all but 1 tbsp (15 mL) fat from skillet.

Add onion, garlic and black pepper to skillet; cook and stir until onions are translucent – about 3 minutes. Return bacon to pan.

Add perogies to skillet and cook until browned on each side, about 10 minutes.

Add the soup, broth and salsa and stir to combine and let simmer for 10 minutes

Add the spinach and Parmesan cheese and cover skillet with lid. Turn heat off and let sit for a couple of minutes to allow spinach to wilt slightly then mix.

Garnish with sour cream and serve immediately.
Nutrition Facts
Creamy Perogy Dinner
Amount Per Serving (4 g)
Calories 0
* Percent Daily Values are based on a 2000 calorie diet.
"Disclosure: I am part of the Campbell Company of Canada Ambassador
program with Mom Central Canada and I receive special perks as part of
my affiliation with this group. The opinions on this blog are my own."
2