This creamy perogie dinner can be made with fresh perogies or frozen perogies. This is an easy way to make an entire meal out of perogies ( though really, I have no problem doing that usually) with a new unique taste! I have updated this recipe from 2014 to include a homemade perogie recipe.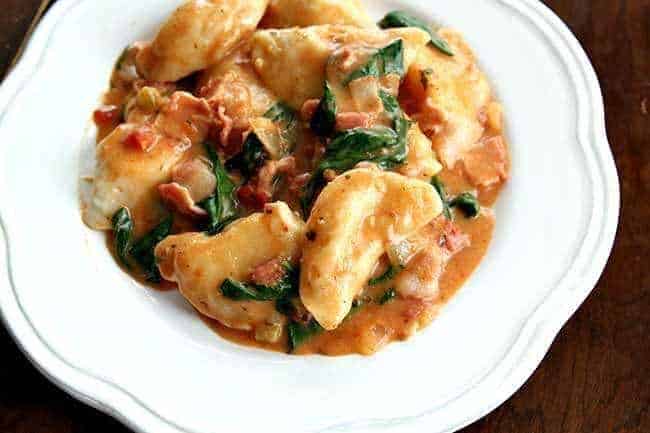 Perogies for Dinner
For my second post with Campbell's I tackled a recipe that I was really on the fence about. I knew that I was going to have to try it, but I have to be honest, my eyebrows were a bit raised over the salsa and cream of celery soup used in it.This is exactly the type of recipe that I need this time of year, easy, fast and someone else developed it. Oh, that last part is SO true. I am a little brain-dead this time of year. I am so busy coming up with new Christmas baking ideas that I don't have the time or the inclination to be messing around with new dinner ideas.
Add in the fact that I am hosting my dinner club this Saturday for a games and dinner night, well, I'm one busy little bird. I am baking up a storm this week getting ready for it. So this recipe was a welcome one and I have to admit, I liked the fact that you start with bacon.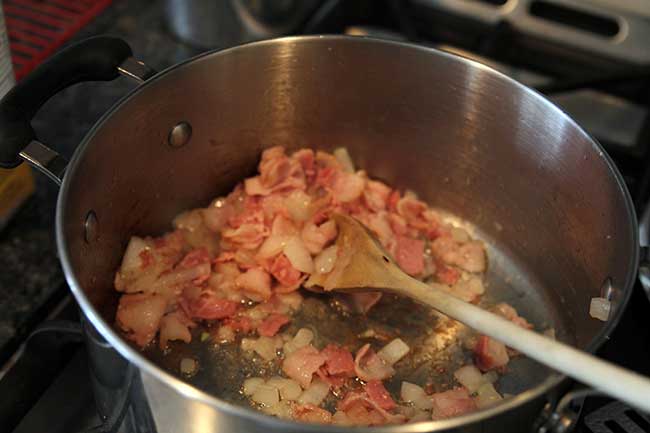 The verdict? It turned out to be really delicious and that's coming from a Ukrainian girl who is pretty darn serious about her perogies.
It was delicious enough that Mike ate it willingly and yes, I mean my husband, not one of the kids. Sometimes he's the one that's the picky pants in the family. I knew that my son would like it – and he scarfed back a plate at lunch – but I wasn't so sure about Mike. My daughter has apparently sworn off perogies, something that I haven't told her Grandmother about yet.
Eeek. Nana is going to find out at Christmas that The Rose isn't eating her special, Nana-made perogies anymore. I have no idea why. She literally told me " I've moved on to other things."
Sassy much?
The only thing I changed was to add more spinach and I would actually add even more next time. It was a nice fresh taste addition to the dish and I would honestly use a whole bag since it shrinks into almost nothing by the time you were done.
Homemade Perogie Making Tips & Tricks
Practice and more practice! The most important part of perogie making is pinching the seams.
Speaking of the seams, do NOT wet them! Pinch them a few times, over and over but do not moisten the edges.
Don't overdo the perogie filling.
To keep the sodium low in the sauce for the creamy perogie dinner, make sure to use a no salt added broth AND get a lower sodium bacon for sure if it's a concern.
Happy Cooking everyone!
Love,
Karlynn

Pin this recipe to your Dinner Ideas Board and Remember to FOLLOW ME ON PINTEREST! 
Homemade Perogie Recipe
How to make homemade perogies! Step by step instructions and steps!
Course: Main Course
Cuisine: Ukrainian
Keyword: perogies
Servings: 48 perogies
Calories: 20 kcal
Ingredients
Filling
3 cups of hot boiled potatoes
1/2 cup old cheddar cheese grated
1/4 tsp black pepper
1/4 tsp salt
Perogy Dough
1/4 cup hard margarine or butter melted
1 1/4 cup of potato water save it from your potatoes!
2 1/2 - 3 cups of flour
pinch of salt
Instructions
Boil your potatoes and drain, reserving the water for the dough. Place the still hot potatoes into a bowl and mash together with the cheese, salt and pepper until the cheese has melted and the potatoes are smooth. Set aside.

Combine the margarine and potato water in a large bowl. Mix in the flour and salt until soft, slightly tacky dough forms. It should not stick much.

Cover with a clean cloth and let rest for an hour.

Flour your working surface then turn out the dough onto it. Sprinkle the dough slightly with flour. Roll out to a thin layer, slightly less than than a 1/4 of an inch. Cut out circles with a small soup can (this is the perfect size and it works amazing.)

Place a heaping teaspoon of filling into the centre of each dough circle. Pinch the sides until sealed.

Place on a baking sheet and freeze, when they are frozen fill up a freezer bag with them and freeze together.

To cook, bring a pot of water to a boil then place perogies in the pot. Boil until they rise to the surface, then cook for two minutes more. Drain and toss with butter to prevent sticking
Recipe Notes
The nutritional value is for each perogie.
Nutrition Facts
Homemade Perogie Recipe
Amount Per Serving
Calories 20 Calories from Fat 9
% Daily Value*
Total Fat 1g 2%
Cholesterol 3mg 1%
Sodium 29mg 1%
Potassium 55mg 2%
Total Carbohydrates 1g 0%
Vitamin A 0.8%
Vitamin C 1.8%
Calcium 1.3%
Iron 2.4%
* Percent Daily Values are based on a 2000 calorie diet.
How to Make the Creamy Perogie Dinner
Creamy Perogy Dinner
If you are a perogie lover this creamy perogie dinner is the dish for you!
Course: Main Course
Cuisine: Ukrainian
Servings: 4
Calories: 823 kcal
Ingredients
5 slices bacon diced into small pieces
1 onion finely diced
1 tbsp garlic minced 15 mL
1 tsp ground black pepper 5 mL
1 box frozen perogies 907 g
1 284 mL can CAMPBELL'S ® Condensed Low Fat Cream of Celery soup
1/2 cup CAMPBELL'S ® Ready to Use No Salt Added Chicken broth
1 cup salsa 250 mL
2 cups baby spinach loosely chopped 500 mL
1/4 cup grated Parmesan cheese 125 mL
1/4 cup sour cream 125mL garnish
Instructions
Cook bacon until crisp at medium heat in large skillet. Drain bacon on paper towel; remove all but 1 tbsp (15 mL) fat from skillet.

Add onion, garlic and black pepper to skillet; cook and stir until onions are translucent – about 3 minutes. Return bacon to pan.

Add perogies to skillet and cook until browned on each side, about 10 minutes.

Add the soup, broth and salsa and stir to combine and let simmer for 10 minutes

Add the spinach and Parmesan cheese and cover skillet with lid. Turn heat off and let sit for a couple of minutes to allow spinach to wilt slightly then mix.

Garnish with sour cream and serve immediately.
Recipe Notes
You do not want to use pre-cooked perogies in this or they will fall apart! You brown them, then simmer them in the sauce which will cook them!
The recipe nutritional values are for the sauce only as the perogie nutritional values will vary from homemade to frozen.
Nutrition Facts
Creamy Perogy Dinner
Amount Per Serving (4 g)
Calories 823 Calories from Fat 558
% Daily Value*
Total Fat 62g 95%
Saturated Fat 25g 125%
Cholesterol 119mg 40%
Sodium 3491mg 145%
Potassium 1629mg 47%
Total Carbohydrates 38g 13%
Dietary Fiber 8g 32%
Sugars 17g
Protein 32g 64%
Vitamin A 148.5%
Vitamin C 49.3%
Calcium 53.6%
Iron 22.1%
* Percent Daily Values are based on a 2000 calorie diet.
"Disclosure: I am part of the Campbell Company of Canada Ambassador
program with Mom Central Canada and I receive special perks as part of
my affiliation with this group. The opinions on this blog are my own."
1