I have a confession. Or three hundred confessions, really, but let's start with just one.
Summer cooking isn't really my thing. I mean it is, but I honestly would rather eat burgers every single night of summer and then come up with a fancy new cocktail recipe instead of a new supper recipe. Or a toasted tomato sandwich and salad. I'm sure that you can see what I'm getting at.
Summer is the time for easy cookin'. Burgers, sandwiches and salads, with produce straight from your garden as the accompaniment. Summer here in Edmonton is so flipping short that I honestly don't want to spend time in the kitchen cooking up a storm. I want to toss together a salad from the garden and sit outside in the evenings.
However Autumn is another matter. About this time of year I am ready to get back to cooking. So what do I do?
Head to Florida for a month.
Oy.
Fine, it's not just Florida that we are heading to and I do have some very fun and awesome news coming up for you all, but until I have carte blanche to talk about it, you're going to just have to trust me that we are on a MUST BE AWAY FROM HOME trip. While we turned it into a family trip, between Mike and I we have to visit Miami and Pennsylvania this month. For real, actual business-like purposes.
TOP SECRET PURPOSES.
I know, it's hard to believe that we actually work for a living.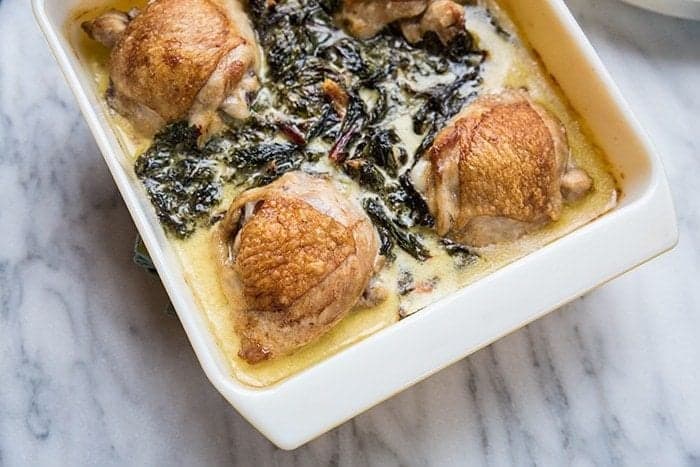 This recipe came about because I had swiss chard to use up from my garden and I came out of my non-cooking summer mode. Briefly.
I love swiss chard. I especially love it drowned in a garlic cream sauce. Swiss chard cane be pretty boring, let's face it. Sometimes it's hard to get excited about eating our greens, no matter what vegan bloggers tells you. Greens can be acidic, tough and let's face it, not exciting.
No friends, I can't get excited over a swiss chard quinoa salad with a side of kale dressing, topped with the tears of unicorns and other magical vegetarian creatures.
But I can get excited over this.
You can use a LOT of swiss chard in this recipe. While I baked this in an 8×8, I halved the recipe and only made 4 chicken breasts. You can make up to 8 and you can also add in some baby potatoes to make this a full meal deal.
I was feeding some low carbohydrate carnivores with this recipe, so I left out the potatoes and I didn't even care.
Happy Cooking!
Love,
Karlynn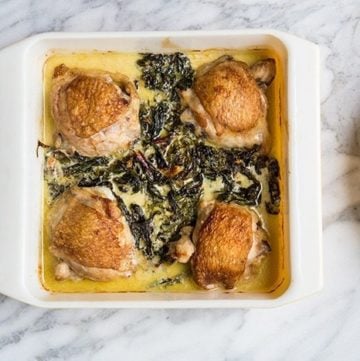 Creamy Garlic Swiss Chard Chicken
Creamy Garlic Swiss Chard Chicken- the delicious way to eat your greens!
Ingredients
6-7

in

bone- skin-on chicken thighs

1

tbsp

butter

1

tbsp

vegetable oil

Garlic Swiss Chard Cream Sauce

2

tbsp

butter

7-8

cloves

garlic smashed then roughly chopped

8

cups

of roughly torn swiss chard 2 large bunches of 6-7 stalks each

1

cup

chicken broth

1/4

cup

heavy cream

⅓ cup freshly grated Parmesan

1/2

tsp

to 1 lemon juice to taste

cups

Optional: 4 baby potatoes sliced in half or quartered if you have small chicken thighs
Instructions
Pre-heat the oven to 400 F.

Melt butter and oil together in a large frying pan over medium-high heat. Add in the the chicken thighs.

Fry until the skin is very crisp and brown on both sides. Drain the chicken and place into a large

9x13

baking pan of choice. Drain the fat from the pan and place back on the stove.

Melt the next two tablespoons of butter,

Add in all of the garlic and fry for 1 minute. Add in the swiss chard and then saute until it shrinks.

Whisk in the chicken broth, cream and Parmesan. Add in lemon juice to taste.

Cook for an additional 2-3 minutes.

Place baby potatoes between the chicken in the

9x13

pan. If you have large chicken thighs, halve the baby potatoes, if you have smaller ones, quarter them so that they cook faster.

Pour the spinach and cream sauce over top of the chicken and potatoes.

Bake the chicken in the oven for 25-30 minutes or until the thighs reach a

temperature

of 175 °F and are tender and cooked all the way through. The potatoes should be tender.

Remove and serve.
7