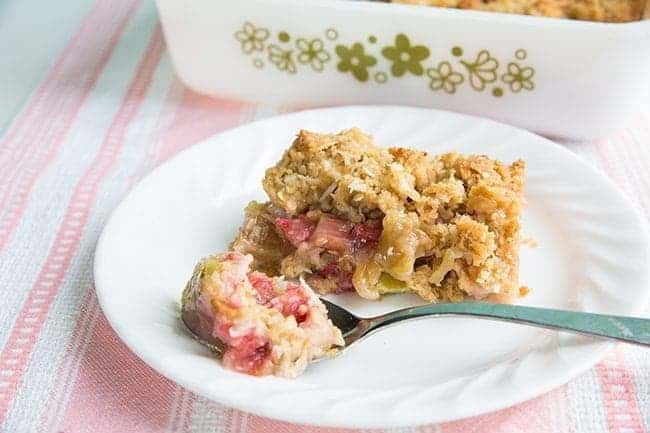 There are a few things that annoy me about rhubarb recipes. I've already mentioned that I hate when scones are too sour and that I think most rhubarb scones aren't sweet enough. Which is what led me to make my fabulous Coconut Rhubarb Scones. I also hate when there isn't enough rhubarb in a recipe. Add to my grumpy baker list when rhubarb desserts are too sweet.
That's right. Grumpy baker pants. Try living with me.
Try living with me when I threw out the first batch of this recipe because there wasn't enough gawrsh dang filling!
ARGH!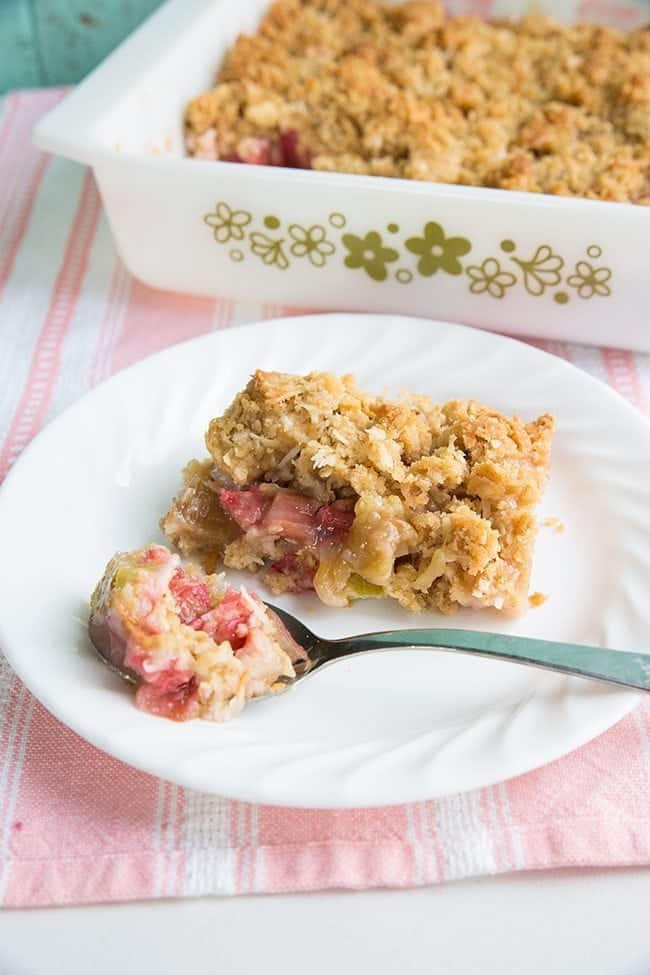 This recipes uses about half the recommended amount of white sugar in it ; I use a mere cup for 6 cups of rhubarb. If you aren't a sour lover, I'd move up to 1 1/2 cups. Remember, the crust is definitely sweet and to me there is no better pairing than a tart filling with a crunchy, sweet top.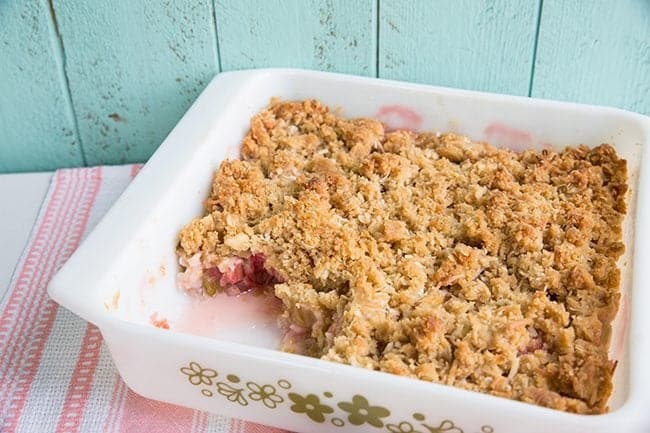 My rhubarb is SO large and glorious this year. I was a good girl and listened to all of the gardening advice and did NOT harvest anything the first year that I planted it. I've been rewarded with rhubarb that keeps on growing this year.
Seriously. This photo was taken AFTER I made two rhubarb crunches (remember, the first one hit the garbage) and a batch of scones. I trimmed back some leaves that that the sun reaches underneath a bit and the stalks that were curled up underneath exploded.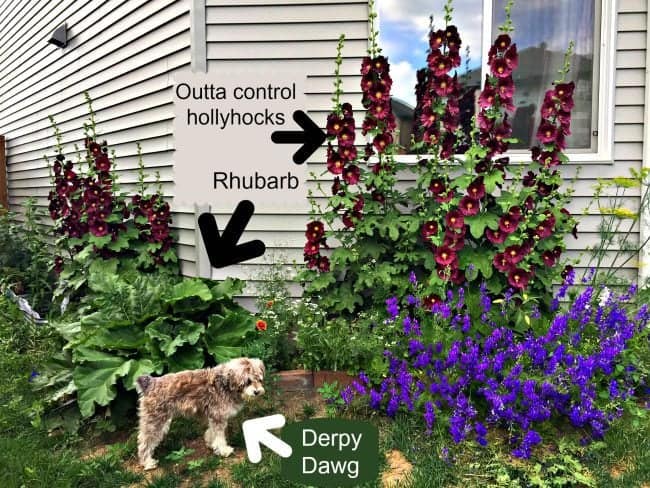 I'm looking forward to coming home from my trip to Salt Lake and diving right into baking again. What are your favorite rhubarb recipes?
Happy Baking everyone!
Love,
Karlynn
Print
Coconut Rhubarb Crunch
---
Prep Time:

15 minutes

Cook Time:

40 minutes

Total Time:

55 minutes

Yield:

8
Ingredients
6 cups diced rhubarb
1 cup white sugar this is halved for a sour rhubarb filling
6 tablespoons all-purpose flour
1 cup packed light brown sugar
1 cup quick cooking oats
1 1/2 cups all-purpose flour
1 cup flaked sweetened coconut
1 cup butter
---
Instructions
Preheat oven to 375 degrees F.
Lightly grease an 8x8x or a 9×9 inch baking dish.
In a large mixing bowl toss the rhubarb, white sugar, and flour. Coat well and mix thoroughly, then place into the bottom of the pan,
In a large mixing bowl combine brown sugar, oats, coconut and flour. Mix together well then cut in butter until mixture is crumbly.
Sprinkle the mixture over rhubarb layer evenly.
Bake in the preheated oven for 40 minutes. You might have to cover with foil or parchment paper if it starts to get too browned. You need to see the rhubarb bubbling through.
Serve warm plain or with vanilla ice cream