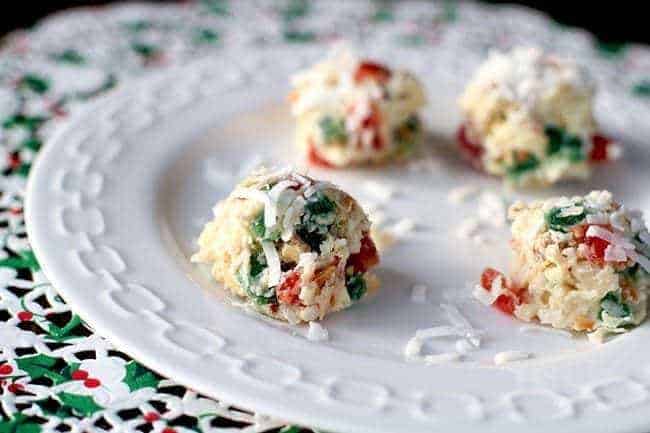 That's right, it's time for another five-minute Christmas recipe! This time it's a family favorite, Christmas Haystacks but instead of using chow mein noodles, we use toasted almond slivers. Oh you guys, these are so dang delicious thanks to the toasted almonds! I'm not a huge fan of the chow mein noodles haystacks but these? Trust me. These are amazing tasting little Christmas bites of delight!
The secret to the taste is making sure you have well toasted almond slices and making sure they are sliced, not slivered! You need that little bit of extra crunch in these with the larger slices.
To toast the almonds, you simply put them in a frying pan over medium heat and continuously stir until they are golden brown. Some pieces will inevitably be too dark – the very small ones- but pick them out at the end.
The cherries and the sprinkled coconut just shriek "Christmas Treat!!" and the fact that they take five minutes just rocks my Santa socks.
Now, as a Life Made Delicious participant for this year I'm going to pull a couple more recipes from the Life Made Delicious website that caught my attention.
Gift this layered Lentil Soup in a Jar.  I love, love LOVE this idea! Healthy, easy and thoughtful, that makes for a great gift!
I feel that I would be letting you all down if I didn't point out  The Mantastic Chicken And Waffle Sandwich. Can we say AMAZING?!!
Boozy Bourbon Cupcakes. I'll take a dozen please. With a side of extra bourbon.
So tell me. are you going to give these a whirl? Try out almonds instead of chow mein? You know, you can use chow mein if you like and have beautiful Christmas chow mein haystacks, I'll forgive you if you do 😉
Happy Baking everyone!
Love,
Karlynn
** Remember to join ZIPLIST to create your own online recipe box and then click SAVE on my recipe below to add it! I use my online recipe box ALL the time! **
Christmas Haystacks
Fabulously easy Christmas Haystacks, using almonds instead of chow mein for the crunch factor!
Course: Dessert
Cuisine: cookies
Servings: 12
Calories: 231 kcal
Ingredients
254 gram bag of white chocolate chips
1 cup sliced almonds toasted
1/2 cup candied red cherries quartered
1/2 cup candied green cherries quartered
2/3 cup sweetened flaked coconut divided into two
Instructions
Line a cookie sheet with parchment paper.

Place the chocolate chips into a 4 cup glass measuring cup.

Microwave on high for 1 minute then stir. Keep microwaving until completely melted, making sure to stir every 30 seconds.

When the chocolate is melted stir in the almonds, coconut and cherries.

Drop tablespoonfuls or small cookie scoops onto prepared cookie sheet.

Sprinkle with second amount of coconut.

Refrigerate until hard and serve!
Nutrition Facts
Christmas Haystacks
Amount Per Serving (12 g)
Calories 231 Calories from Fat 108
% Daily Value*
Total Fat 12g 18%
Saturated Fat 5g 25%
Cholesterol 4mg 1%
Sodium 32mg 1%
Potassium 141mg 4%
Total Carbohydrates 27g 9%
Dietary Fiber 1g 4%
Sugars 21g
Protein 3g 6%
Vitamin A 0.1%
Vitamin C 0.1%
Calcium 6.6%
Iron 2.5%
* Percent Daily Values are based on a 2000 calorie diet.
Disclosure: I am part of the Life Made Delicious. Blogger program and I receive special perks as part of my affiliation with this group. The opinions on this blog are my own
0