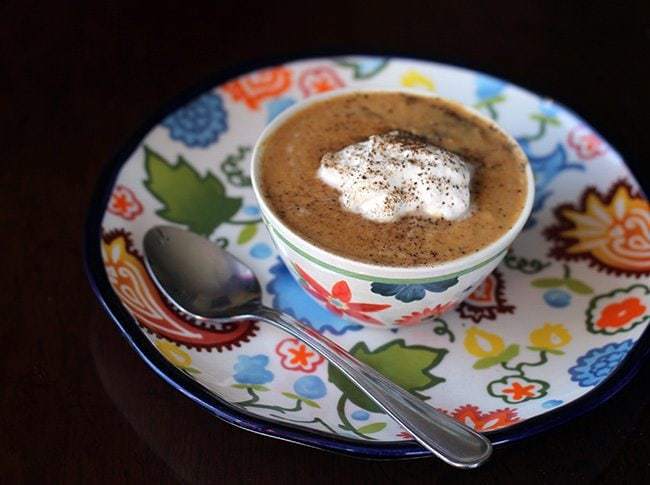 Let's start the day after Halloween with a healthy soup, shall we? I can't even look at a Coffee Crisp bar today, so I figured a healthy soup recipe was in order for everyone to start detoxing a little bit from the Halloween excess.
This soup combines three of my favorite things, pumpkin, chickpeas and edamame.
There is no milk or cream added to this soup unless you wish to top it with either whipped cream (plain, not sweet) or sour cream. Hey, a little coconut cream always makes things better too!
So who else is suffering from a Halloween candy coma today? My children certainly are. They had far too much fun last night, stayed up far too late and are more than a little cranky today.
Oh, I feel like I should have sent apology letters to the teachers today. Last year the kids had the day off school, we slept in, recuperated, it was so lovely. This year, not only is it a school day after Halloween, it's Friday. The kids are done by Friday, they are over the school week, they just want to be at home and relax.
So, tired kids, candy comas and done with school?
Ouch.
I am off to judge the Downtown Chili Cook Off today for the fourth year in a row! This is one of my favorite food competitions all year and I am so excited to go. If you have time, stop on by and say hi, eat some chili and see the great entertainment going on!
Happy Friday!
Love,
Karlynn
** Remember to join ZIPLIST to create your own online recipe box and then click SAVE on my recipe below to add it! I use my online recipe box ALL the time! **
Chickpea & Edamame Pumpkin Soup
Chickpeas, edamame and pumpkin combine together in a lovely healthy and delicious soup!
Ingredients
1

cup

of white onion chopped5 cups of water3 tsp of Vegeta vegetable seasoning1 ounce can garbanzo beans 28

chick-peas1 cup frozen edamame beansone small can of pumpkin approx. 15-16 0z1 cup of plain whipped cream or sour cream according to your taste
Instructions
Combine all ingredients except for the whipping cream in a crockpot. Cook on low for 6-7 hours, until all the ingredients are soft.When the soup is ready, take a hand blender and completely puree the soup until smooth.Top with plain whipped cream, sour cream or drizzle some coconut cream on top.Sprinkle pepper and salt on top to taste.
Nutrition Facts
Chickpea & Edamame Pumpkin Soup
Amount Per Serving (8 g)
Calories 0
* Percent Daily Values are based on a 2000 calorie diet.
0