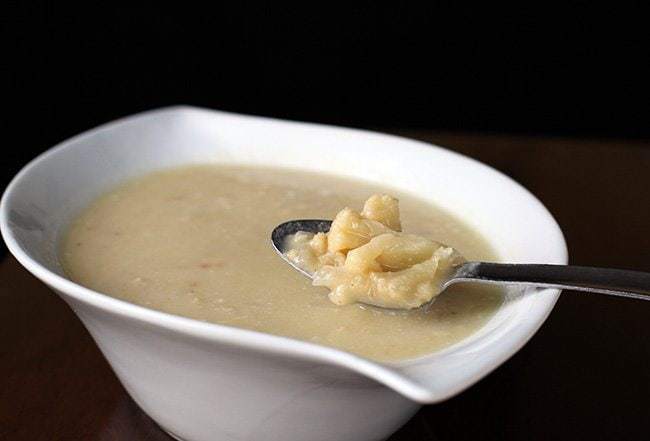 So. I guess by now you're fully aware that I love soup. It's kind of hard to keep any sort of secret around here when you tend to blog everything you eat, do, buy, think…..the list goes on and on.
I have made this soup before, eaten it and loved it, but totally lost the pictures to it.
This isn't something new in the land of food blogging, folks, in fact, I think this should be my next Food Blogger Confessions posts.
We lose pictures all the time.
I'll get into that again sometime, but I made this soup years ago and never blogged it due to those lost pictures.
This cream of cauliflower soup isn't full of amazing spices, or fancy additions, it's just plain ol' cauliflower goodness with cheese added to it.
Because everything is better with cheese in it, yes?
You simmer the cauliflower for hours in a simple vegetable broth, then at the end make a roux (white sauce) with some cheese melted into it and voila. You have an amazing supper.
Today looks like this at the Magpie household:
Perhaps I might have edited the picture of my backyard to reflect how I feel about the snowy weather today, an inner look into my dark soul that's full of despair.
Or perhaps that's just reading too much into the photo.
It is snowy, cold and dreary today, the sky is very grey and snow is sifting down from the heavens slowly. I have that slight "blech head" that I get when it snows. Anyone else get that "blech head"? I know it has to do with high/low  pressure weather systems moving in, I feel all "meh" in the head.
Lord love a duck, help me here folks. There must be some of you out there who get that "meh" feeling in your noggin when it snows? Not a headache, just blah? Like you are a human barometer?
However that ain't gonna stop this girl from seeing the second Thor movie with her husband tonight and perhaps heading out somewhere for nibbles beforehand.
What are your plans for this glorious long weekend here in Canada?
Love,
Karlynn
** Remember to join ZIPLIST to create your own online recipe box and then click SAVE on my recipe below to add it! I use my online recipe box ALL the time! **
Cheesy Cream of Cauliflower Soup
Decadent cheesy cream of cauliflower soup, sure to warm your belly on a chilly day!
Ingredients
1

head of cauliflower washed coarsely chopped

6

cups

vegetable broth

1

cup

diced white onion

3

tbsp

butter

4

tbsp

flour

1

cup

whole milk

1

cup

cheese
Instructions
Place the cauliflower, broth and diced onion into a large

crockpot

.

Cook on low for 5-6 hours, or until the cauliflower is soft and cooked through.

In a medium size pot over low heat, melt the butter. Stir in the flour until it's combined; it will be all clumped together, this is ok.

Next, little by little, stir in the milk making sure that the milk is absorbed into the flour without making it lumpy. Eventually the mixture will be smooth.

When all of the milk has been added and the mixture is smooth, add in the cheese and stir until melted.

Move the cauliflower to one side of the pot so there is a soup surface to mix in.

Whisk in your milk/cheese sauce into the

crockpot

.

Cook for another 30 minutes or so, stirring occasionally so there isn't a skin on the surface. Serve and enjoy!
Nutrition Facts
Cheesy Cream of Cauliflower Soup
Amount Per Serving (6 g)
Calories 196
Calories from Fat 117
% Daily Value*
Total Fat 13g 20%
Cholesterol 39mg 13%
Sodium 1131mg 47%
Potassium 164mg 5%
Total Carbohydrates 12g 4%
Protein 7g 14%
* Percent Daily Values are based on a 2000 calorie diet.
0