It's time to breathe a sigh of relief.
The holidays are over.
Are you all in one piece? Make it through Christmas unscathed? Got it done, packed up your decorations, thrown out the last of the endless turkey leftovers and have sat down on the couch with one big sigh of relief?
We made it. We survived.
I started thinking about holiday survival thanks to the new Campbell's Holiday Secrets Exposed website where you can confess your holiday blunders, which I think is hilarious.
My confession?
We eat out all the time during the holidays because I am so busy baking and writing that I rarely make dinner. Which to me, is a confession because shouldn't I be cooking more as a food blogger? Seems wrong to be eating out all the time when most bloggers are posting amazing dinner and appetizer recipes and I keep giving you desserts.  Eh. You keep coming back for some reason!
My next recipe as a Campbell's Ambassador is one that was a lifesaver during the Christmas season. This all in one skillet was absolutely sumptuous. To be honest, with the picky eaters that I have in my house -my husband included- I didn't know how this one was going to go over.
I was in like Flynn, however, because this baby was a one pot meal.

It was scarfed back.  I mean it was seriously inhaled by my family. I wasn't sure how I was going to like this – Dijon mustard with mushroom soup? Say what? – but oh my word, yes yes yes this is a winner dinner!
I was even a rebel and I made this skillet dinner with white flour pasta.
I'm pretty sure you all let loose with a collective gasp of disbelief, didn't you?
Yes. I skipped out on my usual whole wheat pasta.
And oh man, was it good. 
I wanted this to be a complete comfort food and it was. Next time I will use my whole wheat pasta, but man, what a treat this was.
Now, the Karlynn tweaks?
I would totally use ground turkey and whole wheat pasta in this next time to lighten it up and add some healthier fibers but other than that it's a dinner winner!
Love you guys more than chocolate,
Karlynn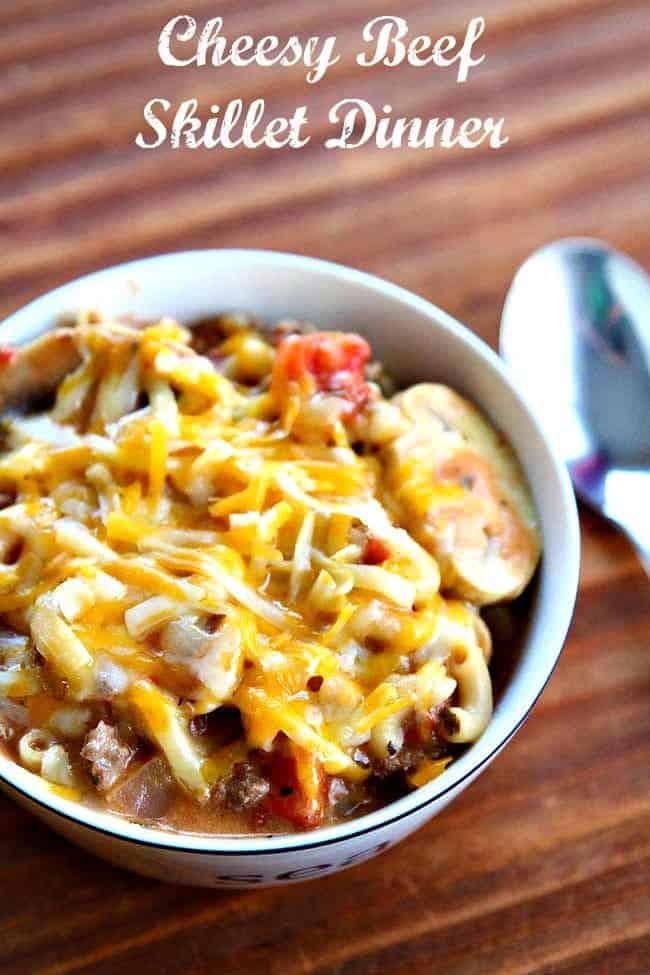 Cheesy Beef Skillet Dinner
Fast and seriously delciious Cheesy beef dinner, in a skillet! This was such a hit with our whole family. what a miracle!
See the original recipe
here
Ingredients
1 tbsp canola oil 15 mL
1 lb lean ground beef 454 g
1 tbsp steak spice 15 mL
1 onion chopped
1 green pepper chopped
2 cups button mushrooms sliced 500 mL
1 mL can tomatoes diced 796
1 mL can CAMPBELL'S® Low Fat Cream of Mushroom Soup 284
1 tbsp Dijon mustard 15 mL
2 cups macaroni cooked to al dente and drained 500 mL
3 cups aged Cheddar cheese shredded and divided 750 mL
1/4 cup green onion chopped 60 mL
Instructions
Heat oil in a large, nonstick skillet set over medium-high heat. Crumble in ground beef; season with steak spice. Cook, breaking up into small pieces, for 5 to 7 minutes or until browned. Add onion, green pepper and mushrooms. Cook, stirring occasionally, for 5 to 7 minutes or until vegetables are tender-crisp.

Stir in tomatoes, soup and mustard. Reduce heat to medium-low. Simmer for 5 minutes or until slightly thickened. Stir in cooked macaroni and 1 cup (250 mL) cheese until well combined.

Sprinkle the top with remaining cheese and green onion. Cover and remove from heat. Let stand for 5 minutes or until cheese is melted.
Nutrition Facts
Cheesy Beef Skillet Dinner
Amount Per Serving (6 servings)
Calories 0
* Percent Daily Values are based on a 2000 calorie diet.
"Disclosure: I am part of the Campbell Company of Canada Ambassador
program with Mom Central Canada and I receive special perks as part of
my affiliation with this group. The opinions on this blog are my own."
1