Chicken soup in the summer isn't really something you plan out, like you do in the winter. You don't take your time roasting a chicken and planning out the following dishes out of the leftovers because simply put, none of us want to turn on our ovens.
That said, sometimes – even in the summer- you get a powerful hankering for chicken noodle soup. My hankering came about the day I was up at four AM as the Breakfast Television Blogger in Residence.
I was beyond tired when I got home that afternoon. This chickie does not get up at 4 am unless it's for ice fishing. Even then, it's a hard sell.
This was how my afternoon looked.
Napping with Root Beer. Oh, we lazy slugs had a wonderful nap that afternoon!
When I awoke from that nap, I was still tired and feeling all nap-headed and wanting comfort food for supper. I still had to get the kids from school, tidy up the morning's breakfast disaster and figure out dinner.
I desperately wanted chicken soup, but I thought that there was no was that I could make it in the short amount of time I had remaining. Chicken soup has to simmer, you have to make stock from chicken bones for the best flavour and so on.
Never underestimate the power of a woman's comfort food craving.
I was making chicken soup happen, come hell or high water.
This was a 10 minute shopping trip at Save On Foods on the way home from picking up the kids from school that day.
It took 20 minutes to make.
This whole recipe is about cheating. Cheating with the chicken. Cheating by microwaving the vegetables and then putting them in the soup. Cheating by using store-bought stock. Cheating every which way you look.
I don't care and neither should you because it's simply delicious.
My whole family raved about how much they loved it which had me looking at them suspiciously. Did aliens suddenly possess their bodies? Did they want something? Or wait, did they think there was dessert after this meal so they were buttering me up in anticipation?
You smart cookies will have noticed that there are brussel sprouts in my chicken noodle soup.
Oh my. Mom's gone and created a weird recipe again.
The chicken soup was part of the inspiration for my new series, My Sunday Table. Make sure to check it out, I've had such positive feedback from other people wanting to challenge themselves to set one pretty table a week for their families. It's going to be such fun!
Those little stinkers of mine loved it and had two servings each. Mike went on and on about how fantastic the brussel sprouts were in the soup, what a fantastic change of pace and how perfect they were.
A little secret?
In my exhausted state, I completely forgot to get vegetables for the soup at Save On.
I only had carrots and brussel sprouts in the fridge when I got home. I threw them in and prayed they would work out.
I don't think my family will ever let me make chicken soup without brussel sprouts again, they are that darn good.
Happy cooking everyone! Save this recipe for a rainy summers day, cheat and feel gooood about it! Check out the recipe below!
Thanks for stopping by!
Love,
Karlynn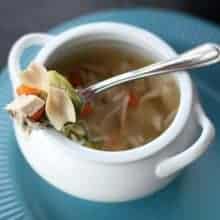 Cheater Chicken Soup
Cheater chicken soup, takes less than 20 minutes but was the BEST we've ever eaten!
Ingredients
7

cups

water

2.3

oz

bouillon liquid (2 packets Knorr Homestyle Stock Bouillon liquid)

2-3

cups

carrots and brussel sprouts- play with the amount you like

1

cup

whole wheat egg noodles(again you choose how much noodles you want)

2

cups

rotisserie chicken breast chopped
Instructions
Place the water and packets of bouillon into a large soup pot, cover the pot and bring to a boil.

While the water is boiling, wash and chop the vegetables. I cut the brussels sprouts in half and the carrots were chopped into small circles.

Place the vegetables into a covered microwaveable dish with 4 tablespoons of water in the bottom and cook until soft, around 6-7 minutes on high.

When the water and bouillon is boiling, mix to make sure it's combined.

Then add in your egg noodles and chopped chicken.

When the vegetables are finished steaming in the microwave, drain them in a colander and then add to the soup pot.

Keep the soup at a low boil until the egg noodles are soft. Serve!
Nutrition Facts
Cheater Chicken Soup
Amount Per Serving (6 g)
Calories 111
Calories from Fat 27
% Daily Value*
Total Fat 3g 5%
Cholesterol 41mg 14%
Sodium 219mg 9%
Potassium 260mg 7%
Total Carbohydrates 8g 3%
Protein 11g 22%
* Percent Daily Values are based on a 2000 calorie diet.
3