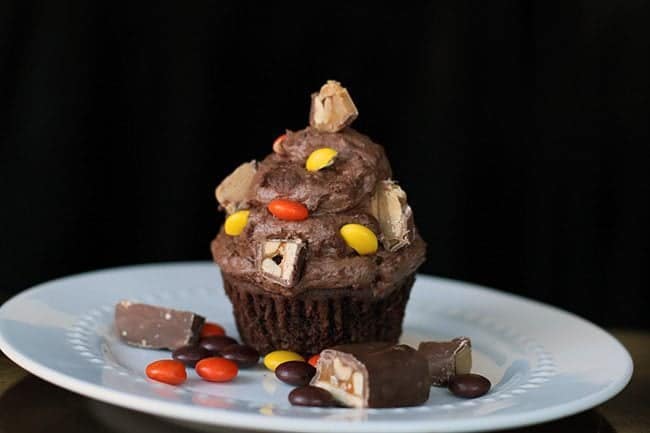 Raise your hands if you still have Halloween candy kicking around your house. I'm willing to bet that a lot of you just raised your hands and looked sheepish, yes?
Oh, it's that time of year. See, I'm really lucky and my kids totally forget about their Halloween candy about a week after Halloween is over. However, do you think *I* forget about the stash?
Newp. Not in the slightest.
While we do donate a lot of the candy to various places usually, I always set aside some candy that I know I am going to want to use in my baking. Free baking ingredients for the win, all thanks to my children's hard labor on Halloween night!
When the time came to bake up cupcakes for my son's tenth birth recently, I knew that I was going to try out a new icing.
A buttercream icing chock full of chocolate bars.
Yes, that's right. I chopped up candy bars and put them into my Chocolate Buttercream Icing.
Wowza, folks. This took a fabulous icing to the stratosphere, let me tell you.
Now, as much as I am a chocolate girl and yes, my son requested chocolate cupcakes for his class, I would LOVE to try this icing on a vanilla cupcake. Oh, I think it would be absolutely divine!
The icing I sent to his class did not, of course, have the Reese's Pieces on top or mixed in. We were totally peanut free. If you don't have to make these peanut free, add in whatever chocolate your heart desires!
Again, with any crushed goodies that you add to icing, you have to make sure it's really broken down if you are going to use icing tips. Some tips are most certainly large enough to handle bigger chunks of chocolate bars but keep the tip size in mind while you are making this recipe.
Happy baking!
Love,
Karlynn
Print
Candy Bar Buttercream Icing
---
Author:

Karlynn Johnston

Prep Time:

5 min

Total Time:

5 min
Ingredients
1/2 cup of crushed chocolate bars
1 cup salted butter
1/2 cup of unsweetened cocoa
3 ounce one squares of melted then cooled semi-sweet chocolate
1/2 tsp instant coffee
1-2 tbsp heavy cream
3 1/4 cups – 3¾ icing sugar
---
Instructions
Grind assorted chocolate bars in your food processor until they are small enough to fit through your icing tip and you have 1/2 cup of crushed chocolate bars.

Melt your three chocolate squares in the microwave, slowly and carefully until they are liquidy smooth. Set aside to cool.

Whip the butter in your mixer until it's light and fluffy.

Add in the cocoa, beating until combined.

When the chocolate is cool, add it to the butter. Make sure it's cooled!!

Add the instant coffee to one tablespoon of cream, then add to the butter mixture.

Now you can put in the icing sugar one cup at a time, beating until combined.

Adjust the thickness/texture by using another tablespoon of cream, adding it slowly until the texture you want is achieved.

Beat in the chocolate bars until they are mixed through.

Refrigerate the icing once it's on cupcakes or keep in a cool place until served that day.