Breakfast Pizza in a skillet while camping.
Those seven little words made me the Greatest Mom Ever last weekend when we were camping out at the lake. This recipe was born as a result of a mistake to be perfectly honest, when my Dad brought the wrong kind of frozen hashbrowns camping.
I had wanted diced hashbrowns for a recipe and when I pulled the shredded out of the freezer when prepping breakfast I realized that I had a cooking conundrum.
Another confession: I had no intention of this being a "Breakfast Pizza". Oh, how I would love to claim that I am just so brilliant that I think of all sorts of amazing recipes before they happen, carefully selecting the ingredients I need to craft my food art, writing down steps before I attempt them because I am a master at recipe planning.
Not so much.
The end result of the hashbrowns on the bottom mixed with egg was a lovely, solid crust that actually held up like a pizza. Instead of falling apart, the shredded hashbrowns melded together in a beauteous brown,  crispy crust that cradled the eggy, cheesy bacon wonder on top.
Then when I started to cut it and it sliced up looking like a pizza, I knew what it was going to be called.
The kids bought it hook, line and sinker.
Suckers.
While I used a breakfast casserole idea as the base for this, it is so much better than a hashbrown casserole because it doesn't fall apart.
 ** Remember to join ZIPLIST to create your own online recipe box and then click SAVE on my recipe below to add it! I use my online recipe box ALL the time! **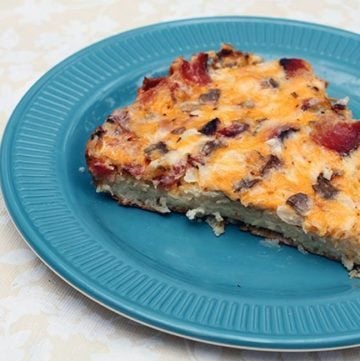 Camping Recipes: Breakfast Pizza
Using hashbrowns to make a "crust" this
skillet
"Breakfast Pizza" is the perfect camping food!
Ingredients
4

cups

frozen shredded hashbrowns

8

eggs

1/4

cup

milk

1/2

cup

sliced mushrooms

1

cup

diced ham or cooked bacon

1/4

cup

green onions or diced white onions; your preference

1 1/2

cups

shredded cheese, extra for topping at end if preferred
Instructions
Take the still frozen shredded hashbrowns and make sure they are broken apart by banging the bag with your hand.

Place the hashbrowns in a bowl and mix in two eggs, making sure you coat the hashbrowns as evenly as possible.

Mix in one tsp of seasoning salt.

Slice your bacon up and throw it into a frying pan to sizzle.

While your bacon is cooking, press your hashbrown mixture into a well seasoned 12 inch cast iron skillet.

Bake at 400 degrees in your BBQ or trailer oven for about 20 minutes, until it's beautifully browned. You can attempt this on the fire if you have mad fire cooking skills!

Drain your now done bacon.

Mix the mushrooms, bacon and green onions in a large bowl.

Crack in 6 eggs, the milk and add the shredded cheese, mix together.

Pour the egg mixture on top of the crust.

Bake for about 15- 20 minutes in the 400 degree BBQ or trailer oven, until the eggs are cooked. Again, try over the campfire if your skills are up to it! If you like, place shredded cheese on top of the pizza about 5 minutes before it comes out, to really make it extra cheesy!

Slice in triangle wedges and it comes out like pizza!
Nutrition Facts
Camping Recipes: Breakfast Pizza
Amount Per Serving (6 g)
Calories 312
Calories from Fat 117
% Daily Value*
Total Fat 13g 20%
Cholesterol 251mg 84%
Sodium 542mg 23%
Potassium 551mg 16%
Total Carbohydrates 27g 9%
Protein 20g 40%
* Percent Daily Values are based on a 2000 calorie diet.
Just looking at this picture makes me drool.
Oh man alive.
I think I would even put MORE cheese on top of it, right at the end!
Gooey, melted cheese..eggs….bacon…hashbrown crust….with a side of coffee…
Lord love a duck, this is how every camping morning needs to start.
Happy Saturday everyone! Thanks for stopping by, I hope that your weekend is simply spectacular!
Love,
Karlynn
3