This post may contain affiliate links. See my privacy policy for details.
I am a big fan of California Adventure Park in Anaheim, even before Carsland came. I've always loved it, how different it was, how neat the concept was and of course, I really like the rides over there as well.
However, I soon realized that we rarely eat over there when we visit Disneyland! Weird.
The past two trips I made sure that we were going to choose somewhere to eat in California Adventure and not just snacks. I wanted to find out where a decent sit-down menu was and relax with the family while eating.
I decided that The Golden Vine Winery was the spot.
The space is beautiful and very inviting.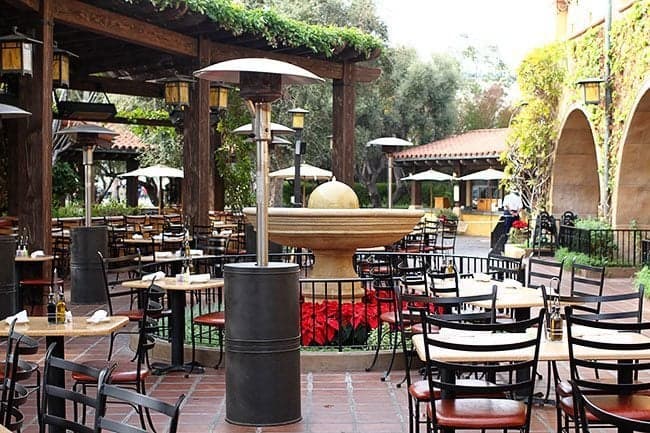 Wait, did I forget to mention that you can get alcohol here?
At lunch?
With your kids?! Because of your kids!?
Ok, so there may have been a hidden reason that I wanted to lunch here.
It's called a Strawberry Pina Colada.
Mike's reason was a whisky coffee.
It was also a damn fine reason for eating lunch here.
We started out with some nice warm foccacia triangles and butter.
The kids however had a great starter of this plate. Thumbs up to Disney for this one! Yes, feed them fruits and veggies before the meal when they are really hungry and will snack on everything you put in front of them.
Loved this.
The orders came and we quickly dug in. Mike had the lasagna which was good. It wasn't great, it was just an ordinary good. Edible. Fine. Did the trick.
I had the Alla Vongole, Fettucine served with Clams, Parsley, Garlic, Olive Oil, Chili Flakes, and White Wine.
This was GREAT. Out of all the dishes that our family had, this was the winner. The flavor was amazing, the wide, luxurious noodles were perfectly done an oh, the clams….yum yum yum! I would seriously head back for this pasta when we are in California Adventure next and pair it with a nice glass of white wine. Again, one of those dishes that I was shocked to find in Disneyland.
The kids fare was happily devoured by them, as it's kids fare. Not much to explain here. Tomato sauce and noodles for the boy.
Cheese pizza for the girl.
My final say?
I think this is a great place to go for lunch and a glass of wine, IF you know which pastas are good. The Alla Vognole? Epic. Mike's lasagna? Not so much. There are at least 25 wines that you can order by the glass and as lovely as my Pina Colada was, my pasta was so nice that I wanted a wine with it instead.
The kids menus is the same standard fare, which is what most parents are looking for, us included. The shortest one can be so picky that she drives us up the wall when travelling. Knowing there is a cheese pizza for her makes my life easier.
Would I go back? Yes, for the dish that I had. I'm eager to see if there are any other nice pastas and will read some other reviews before heading back there, which I hope is soon!
Have you eaten there? What did you think?
Love,
Karlynn