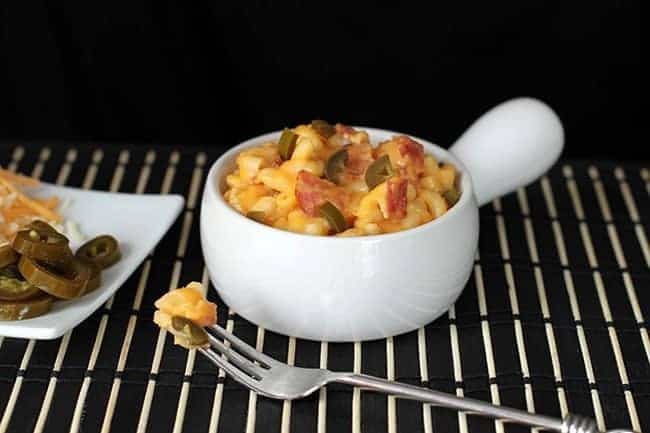 Best. Mac N Cheese. EVER. Guys and gals, I have never had mac n'cheese this dang good, anywhere. This recipe took everything I love about mac n' cheese and added in some fabulous flavours.
Please do not be scared of this recipe because you think it's going to be too spicy. This mac n' cheese is so easily adaptable to every taste in your household, from picky to fire-breathing dragon.
I love the flavor of hot sauce. Love. It. Love it so much I would marry it, however I am not a huge fan of food that burns my mouth and thus ruins the entire meal for me. I like to taste with my taste buds, not have them burned off.
I also love the flavour of jalapenos, but don't like the heat. When I was pregnant with my son, many years ago,  I craved jalapenos. Great craving for a pregnant woman with heartburn, yes? I used to eat them smothered in sour cream to dull the heat and would eat a can at a time.
Since my pregnancy cravings, the love of jalapeno flavor continues, but I no longer eat them smothered in sour cream.
I prefer to smother them with cheese!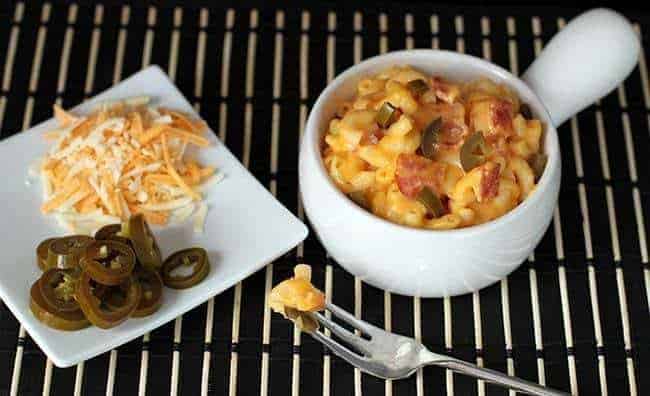 My husband has rated this the second best meal I've ever made, so either I'm a terrible cook (could be true) or this is really that dang good. This is most certainly a man-pleaser, thought I loathe to use that word.
It just shrieks football parties, man cave, hot-wing eating contests, hairy chests (what, just me?) and MAN FOOD. Eat this and it'll put hair on your chest! *insert manly growl here*
This woman loved it too. Luckily it didn't put hair on my chest.
So, to sum up, if you love hot sauce, jalapenos and bacon, this is for you. If you are looking for a mac n' cheese that kicks some serious hairy chest, this is for you.
There's a lot of hairy chest talk this post. I'm not sure why. Must be the hot sauce talking.
Mmmm. So good.
There were enough leftovers for lunches the next day and only because we all forced ourselves NOT to go back for seconds.
My son takes the best lunches EVER. I win Mom of the Day for this lunch, I'm not even going to pretend to be bashful.
If you are looking to make this for the entire family, I have a few tips and tricks to help you out.
Make the sauce and pasta, set aside a portion of  plain cheese sauce and pasta for the picky eaters. THEN add in the hot sauce and bacon.
I chop up the jalapenos and then place them in a dish for everyone to top their own pasta according to their tastes. This works out much better than mixing them in.
Top with additional hot sauce if you want, my recipe is just mildly spicy but full of flavor.I use Frank's Red Hot original sauce because it's the best flavor.
Leave out the bacon for an amazing vegetarian version!
This is a very saucy, very creamy mac and cheese. There is no baking it,  you make the sauce, you make the noodles and then it's just noodles swimming around in a LOT of sauce. I hate dry mac n' cheese so this to me is mac n' cheese nirvana!
Oh, you are seriously going to HAVE TO MAKE THIS. You're not allowed to read any of my upcoming Christmas Cookie recipes until you've been good girls and boys and eaten all your mac n' cheese first!
Let me know what you think! I honestly don't know if we'll ever eat mac n'cheese without a little hot sauce in it ever again, it just bumps the flavour up so perfectly.
Happy cooking!
Love,
Karlynn
** Remember to join ZIPLIST to create your own online recipe box and then click SAVE on my recipe below to add it! I use my online recipe box ALL the time! **
Buffalo Hot Sauce,Bacon & Jalapeno Mac N' Cheese
Buffalo hot sauce, bacon and jalapenos make this the best mac n' cheese ever!
Ingredients
3

cups

macaroni pasta

3

tbsp

butter

1/4

cup

flour

1/2

tsp

salt

2 1/2

cups

1% milk

3

cups

grated old cheddar cheese

2

tbsp

Frank's Red Hot Sauce

7

slices

bacon cooked until firm not crispy, then sliced in 1/2

can jalapeno peppers diced and set aside

small serving bowl
Instructions
Boil the macaroni until cooked according to package directions. Drain and rinse with cool water.

In a large sauce pan over medium heat, melt the butter. Add in the flour and salt.

Stir constantly over medium heat until it forms a soft ball.

Stir in the milk slowly, bit by bit, whisking constantly.

Once the flour and milk has combined into a liquid without lumps, whisk in any remaining milk. Whisk constantly until the sauce thickens.

Remove the sauce from the heat, and stir in the cheese, stirring until melted.

Add in the hot sauce (more or less to taste; start with 1 tbsp).

Pour the cheese sauce over the noodles and stir until the noodles are covered.

Serve topped with jalapeno peppers.
Nutrition Facts
Buffalo Hot Sauce,Bacon & Jalapeno Mac N' Cheese
Amount Per Serving (6 g)
Calories 640
Calories from Fat 324
% Daily Value*
Total Fat 36g 55%
Cholesterol 96mg 32%
Sodium 965mg 40%
Potassium 370mg 11%
Total Carbohydrates 49g 16%
Protein 28g 56%
* Percent Daily Values are based on a 2000 calorie diet.
0