I don't understand my love affair with hot sauce, I really don't. I am not a fan of really spicy foods, though you will find me trying them out time to time. I always think that too much heat can annihilate the flavor of a dish, obliterating any nuances that you might taste otherwise and just making your eyes and nose water in the process.
Hot sauce, however, is one of my favorite flavors in the world and it's the actual flavor that I love and crave. I can do without the heat (I know, I know, it's HOT sauce) but I'll take the heat with the flavor.
While making a chickpea salad for lunch this week I set aside some chickpeas to roast. Usually I do plain salt and olive oil because I'm a sodium fiend at times. However, the hot sauce was out on the counter from the buffalo shrimp I had made the day before.
What? Are you trying to tell me that you clean your counters off daily? I would call you a liar if you did.
Messy counters aside, it inspired me to try out a new recipe.
And it was good.
The secret to the flavor is several applications of the sauce, then subsequently returning it to the oven to bake the sauce dry. Three seemed to be the magical number for flavor when I baked these up.
See the recipe below for step by step instructions!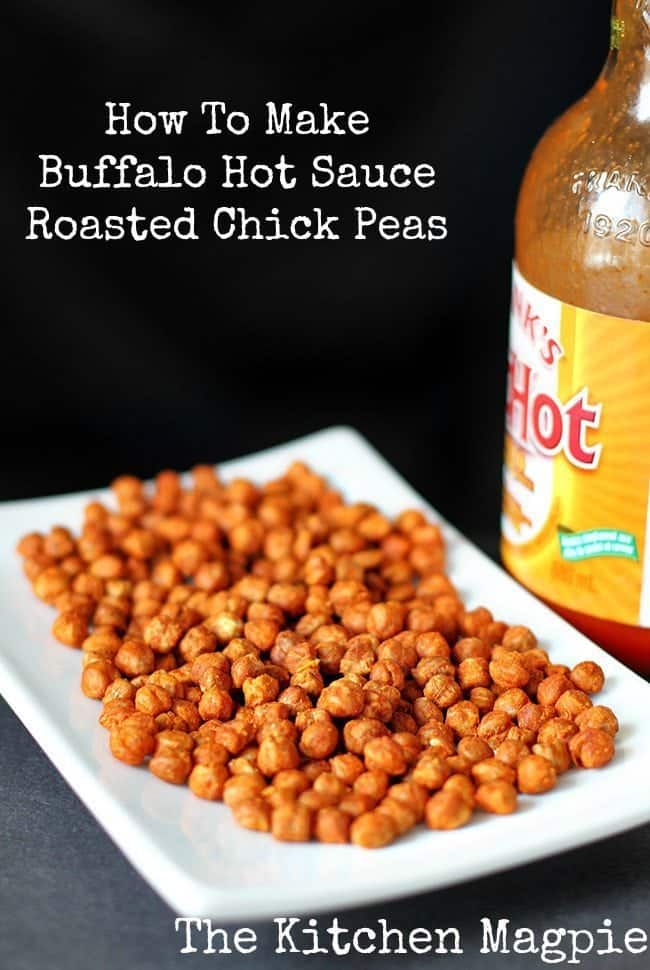 You will also notice that I bake these as PLAIN as can be. When you bake chickpeas as plain as possible, with as little oil as possible, they crisp up a lot better. IF you can, skip the oil in this recipe for even better results, but that depends on your baking sheet of course.
So are you a hot sauce fan? Yay or nay?
Let me know if you give these a whirl!
Love you more than hot sauce,
Karlynn
Buffalo Hot Sauce Roasted Chickpeas
Delicious, healthy buffalo hot sauce roasted chick peas! Something crunchy and tasty to munch on!
Ingredients
One can of chickpeas rinsed and well-drained garbanzo beans1 tbsp olive oil6-8 tbsp of buffalo hot sauce I love Frank'sfine sea salt
Instructions
Heat the oven to 400°F.Place the chickpeas in a large bowl and toss with the olive oil until evenly coated. Spread the chickpeas in an even layer on a large rimmed baking sheet and bake until they crisp, around 30 minutes.Remove the tray from the oven and pour approximately 2 tbsp of hot sauce onto the chickpeas; stir to coat.Place back into the oven for 3-4 minutes until the hot sauce has dried.Repeat with another 2 applications of hot sauce or until the desired flavor has been reached.Sprinkle with salt to taste.
Nutrition Facts
Buffalo Hot Sauce Roasted Chickpeas
Amount Per Serving (4 g)
Calories 0
* Percent Daily Values are based on a 2000 calorie diet.
19