This post may contain affiliate links. See my privacy policy for details.
I'm pretty sure my son is one of the luckiest kids alive. Not only does he get to eat at Edmonton's finest restaurants on a regular basis, attend restaurant openings before anyone else in the city and eat whatever he wants, he also can put TV star on his resume.
For the second time this summer we were invited by the great crew at Breakfast Television here in Edmonton to join in on the morning show and this time I got to take a complete backseat to my son and do absolutely nothing but watch! Seriously awesome.
Mr K and two of his pals were asked to come and judge the Breakfast Television Cook off:  Breakfast for Kids last Friday morning.
We arrived to see the chefs setting up and getting ready to be judged by the harshest food critics out there.
Kids.
Bridget and Ryan did the introductions and the kids were supposed to look intimidating. Grumpy, fierce, New York times food critic mean.
Not bad at all, kidlets. I bet those chefs were quaking in their boots.
They started at Chef Nate Box's creation. Chef Nate is the man behind the Elm Cafe as well as the Birch Patio at the Devonian Gardens.
I loved that Nate used Eva Sweet Waffles, a local company that has a food truck at the Farmer's Market. The waffles are unlike any you'll ever have, sweet sugar beads are hidden within them, giving them a gorgeous sweet crunch.
This was the favorite of Carter's, he said the "toffee complimented everything."
Smart kid! This was fantastic and it was so nice to finally meet Chef Nate!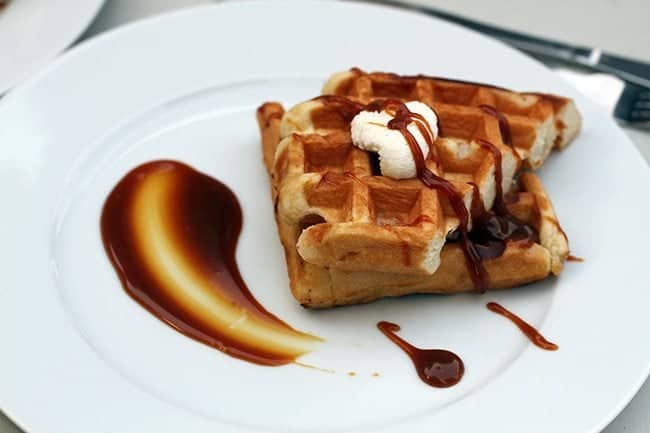 Chef Alex Sneazwell , the Executive Chef of The Manor Bistro made the kids smoothies first to bribe them.
Chef Alex clearly knows what he is doing when it comes to bribing kids winning over the picky stomachs of children, he also won Kids Choice at the Second Annual Culinary Arts Cook Off last year!
His creation was French toast stuffed with a bacon banana mascarpone ganache.
Let's just say that again, shall we? Are you really understanding what I am trying to tell you here?
French toast stuffed with a bacon banana mascarpone ganache.
Amen.
I tried this and insisted he try to get it on the menu at The Manor. This was amazing. I didn't get a shot of the inside where it's just stuffed with chocolate bacon bliss because I was too busy stuffing my face with said chocolate bacon bliss after the contest was over.
Oh yes, we descended like vultures when the cameras were gone to try all the creations!
Chef Eric Hanson is a chef new to me and it was a pleasure to meet him! He specializes in gluten-free cooking, having a severe gluten allergy, so bad that even some "gluten-free" products will set it off. He is writing a gluten-free cookbook and travelling abroad, I can't wait to see what the cook book is like!
Chef Eric whipped up gluten-free Smartie pancakes,bacon,carmelized banana (amazing!) with Nutella whip and berries.
I'm so not surprised that this was my son's favorite. It had bacon! Chef Eric knew what he was doing, bacon for the win!
The chefs all lined up, plates in hand to hear a winner.
The three Food Critic Amigo's ended up creating a three-way tie, with each one liking a different chef's creation.
What a perfect ending to a great morning of food and laughter!
I borrowed this photo from Ryan Jespersen of the chefs and the judges after it was announced it was a three-way tie.
And oh my word, would you look at that?
A picture of me! Ryan asked me to pop in the picture as the official "Recruiter of the Child Judges" so I happily obliged. I so rarely get photos of myself, usually it means I have to hand off my camera, explain the bazillion buttons and then just give up because it's too heavy and hard for most people to use.
So left to right:
Top: Chef Alex Sneazwell, Chef Nate Box, myself and Chef Eric Hanson.
Bottom: Olivia M. , Carter V, and Kade J.
Kudos to Breakfast Television for hosting such a great event during their broadcast and thank you to the chefs for making the morning so much fun for the kids! All they could talk about alllll day was how good the food was, how awesome it was to be on TV and when they could do it again!
There are three parts of the cook off  that you can watch online at the links below:
Part One: http://www.btedmonton.ca/videos/2611198921001/
Part Two: http://www.btedmonton.ca/videos/2611608259001/
Part Three:  http://www.btedmonton.ca/videos/2611613791001/
Thanks for stopping by and reading everyone!
Love,
Karlynn