No hunting lodge is complete without a kitchen force that can handle feeding hunters early in the morning and then another two times during the day. You don't feed the hunters well, they get cranky. They get cranky, they don't come back. So the backbone of the lodge part of the duck hunting experience is most certainly the ladies in the kitchen.
Four hard-working, putting-up-with-no-nonsense-from-hunters women head up the kitchen at Jimmy Robinson's, cooking up meals for us while we were there, making a thermos of hot chocolate for us every morning and packing a morning snack as well.
From left to right: Karen, Marlene. Margaret and Samantha.
These ladies rocked the kitchen from early dawn to late at night.
My favorite meal – aside from the duck recipe that I will share with you- was the the fresh pickerel.
Oh my word.
This was like manna from heaven. We don't get to keep Walleye here in Alberta- unless we have tags, which I do and will be using for ice fishing-  and when you get it in a restaurant it's too fancy. Yes, I just said that. Walleye to me is supposed to be home cooked and fried in butter.
Amen.
The meatballs that night were also amazing. It was all amazing. Those gals can cook. There's nothing like a hot, homestyle dinner at the end of a long day of hunting.
And napping. I napped that day.
The orange duck recipe has been served at the lodge for as many years as people can remember. The last night of dinner, you are served duck with dressing, wild rice and a delicious orange sauce over it. The homemade pickled beets graced the table almost every night, to my everlasting thanks. Mmm. Pickled beets.
When I popped to the kitchen to chat with the girls and asked about recipes, I was taken to the back room and shown where this beloved recipe hangs on the wall. It's a classic duck recipe, using coke to break down the fibres and help soften the meat up and the sauce a delicious version of the classic Duck L'Orange.
It also – unlike many duck recipes- takes into account that duck is best done low and slow, especially wild duck. Wild duck does not usually have the fat that tame duck does, everything needs more help.
And despite popular mis-understanding, rare is not always the way to go with duck. Oh, I love a fabulous duck breast that is still pink in the middle, but a roasted duck that's rare is not exactly my favorite food.
Braising duck meat, in my opinion, is one of the best ways to bring out everything fabulous that duck is when you are cooking a whole duck.  Braising means that you are going to cook it low….and slow…and a long time.
Then, when you are done, the meat is going to be so tender that it falls off the bones…. and then you are going to use those delicious, flavorful bones for soup!
Wild duck also needs to be brined, almost every time, before you make it and this recipe calls for it to be brined overnight.
These were bluebills, a smaller duck that is incredibly tasty. They braised up beautifully. Jimmy Robinson's Duck Lodge will clean and send home your ducks with you, all frozen and packaged up for you to take home and enjoy!
I am hoarding my precious stash of wild duck.
The recipe is outlined at the end of my post, in great detail for those who would like to try it.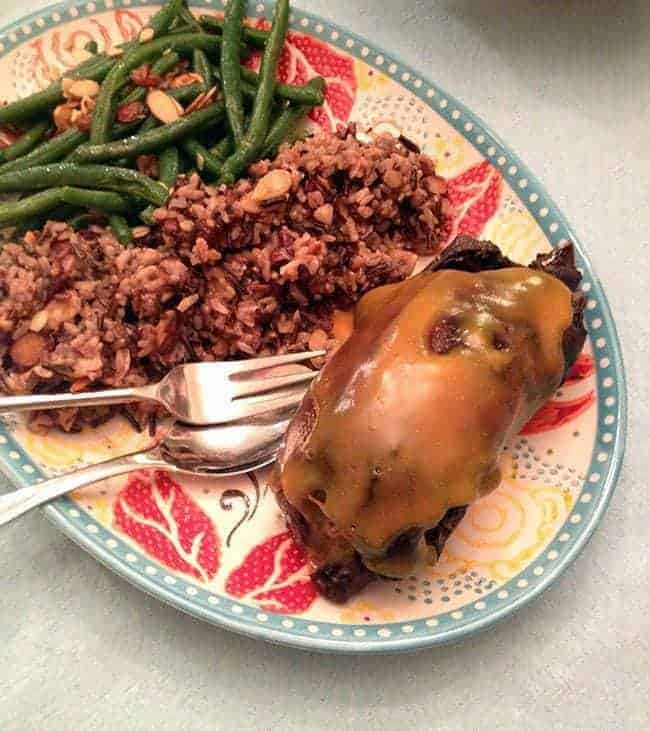 The duck was a success at my dinner party and I served it family style, one duck for each couple with a plate of rice and almond green beans that each couple could share. I find that one duck (depending on the size) per couple is just about right, especially when most of your guests will not have sampled wild duck before.
I'd like to thank the fantastic Ladies of the Lodge – as they are now known in my mind forever- for sharing their fabulous duck recipe with me! Thank you so much for cooking such fabulous meals for us when we were there and being such good sports about having a food blogger in your midst! I tried my best to stay out of the kitchen and just enjoy the experience of having someone else cook for me, what a treat that was!
Happy Cooking everyone! I was so happy to be able to share this recipe with all of you!
Love,
Karlynn
Braised Wild Duck (Bluebills)
Delicous wild duck in a classic orange sauce, braised for hours until it falls off the bone!
Ingredients
1/4

cup

salt

8

cups

water (enough to cover two ducks)

3

kg

wild duck (2 wild ducks) cleaned; feathers and pin feathers removed

1

apple sliced

1

onion sliced into rings

1

tsp

sage

1

tsp

poultry seasoning

355

ml

can Coke or Sprite
Instructions
In a plastic container, combine water and salt.

Place ducks in the water, ensuring that they are covered.

Place in refrigerator and brine overnight.

When you are ready to prepare the ducks, remove from the brine, clean and pat dry completely.

Preheat your oven to 275 degrees.

Sprinkle the sage and poultry seasoning over the apples and onions, then divide evenly. Place in the duck cavity.

Place the ducks in a roaster with a lid, breast side up. Pour in one cup of water. Place the lid on top of the roaster and place in the oven.

After three hours, remove the lid and pour half a can of Coke over the ducks.

Turn the ducks breast side down and cook another 30 minutes.

After those thirty minutes, turn the ducks breast side up and pour the remaining Coke over the top.

Roast lid off for another 30 minutes, basting every so often.

Remove from the oven and plate.

Serve with the orange sauce drizzled over the top of the duck.
Nutrition Facts
Braised Wild Duck (Bluebills)
Amount Per Serving (4 g)
Calories 1636
Calories from Fat 1026
% Daily Value*
Total Fat 114g 175%
Cholesterol 600mg 200%
Sodium 7523mg 313%
Potassium 1925mg 55%
Total Carbohydrates 13g 4%
Protein 131g 262%
* Percent Daily Values are based on a 2000 calorie diet.
Orange Sauce for Wild Duck
A delicious citrus based sauce to serve with your roasted or braised wild duck.
Ingredients
2

tbsp

butter2 tbsp flour1/8 tsp salt2 tbsp white sugar1 tbsp brown sugar1/2 can of orange juice1 tbsp strawberry or currant jam1 jigger of good white wine shotglass
Instructions
Melt the butter in a heavy sauce pan over medium heat.Add flour.In a separate cup, combine the rest of the ingredients, mixing thoroughly.Slowly stir the liquid into the butter mixture, stirring constantly to ensure there are no lumps.Bring to a boil and then cook until thickened.Serve immediately over roasted or braised duck.
Nutrition Facts
Orange Sauce for Wild Duck
Amount Per Serving (4 g)
Calories 0
* Percent Daily Values are based on a 2000 calorie diet.
0