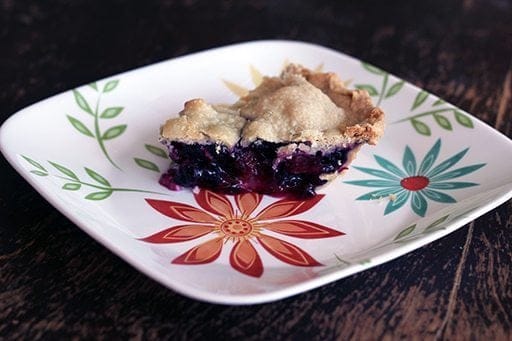 Happy belated Pie Day everyone! What a gorgeous weekend we are having here in Edmonton, sun, festivals and our house is full of guests from Calgary. Which would be why I am a slacker and didn't post my pie recipe yesterday. Visiting with company is far more interesting than posting a pie recipe, I'm sorry. Slacker Magpie.
This week I whipped up a blueberry rhubarb pie as the stores are bursting with blueberries on sale and rhubarb abounds in local gardens. I must admit: it's nothing compared to the Saskatoon rhubarb pie. That pie has become a household favorite.
Nothing tastes as good as wild blueberries in a pie; store blueberries don't have any zing to them so I knew right away a plain blueberry pie wasn't on the agenda. I had a lot of leftover rhubarb from my Saskatoon pie and decided to mix the two.
Blueberry Rhubarb Pie
Blueberry rhubarb pie, great way to bake with all those blueberries that are in season!
Ingredients
2

cups

chopped rhubarbe for a 9 double crust

2

cups

blueberries

3/4

cup

white sugar

2

tbsp

butter

4

tbsp

flour

pie dough for a 9 inch pie double crust
Instructions
Gently toss together your rhubarb,blueberries, flour and sugar.Place your bottom crust into the pie plate.Pour your berries into the pie plate. Add butter on top in little dabs.Cover with your crust.Brush your pie crust with the egg then sprinkle the sugar on top.Pinch the seams together and mark your pie vents as you like.Using the lowest rack of your oven, bake for 15 minutes at 425 degrees, then lower the temperature to 350 degrees and bake for about 50-55 minutes more.When your pie edges start to become too brown – and they always will- cover the edges with tinfoil or use a pie crust cover. I have one and they are amazing!Continue baking until you see the pie filling bubbling and your pie is beautifully browned all over the top.Remove from the oven and cool on a baking rack.
Nutrition Facts
Blueberry Rhubarb Pie
Amount Per Serving (6 g)
Calories 0
* Percent Daily Values are based on a 2000 calorie diet.
The rhubarb adds a much-needed zippy taste to the pie and I didn't add any lemon to the pie since I used two cups of rhubarb.
Have a great long weekend my Canadian friends! We are off to the Heritage Festival with family and friends today, my favorite Edmonton festival of all!
Love,
Can't Wait To Get To That Festival Magpie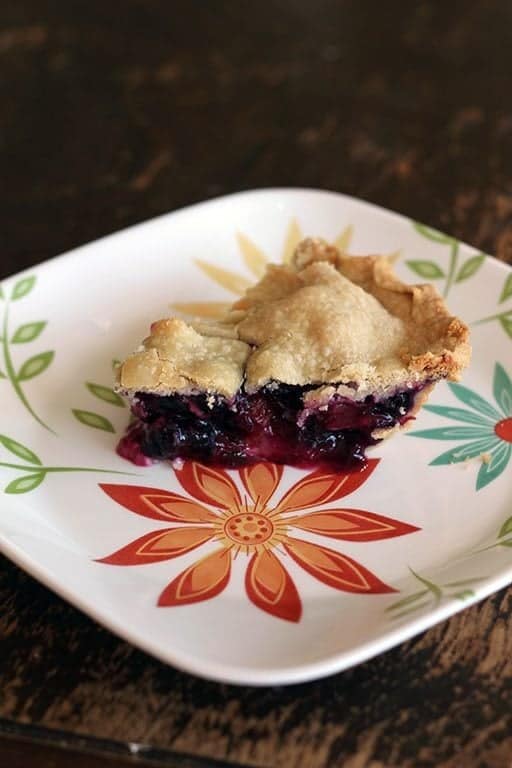 9