Oh heyyyyy, blueberry season! How are ya? Girrrrl, have I ever missed you. I've missed the cheaper prices in the stores and definitely missed being able to eat an entire bowl for breakfast without taking out a bank loan. I'm so glad to see you!
I'm also glad to be baking with blueberries again, natch.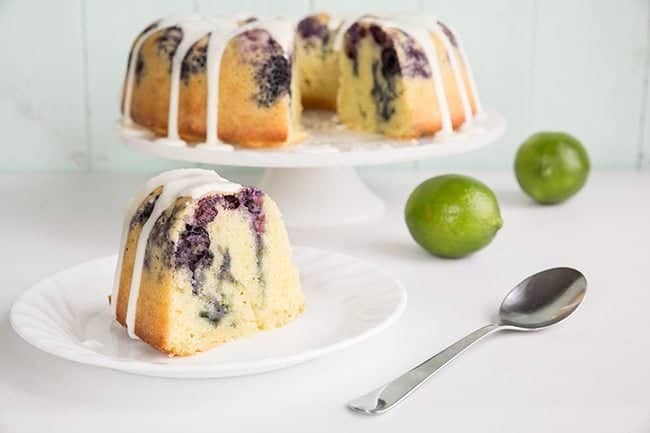 This lime and blueberry bundt cake has been on my mind for a long time now. Oh bundt cakes, how I love thee. I love thee as much as I love blueberries.
There is just no cake like a bundt cake, am I right or am I right? There's something so perfect about them. They are thick yet poofy ( I like that word. Is it even a real word?) and ever so deliciously decadent but still light enough on the palate that you can enjoy a nice, satisfying slice. For breakfast. For reals.
Yes, bundt cakes are annoying to bake sometimes, since they like to fall if you under bake them. They get all pouty and simply drop like 2 year old having a temper tantrum in the grocery store. Boof. You didn't stand a chance, not with the two year old and not with the under baked bundt. Your best bet is to simply walk away – with both. Trust me. Been there, walked away from the toddlers and the fallen bundt cakes.
Danged if this isn't a tangy, sweet and amazing cake. Maybe I love blueberries so much not just for their delicious  flavour but also because of the purple hue they lend to baked goods – purple being my favorite color- but there's no color reason as to why I love tangy lime. Lime and blueberry is just as good as blueberry and lemons, but vastly under appreciated. You don't see a third as many taste pairings of lime and blueberries together, and that's a taste crime if I've ever come across one.

So don't under bake this beauty and eat it for breakfast.
You come here for advice, I give you advice. Eat cake for breakfast. ( and then a bowl of blueberries for lunch as penance).
Happy Baking!
Love,
Karlynn

Blueberry Lime Bundt Cake
Ingredients
3/4

cup

unsalted butter room temp

2 1/4

cups

flour plus more for dusting the bundt pan

3/4

tsp

baking soda

3/4

tsp

salt

1

cup

sugar

4

eggs

1 1/2

cups

milk

3

tbsp

lime zest

1/2

cup

lime juice

1 1/2

cups

blueberries

Lime Glaze

1

cup

powdered sugar

3-4

tbsp

lime juice
Instructions
Preheat the oven to 350 degrees. Prepare your bundt pan by spraying cooking spray on the inside then dusting flour on top of it. Tap out the excess flour and set aside.

In a medium bowl whisk together the flour, salt, and baking soda.

In a large bowl beat butter and sugar until light and fluffy.

Beat in the eggs one at a time, beating well after each addition.

Add the flour mixture and milk alternately until completely combined.

Add in the lime juice and zest and beat until combined then fold in the blueberries.

Spoon the batter into the prepared bundt pan and bake until a toothpick or cake tester inserted in centre comes out clean (60-65 minutes).

Cover the cake with

tinfoil

partway through baking to prevent the top of burning if it starts to get too browned on top.

Remove from the oven and cool for 10 minutes in the pan.

Once the bundt cake has cooled completely make a simple lime glaze by combining 3-4 tbsp of lime juice with the 1 cup of powdered sugar. Whisk until the mixture is smooth. It should thick, but pour-able. Add more lime juice to make it thinner, or more powdered sugar to make it thicker. Drizzle and brush over the top of the cooled cake
Nutrition Facts
Blueberry Lime Bundt Cake
Amount Per Serving (10 g)
Calories 0
* Percent Daily Values are based on a 2000 calorie diet.
1