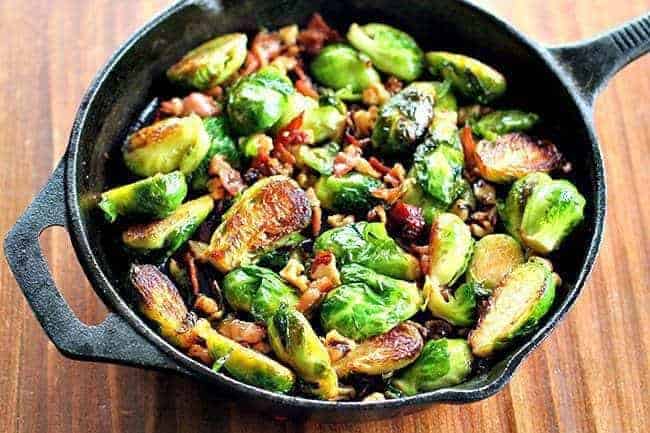 While this Bacon,Walnut & Honey Brussels Sprouts recipe certainly isn't the healthiest one I have one this website, it definitely is one of the most delicious.
Bacon and Brussels sprouts go together like cream and coffee, like rainbows and unicorns, like popcorn and the movies. You get the idea.
I wanted to take it a bit further and add in two of my favorite flavors, walnut and honey. Sweet honey is an often overlooked addition to vegetables and there are so many that benefit from it.
Do you remember my Honey & Curry Cauliflower?   AMAZING.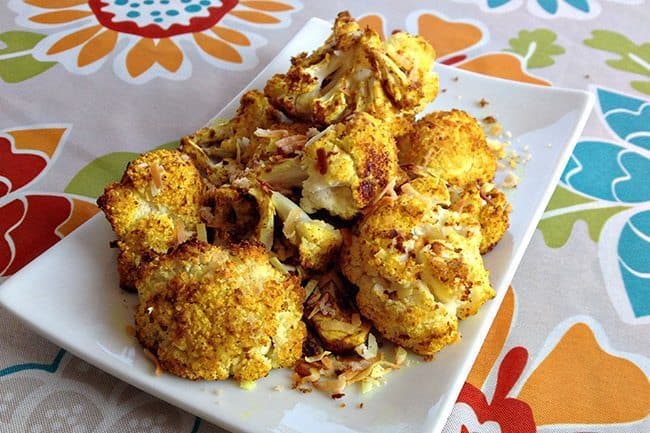 It's like Mary Poppins sang, a spoonful of sugar helps the medicine go down and the same can certainly be said for honey and vegetables!
It's amazing what happens when you add sweet taste to things and while I wouldn't add sugar, some gorgeous, locally grown unpasteurized honey is absolutely beautiful on vegetables.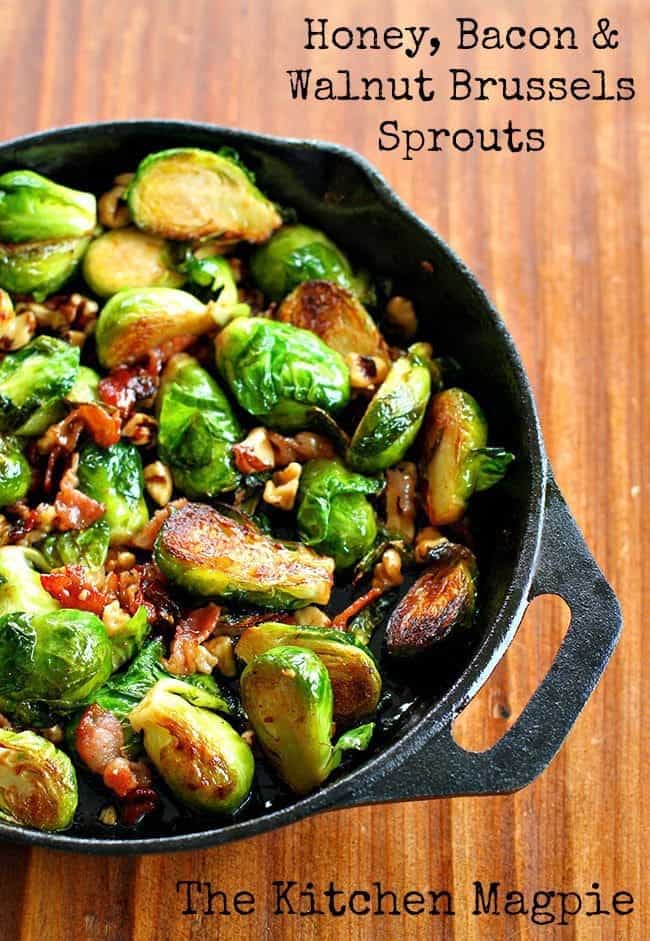 Now, the bacon isn't healthy but it's a lovely indulgence once in a while, isn't it?  While I do love the bacon in it, this would also be a fabulous vegetarian dish if you simply left it out of the recipe. The walnuts and honey are perfect on their own paired with the Brussels sprouts.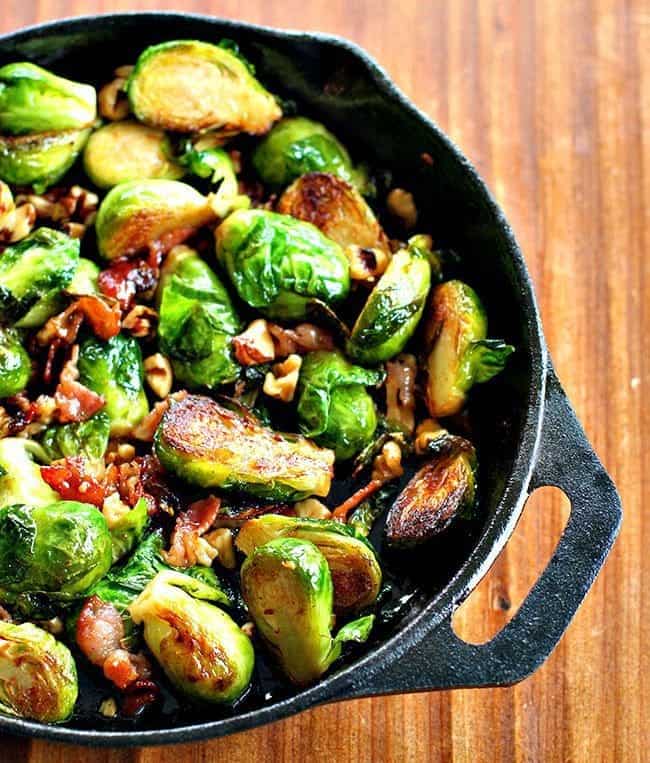 There is just something that I love about how crispy Brussels sprouts get, almost like kale chips. The little leaves that fall off while you are cooking this and crisp right up are my favorite part, little vegetable chips in the middle of this dish.
Happy Cooking everyone! Thanks for stopping in!
Love,
Karlynn
** Remember to join ZIPLIST to create your own online recipe box and then click SAVE on my recipe below to add it! I use my online recipe box ALL the time!  And please rate my recipes every chance you get!** 
Bacon, Walnut & Honey Brussels Sprouts
A classic paring, bacon with Brussels sprouts, with the addition of honey and walnuts to take it over the top!
Ingredients
20-25 medium sized Brussels Sprouts washed trimmed and halved
4 slices bacon chopped small
1/3 cup walnuts
2 tbsp melted honey
Instructions
Heat the bacon in a medium sized frying pan over medium heat until it starts sizzling.

Place the Brussel Sprouts in the pan.

Fry until they are seared brown on the outside and a little bit crispy and the bacon is almost done as well.

Add in the walnuts and fry until they are toasted.

Pour the melted honey over the top, stir until everything is coated and serve.
Nutrition Facts
Bacon, Walnut & Honey Brussels Sprouts
Amount Per Serving (4 g)
Calories 0
* Percent Daily Values are based on a 2000 calorie diet.
30