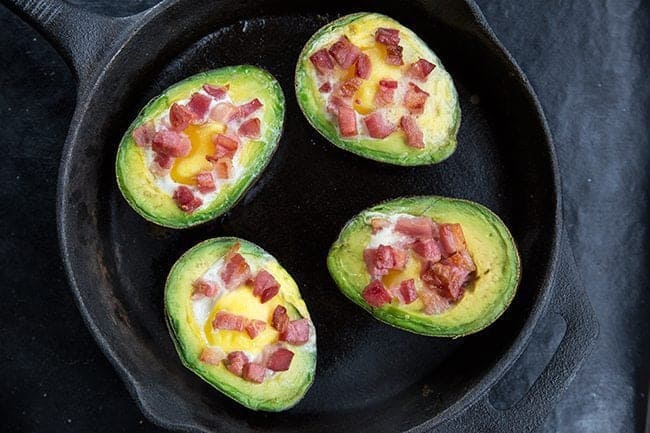 Bacon & Eggs Baked Avocado.
Because believe it or not, I don't eat cake for breakfast.
First things first. You have to love the texture of baked avocado. It changes slightly while baking, so this is really something that you need to figure out for yourself. I'm just warning you.
These are perfect for low carb diets, Keto diets,  the South Beach diet or those of us that love eating avocados, eggs and bacon. Which would be me, of course. With a few family members that eat low carb, I've been working on a few recipes over the year that fit into their needs. This would be one of them.
Might even be Paleo friendly, who knows. You can leave me comments below letting me know if it is.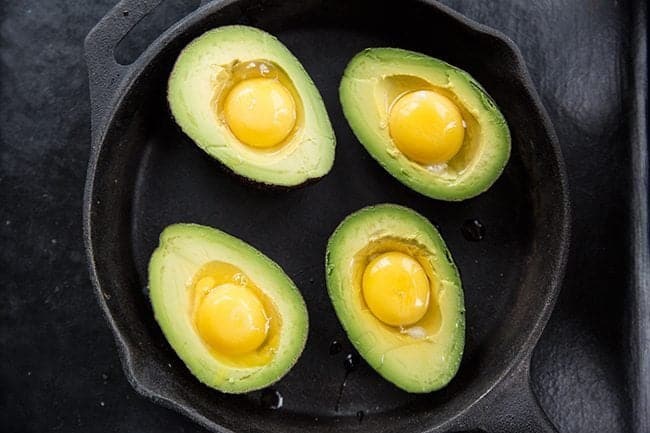 Second, embrace diced pancetta. It's just a fancy word for Italian bacon, really, but it is perfect for this dish. You need thick chunks of salty goodness that won't cook all the way through. Pancetta is the BOMB, you guys.
Look at those thick, fatty streaks in that pancetta. The wonderful thing is ( as I am sure you are looking at that and thinking NOT HEALTHY KARLYNN) is that it takes so little to make these avocados delicious. A tablespoon, perhaps, two, is all you need. Enjoy it without guilt. Pancetta is meatier than bacon as well, so there's more protein bang for your buck.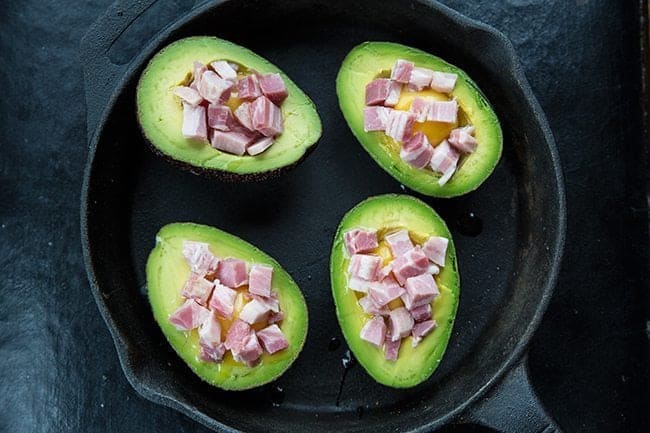 Just looking at this makes me seriously happy. THREE of my very favourite foods, all in one dish. Eggs baked avocado…with pancetta on top. I love that avocados are these seriously adorable little food holders of happy. It has me thinking about what else I can bake into them.
Pretty, pretty avocado.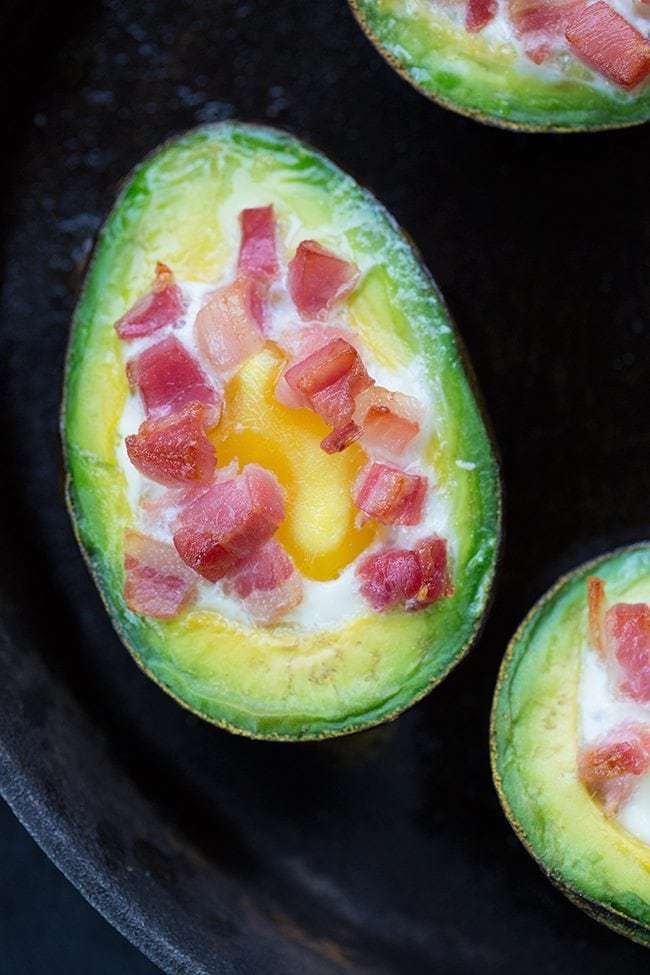 To be honest, this is more of a How-To than an actual recipe, but hey, that's what I'm here for. To give you guys ideas and help you along your merry little avocado-loving way.
Happy cooking babes!
Love you more than avocado,
Karlynn

Bacon & Eggs Baked Avocado
Ingredients
2

avocados

2-4

tbsp

diced pancetta

2

large eggs

salt and pepper to taste
Instructions
Pre-heat your oven to 425 F.

Cut the avocados in half, and remove the pits, trying to keep the indent left from the pit intact as much as possible.

Crack an egg into each avocado.

Top the avocado with desired amount of diced pancetta.

Place in the oven and bake for 15 minutes or until the egg reaches your desired consistency.

Remove and enjoy!
Nutrition Facts
Bacon & Eggs Baked Avocado
Amount Per Serving (4 g)
Calories 223
Calories from Fat 171
% Daily Value*
Total Fat 19g 29%
Cholesterol 86mg 29%
Sodium 87mg 4%
Potassium 532mg 15%
Total Carbohydrates 8g 3%
Protein 5g 10%
* Percent Daily Values are based on a 2000 calorie diet.
24