This post may contain affiliate links. See my privacy policy for details.
Table of Contents
Hey, look, pie and a story that's almost completely unrelated!
As always, this pie comes with a side of story for everyone, because what would Pie Day be without a tale to tell?
This tale is about a criminal profiler that I happen to be related to, a familiar tale to many of those who knew me in high school or have the misfortune of being related to me in some way as well. However there are many of you who haven't met this relative yet, so let me do some introductions here.
Now, I am sure when you read "criminal profiler" this is what popped into your head:
However, Shamar don't have nuttin' on my handsome Uncle Bob.
So for those of you unplugged from the TV (though I do love me some Criminal Minds) this is what one of the real profilers out there looks like. Or looked, he's retired from the RCMP now, so picture him a few years younger.
He's smarter than Shamar too. At the time he was a profiler he was one of a mere 5 people in Canada who were trained like himself. He's been to Quantico for FBI training, traveled all over the country, and generally is incredibly smart about things most of us don't really want to think about most days.
Handsome Uncle Bob and my beautiful Aunt Ev were in Edmonton a couple of weekends ago for a very quick trip and we had them over for brunch and a visit. The kids soon saw that Auntie Ev was a soft heart and leaped upon her like jackals to a feast of zebra. They sense a doting relative when they meet one and she obliged more than willingly.
Indeed, she and Uncle Bob spoiled the kids rotten with a present of money for Disneyland as well, bless their generous hearts. Although the kids now think – thanks to Uncle Bob- that if you work at a bank like my Aunt does, you just get to bring money home. I've been trying to explain to them for a couple of weeks now that Uncle Bob was just kidding and that Aunt Ev just picks out money and brings it home from her job every day.
When prodded about why they were in town, it had to be slowly pried from my uncle that he was receiving an award for the work he had done on a cold case many, many years ago.
In fact, he received the Social Justice Award, presented to him in a lovely reception at the Royal Alberta Museum here in Edmonton. Those of us in his family know why, this is one of many accolades that he has been showered with in the years since he solved this murder case, but this will sum it up nicely for those who don't.
The Social Justice Award is presented to individuals and or organizations who have demonstrated outstanding effort and leadership in achieving awareness and social justice for Aboriginal women. This year's recipient has shown his dedication to social justice through hard work and perseverance, working against all odds to ensure that Aboriginal women are treated as human beings first. In March 2012, the Aboriginal Commission on Human Rights & Justice and the Institute for the Advancement of Aboriginal Women (IAAW) will be presenting the Social Justice Award to Robert Urbanoski. Urbanoski is being recognized for his efforts in solving the 16 year old murder case of Helen Betty Osborne. Osborne was sexually assaulted and brutally murdered on November 13, 1971 in The Pas, Manitoba by four local white men. It was not until December 1987, that any of the men were convicted of the crime after Constable Rob Urbanoski took over the investigation and placed an ad in the local newspaper for witnesses to come forward. Mr. Urbanoski's determination in solving Osborne's murder and bringing the murderer and his accomplice's to justice will be recognized at this award ceremony. Urbanoski's actions placed value, for the first time
on the life and loss of an Aboriginal woman.
Oh, there's young and handsome Uncle Bob in his RCMP uniform. You can click on the picture of the program to read further. We're all kinda really proud of him.
This was many years before he did indeed become a criminal profiler but I'm pretty sure this case sent him along the path to fame and fortune.
Well, perhaps fame. He still was a government employee, after all. There's been a movie made about the case Conspiracy of Silence as as well as a book titled the same. Wikipedia has a write up as well on the case.
I realized this last visit that having a relative who is indeed, a real life criminal profiler, has helped shape my parenting into the helicopter form that it is. I don't get to visit Uncle Bob and Aunt Ev very much at all anymore since they live way out East, but every time I do see them, it's the most fun you've had outside of Criminal Minds.
Uncle Bob has the most awesome, horrifying, funny, scary stories you will ever hear. No make-believe TV shows here, folks.
I remember the first time Mike met him, on a trip out to Manitoba before we were married, I do believe. Uncle Bob grilled up some steaks n' asparagus – he's the one who taught me the trick of asparagus done on the BBQ- and regaled us with an evening full of real life stories of murder and torture.
Welcome to the family, Mike!
**I had to come back and edit this post, my best friend Kandice reminded me of the time we visited my Aunt and Uncle in Manitoba. She has fond memories of Uncle Bob making the best Caesar salad she's ever eaten and then he proceeded to pull out some Rorschach Ink Blot tests after dinner. This is considered a completely normal dinner when visiting my Uncle. You just can't buy family like this, I tell you. **
Admittedly he has a captivated audience, there's nothing I like better than hearing gruesome tales and insight on sheer whackos from Shamar Uncle Bob so our brunch was quite the interesting time as always.
Until after the story of people shooting travellers at rest stops in the States, when he quipped:
"No matter where you go, there's somebody looking for you".
Ok then.
I looked at him and said " For Pete's sake Uncle Bob, I JUST started letting the kids out of my eyesight and you go and tell me this!"
And Mike turned to me and said "Not anymore we're not!"
So darling children of mine, it's Uncle Bob's fault you are going to be 16 and I am still holding your hand and you aren't let out of my sight until you are married.
Can you believe that my Aunt and Uncle have two daughters? I don't know how my cousins survived or if my Uncle ever slept at night.
Perhaps when you make this pie you will also be lucky enough to have a side of true life murderous tales and fear of everyone instilled into you while eating it.
Then again, maybe your family is normal.
Ingredients Needed:
3 cans artichoke, drained and chopped
1/2 cup compressed frozen spinach, drained & defrosted
1 cup of old white cheddar, shredded
1 cup of Asiago cheese, shredded
1/2 cup shredded parmesan
5 eggs
1/4 cup milk
2 cloves garlic
one 9.5 pie crust, only the bottom
Kick the tires and light the fires to 375
Combine all of your ingredients in a bowl. excepting the parmesan cheese. Pour it into the pie crust. Sprinkle the top with the parmesan cheese.
Bake at 375 degrees for 40-50 minutes until it's golden brown and cooked through.
This pie may have eggs in it but I am going to tell you, it's not a quiche. Mike loathes quiche in all forms, the egginess drives him batty and ruins what he thinks are good ingredients. This is so heavy in the other ingredients that the eggs merely bind them together. If I had to sum it up, it's an artichoke and cheese pie ingredients wise, not a quiche. The eggs are merely there. It doesn't taste like a quiche nor have the same texture as a quiche. Close, because of the eggs, but not quite, it's better, richer and denser with ingredients.
I'm sure a lot of you will still call this a quiche, but to be honest you could top this with a pie crust NO problem and there's no debate then, is there? 😉
Happy Pie Day everyone!
Love,
Really, My Family is Normal Magpie
Spinach and Artichoke Pie
Looking for a delicious savory pie? Try my Spinach and Artichoke Pie!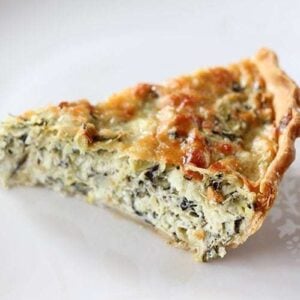 Prep Time

10

minutes
Cook Time

50

minutes
Total Time

1

hour
Course

Breakfast
Cuisine

American
Servings

6
Calories

261
Author
Ingredients
3

cans artichoke hearts

drained and chopped

1/2

cup

compressed frozen spinach

drained & defrosted

1

cup

of old white cheddar

shredded

1

cup

of Asiago cheese

shredded

1/2

cup

shredded Parmesan

5

eggs

1/4

cup

milk

2

cloves

garlic

one 9.5 pie crust

only the bottom
Instructions
Kick the tires and light the fires to 375

Combine all of your ingredients in a bowl. excepting the Parmesan cheese. Pour it into the pie crust.

Sprinkle the top with the Parmesan cheese.Bake at 375 degrees for 40-50 minutes until it's golden brown and cooked through.
Nutrition Information
Calories:
261
kcal
,
Carbohydrates:
3
g
,
Protein:
19
g
,
Fat:
18
g
,
Saturated Fat:
9
g
,
Cholesterol:
174
mg
,
Sodium:
665
mg
,
Potassium:
150
mg
,
Sugar:
1
g
,
Vitamin A:
2340
IU
,
Vitamin C:
5.5
mg
,
Calcium:
487
mg
,
Iron:
1.4
mg
All calories and info are based on a third party calculator and are only an estimate. Actual nutritional info will vary with brands used, your measuring methods, portion sizes and more.
Made this recipe?
Share a photo of what you made on Instagram or Facebook and tag me @thekitchenmagpie or hashtag it #thekitchenmagpie.
Please rate this recipe in the comments below to help out your fellow cooks!
Learn to cook like the Kitchen Magpie