Oooh, summertime. The one time of year that you eat salads because you want to, not because you should. Produce sings with flavor thanks to it actually being in season, prices fall on delights such as cherries and you load up on your antioxidants like you're a squirrel storing nuts for winter.
My latest salad was most certainly eaten because I wanted a scrumptious salad and not because I felt guilty over the chips I ate fishing this weekend. Definitely no guilt over the chocolate covered raisins that I snacked on in the boat as well… add in some chocolate covered granola bars as well… sigh.
I'm thinking that fishing needs to be more active of a sport than sitting in a boat. Wonder what the guys will say when I pack nothing but salads for snacks the next time we are out?
This beauty doesn't feel like you are eating a salad which is always my goal. I am not a salad person. Salads taste like diets, plain and simple and diets taste depressing.
The above sentence probably makes sense to only me and those of you who have ever dieted.
This salad is loaded with apples, cherries, spinach and sprinkled with shredded Sovrano cheese.
** Remember to join ZIPLIST to create your own online recipe box and then click SAVE on my recipe below to add it! I use my online recipe box ALL the time! **
Apples N' Cherries Spinach Salad
Ingredients
1/2

cup

pitted sliced cherries

3

cups

baby spinach

1/4

cup

toasted slivered almonds

1/2

cup

diced apples

1

tbsp

maple syrup

1

tbsp

balsamic vinegar

1

tbsp

olive oil

Sovrano cheese shredded; choose your amount to top the salad
Instructions
Combine the first four ingredients in a bowl; set aside.

Combine the maple syrup, vinegar and oil in a bowl and whisk with a fork.

Toss the salad with the vinaigrette, then top with shredded cheese. Enjoy!
Nutrition Facts
Apples N' Cherries Spinach Salad
Amount Per Serving (2 g)
Calories 221
Calories from Fat 117
% Daily Value*
Total Fat 13g 20%
Sodium 38mg 2%
Potassium 478mg 14%
Total Carbohydrates 22g 7%
Protein 4g 8%
* Percent Daily Values are based on a 2000 calorie diet.
This recipe is very easy to adapt. want more cherries? Add them in. Apples? Sure, why not? You can fiddle until the amounts are perfect for you.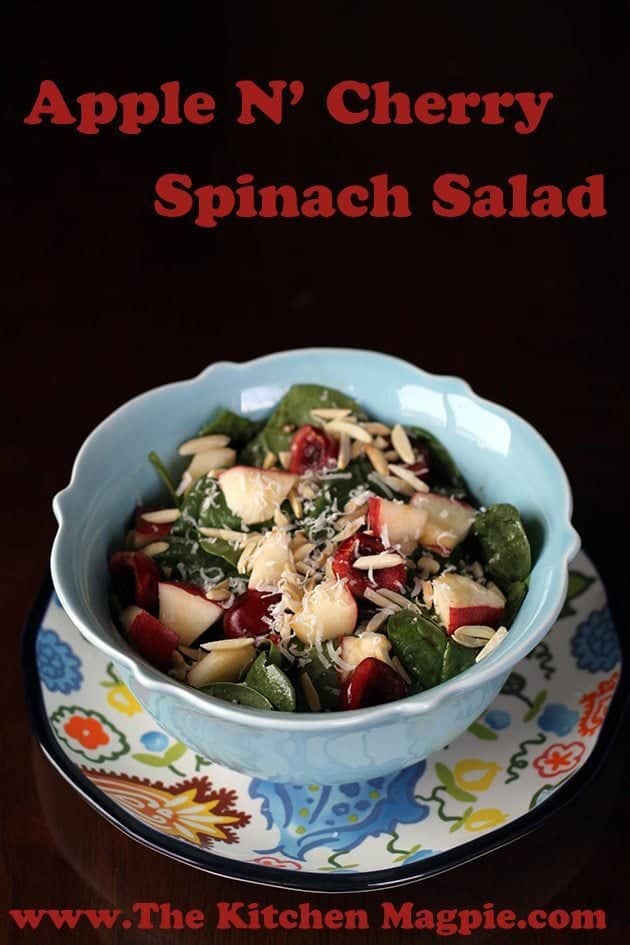 This I could eat daily.
Apparently I need to eat this daily to make up for the food that I eat while fishing to help me detox.
There might have also been some new peanut butter cookies involved the past two fishing trips… I'm not really at liberty to say. Actually, I'm just plain embarrassed that I can add peanut butter cookies to that massive list of junk food that we ate while fishing.
Anyone have any fabulous salad recipes that they would like to share?  I need ideas to pack for shore lunch for fishing trips…. I can just see the guys faces now when I pull out a container of fancy greens.
Granted, they might just leave me on shore after I pull that stunt….
Totally would be worth it.
Love,
Karlynn
0