Amaranth Vegetable Soup
The second of my recipes embracing McCormicks 2016 Flavour Forecast celebrates all things that are Ancestral Flavours. I chose to try a soup using Amaranth as a protein boost and to see how the little grains fared in a amaranth vegetable soup. According to the forecast, "Amaranth is an ancient seed from South America, rich in protein, fiber and vitamins, with an earthy, nutty flavour and crunchy texture. It can be found in natural foods stores, the organic section of the supermarket or online specialty stores." Yes, it is readily available, I found mine in the bulk section at Save On!
If you like couscous in your soup, you will be on board with having amaranth in it as well. You have to enjoy the texture in order to enjoy it in a soup!
I used some of my homemade beef bone broth to make the soup, which lends it a hearty, meaty flavour but left out any actual pieces of meat, funny enough. I wanted the amaranth and vegetables, no meat other than the flavouring in the broth. Bone broth also goes with the theme of ancestral flavours, it's something that has been made for centuries now, a truly timeless method.
Amaranth can also be used as a thickener for soups if you aren't able to use the normal flour.
The Dark Chocolate & Cranberry Amaranth Bars on the McCormick's website look intriguing; I love the flavour of toasted grains and mixed with chocolate? Sounds like a healthy treat to me!
Happy Cooking Everyone!
Love,
Karlynn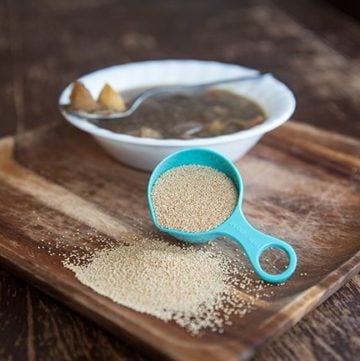 Amaranth Vegetable Soup
Delicious and healthy vegetable soup with the added protein boost of Amaranth!
Ingredients
8

cups

of your broth of choice

beef chicken or vegetable

4

cups

of halved baby potatoes

2

cups

of sliced carrots

1

medium white onion sliced

3

cloves

garlic diced

1

tbsp

. Worcestershire Sauce ONLY for beef broth!

2

Leaves

McCormick Gourmet Bay

1/2

cup

Amaranth grains

Club House Sea salt and Black Pepper freshly ground to taste
Instructions
In a

skillet

with a small amount of vegetable oil, fry the onions until translucent. Add in the garlic, fry until slightly browned. Place in a large soup pot.

Add in all the remaining ingredients excepting the Amaranth. Cook until the vegetables are almost soft, then add in the Amaranth grains. Cook for another 30-45 minutes, simmering on the stove, until the grains have softened. Remove the bay leaves if wanted, serve and enjoy!
0