This post may contain affiliate links. See my privacy policy for details.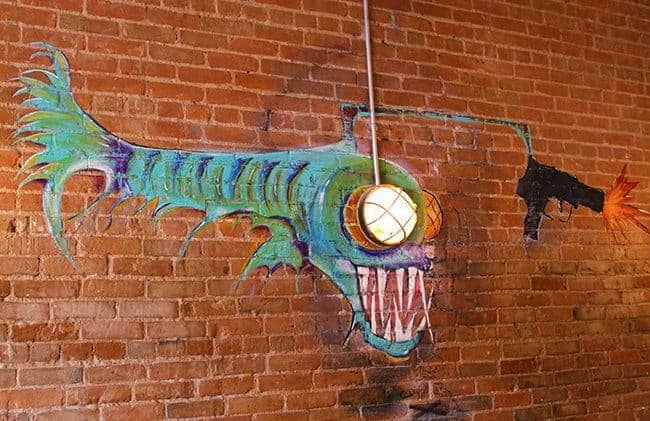 Today I popped in to see the newest establishment – opening August 15th, we hope! – that has everyone abuzz in the food community in Edmonton, El Cortez Tequila Bar & Kitchen. While they aren't cooking yet, I dropped by for a chat and to see the space, which is just off Whyte Ave, south of the Farmer's Market on Gateway Blvd.
One would assume that I am a pain in the rear ( I am) and just dropped in to visit Chef Alex Sneazwell because I'm a total snoop (I didn't) however the invite has been on my plate (actually in my Twitter inbox) to pop in and see what's he's up to for a few weeks now.
Chef Alex Sneazwell has been a staple in the Edmonton food community for a long while and has participated in my Culinary Arts Cook Off the last two years as well, winning THREE awards in two years from us at the cook off. Yes, the math seems off, but it's true.
I was already excited to see what is going to be on the menu at El Cortez, simply because Alex is a damn fine cook. Then today when I stopped in, there was a cute little blonde surprise waiting for me!
Don't let those sunshiney good looks fool you; if you mess with her kitchen, Chef Keshia Blake will cut you with her knife. This one. She also might just cut me for calling her cute. Never call a woman with knives cute.
Just kidding. However, Keshia is one damn talented chef as well, having worked with some of the most amazing culinary talent in Edmonton and I was so excited to see her join the team at El Cortez!
To sum up, I seriously cannot WAIT to see what this duo cooks up!
The moment Alex told me of El Cortez a while back, I was hooked.
Latin food.
A tequila bar.
Sold. You had me at tequila. In truth, this was a niche that hasn't been filled yet in Edmonton, not to this extent. Not even close.
I was literally gobsmacked when I walked into the restaurant.
I felt like I had walked onto a movie set, no word of a lie.
This feeling was later completely validated as I found out that Alex'a partner is award-winning video director Micheal Maxxias, who has worked with clients such as City and Color, Alexisonfire and Billy Talent.
Each step that took me further into the new restaurant had me pausing to see what art I could check out, what graffiti was on the wall. Artists have come up from the States to work on the wall art, such as the one shown in my first picture. One artist wanted to be a part of the El Cortez restaurant badly enough that he sent his art to be installed on the wall since he couldn't make it up to Canada to do so.
The entire artistic scope of El Cortez was designed and executed by local talent Karen Jones. From the gorgeous fish artwork at the beginning to the walls.. the floor… the bathrooms, all of this was her well executed vision. She's a talent that has worked on many music videos, from Billy Talent to Alexisonfire and her amazing creativity shone though on this project.
I wanted to take a million pictures of the upstairs, but you only get one peek. For more, check out El Cortez on their Facebook Page.
A winding Latin inspired stone staircase takes you down into the basement and you are transported to yet another movie set.
I am in love with the basement.
I want to sit down here and drink tequila, listen to live music and take in the atmosphere.
Downstairs will be a drinks and small snacks available area, whether it's all you are looking for or if you are waiting for a table upstairs. Brilliant. If you build it, they will come, and sit, relax, drink and not be stressed out that you can't get a table, unlike a lot of places in Edmonton.
Again, this picture.
Movie. Set.
We also took a peek at the amazing Women's washroom. Over the top, crazy gorgeous -and that's just me in the mirror. The room's not bad either.
For now, I am going to have to wait with everyone else, chomping at the bit to taste test the menu! Alex did give me a sneak peek at the menu and it looks amazing, with a decent price point as well.
You'll have to stay tuned for the 411 on the food, because you know I'll be eating there as soon as I can! Once this place is up and running, I'll be giving you guys the low down!
I think a girls night out is in order! I can't WAIT to eat here, I can't remember the last time I was so excited to try somewhere out!
Love you more than tequila, (most days)
Karlynn
**While I do get paid for some posts, this isn't one of them. I wrote it because I'm snoopy and you all are snoops too 😉 **