This post may contain affiliate links. See my privacy policy for details.
When I first learned that we were going to Paris, Mike had to try to convince me. I know that now everyone is shaking their heads at me but honest to God I hate flying almost more than anything else on this planet!
The man knew how to get me on a plane. He brought the big guns out.
Disneyland Paris.
While that wasn't my main reason for getting on the dreaded airplane and flying over the ocean – a whole different fear set in itself, let me tell you- it did add to the list of reasons why "You Are A Dummy If You Don't Go To Paris."
We hit up Disneyland Paris on horrible jetlag with a side of lack o'sleep, but that didn't stop me from making the most of it!
The plaza outside is very similar to Downtown Disney in Anaheim. Restaurants and stores abound and of course my favorite was there, The World of Disney store!
I was so excited to go! Everything is the same, but different. You still have that Disney touch, but the scenery has changed. The entryway is gorgeous! This is the Disneyland Hotel! How much fun would it be to stay right at the gate??!!
You enter under the train station, ala Diseneyland Anaheim.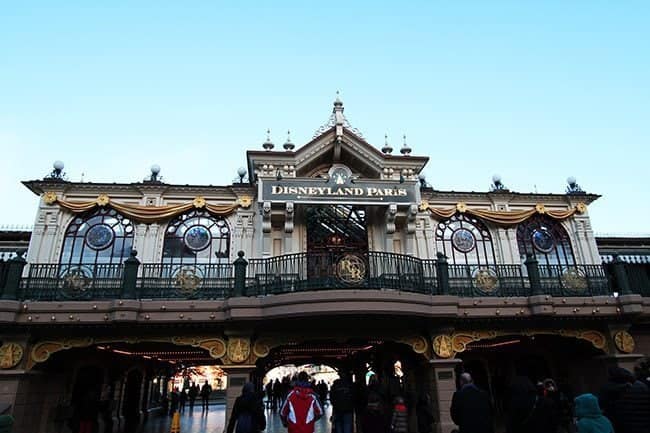 Once through, you reach a plaza that once again will be very familiar to Anaheim lovers, but with fewer stores and fewer attractions such as the walk through art galleries, old-time movie theater etc that are in Anaheim. Those are not in place like the ones in Anaheim.
I didn't get a shot of Main Street ( guess I will have to go back now!) but it's very similar to Anaheim.
I must admit, I am rather fond of Sleeping Beauty's castle in Disneyland Paris. It's gorgeous! I had to get my picture in front of it. From this distance you don't get to see the jet lag bags under my eyes.
From here you go into Fantasyland, which is very similar again to Anaheim. More on that later!
The very first ride we went on was the Phantom Manor, one of the rides I was the most excited to check out! I love the Anaheim Disneyland one so I couldn't wait to check it out.
Once thing you sure notice is that because Disneyland Paris is in a colder climate, the shrubbery and trees are not as lush as California. You can barely see the Haunted Mansion in Anaheim, yet can see the Phantom Manor as plain as day!
While the ride can't compare to the Anaheim one, it still was really fun! The end of the Manor has a Western theme and is more skeleton based than the Mansion.
Across from the Phantom Manor is Big Thunder Mountain, also in Frontierland. Sadly, we didn't get to try this out but it looked like it would be as fun as Anaheim!
Hey, we have to save something to do with the kids when we take them in 2015!
After Frontier land it was time to check out Adventureland and it is hugely different from Anaheim! It's very Aladdin/Arabian Nights themed as you can see below. There is a cute Aladdin diorama walk through area on the other side.
The one thing we noticed about Disneyland Paris is how lush it is with trees. There is a river as well that goes through it in Frontierland and Adventureland.
I love how the treehouse is still the Swiss Family Robinson one! We JUST watched this golden oldie with the kids and they loved it! Now when we take them here they will understand the concept more. Anaheim is now Tarzan's treehouse, which is ok, but I have a soft spot for The Swiss Family Robinson! How many times was that movie on Disney on Sunday nights when we were kids? At least a dozen and I swear I watched it every time!
You can't have Disneyland without Pirates of the Caribbean! It is almost exactly the same as Anaheim but not updated at all. Oy, the age shows on this ride. They need to overhaul it big time, get Jack Sparrow in there and fix things up! Still, it was a good time!
So that's what I have from Adventureland and Frontierland. Stay tuned for Fantasyland and Tomorrowland when I write up Part 2!
Any questions about what I've said or covered? Any questions about the park that I might be able to answer? Remember to go and read my 10 Things That Might Surprise You About Disneyland Paris, it helps fill in the blanks a lot!
Love you more than Disney,
Karlynn