This 15 Minute Chicken Mushroom Udon Noodle Soup is one of my favourite delicious cheat recipes! It's in no way authentic Japanese udon soup, it's basically a fast chicken soup that uses udon noodles for a hearty soup meal!
*This post has been updated from 2015, when we were staying in Phoenix! Ah, I so wish that I was back in the desert!
An Easy Udon Noodle Soup Recipe
I was craving homemade ramen. Ok fine, this isn't homemade ramen (but that is coming darn soon as well) this is Udon noodle soup. I had shopped hungry the past week and grabbed all sorts of fresh noodles, in the hopes that I would be able to make some soup that the kids would eat. We've had company from Calgary this past week and the girls joining us are just like my little Rose, meaning they are.. oh, how shall I say it… let's go with "selective eaters. "
I enlisted my three "selective eaters" to help make the soup. Contrary to all the parenting advice out there, having children prep the meal will NOT have them wanting to eat it every single time. It doesn't work, I'm sorry. Having two children who both were "selective eaters" and being the cook that I am, trust me, it doesn't work all the time. That said, it IS very important to have your children learning to prepare food, even if they aren't going to eat it.
That's what I figured was going to happen here. I had three girls to entertain, so I gave them knives and had them chop chicken and green onions.
Yes. Come visit me and I'll give your children knives. Butter knives, for the littles, but my Rose uses real knives at this point to chop.
It was prepped, cooked and ready.
And everyone ate it.
With smiles.
With quizzical looks as to what these crazy new noodles were.
One kid loved the noodles only.
One liked the noodles and chicken.
One kid loved the noodles, chicken and gave me a thumbs up on the shiitake mushrooms.
The fourth kid ate the whole thing.
What I'm trying to get at, was this soup was a HIT! You guys, four kids ate this soup and everyone loved it. This is the perfect meal for a family, because it's very customizable. Rare is the child who doesn't like delicious noodles in a chicken broth. You might even get some chicken into them as well!
Make sure you try this out! Buy a rotisserie chicken and make use of the chicken for this recipe, it makes it so much easier! You can pre-cook chicken breast beforehand as well, to make it an easy meal for the end of a busy workday.
Happy cooking everyone! I couldn't wait to get this written up for you guys!
P.S. Use soba noodles and gluten-free stock for an amazing gluten-free version!
Love,
Karlynn

PIN this recipe to your SOUPS board and remember to FOLLOW ME ON PINTEREST!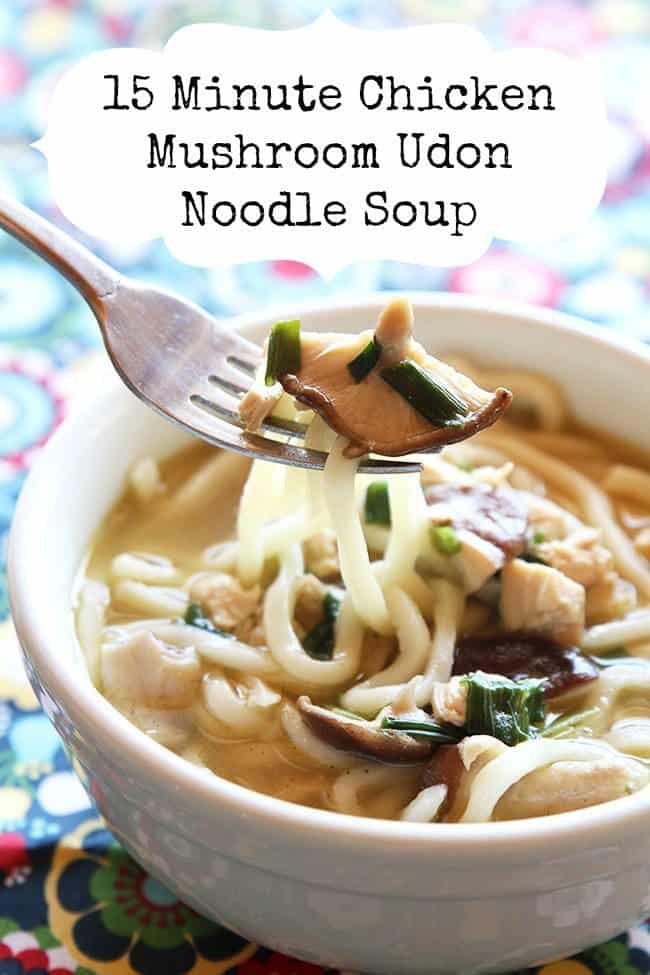 15 Minute Chicken Mushroom Udon Noodle Soup
Quick, easy and delicious homemade chicken mushroom Udon noodle soup! This is now a new family favorite!
Course: Soup
Cuisine: American
Keyword: udon noodle soup, udon soup
Calories: 957 kcal
Ingredients
1 tbsp sesame oil
1 tbsp fresh ginger minced
2 cloves fresh garlic minced
8 cups chicken stock
1 tsp low-sodium soy sauce
1 cup fresh shiitake mushrooms
2 in pre-cooked roasted chicken breasts sliced large long slices
3 packs fresh Udon noodles
1 cup green onions diced
Instructions
Heat the sesame oil in a large pot over medium heat;add the garlic and ginger, and cook for a few minutes until softened. Add the soy sauce and stir to combine.

Add the chicken stock, mushrooms and chicken. Bring to a boil and simmer for 5 minutes.

Add the Udon noodles and cook for 3-4 minutes (or according to package directions).

Stir in the green onions.

Serve and enjoy!
Recipe Notes
With the stock, a stronger flavor is better. Weak stock makes for a weak tasting soup. DO NOT add salt until you taste it at the end, then season if you want. The chicken stock is usually salty enough! DO try and use fresh Udon noodles, it makes all the difference!
Nutrition Facts
15 Minute Chicken Mushroom Udon Noodle Soup
Amount Per Serving (6 g)
Calories 957 Calories from Fat 342
% Daily Value*
Total Fat 38g 58%
Saturated Fat 8g 40%
Cholesterol 60mg 20%
Sodium 3002mg 125%
Potassium 2979mg 85%
Total Carbohydrates 96g 32%
Dietary Fiber 8g 32%
Sugars 38g
Protein 57g 114%
Vitamin A 21.1%
Vitamin C 29.7%
Calcium 14.1%
Iron 35.8%
* Percent Daily Values are based on a 2000 calorie diet.
181