This post may contain affiliate links. See my privacy policy for details.
When I think about Disneyland, I don't usually think of the weird things that I have learned over the years. When I started to think about all the little details and tidbits I have learned over our many visits, it soon became the fodder for a new Disneyland post!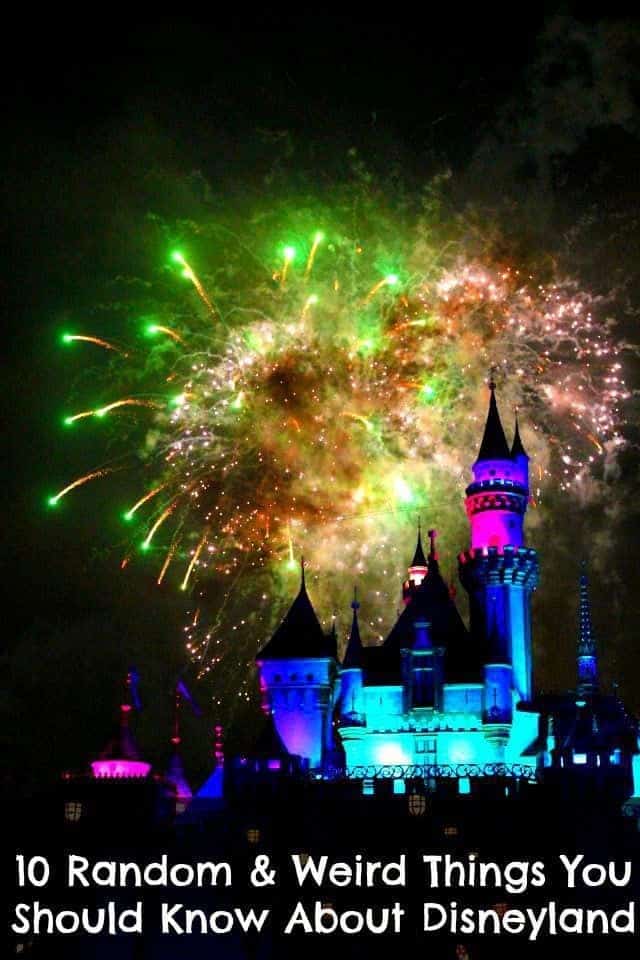 The inspiration came from the fact that I was just reading a What To Bring To Disneyland write up and the mention of a stroller lock sent the gears of my mind churning.
Stroller lock? Why would that single thing set this post in motion?
Well my friends, let's start with against the grain fact number one.
1) If you lock your stroller to an object, Disneyland staff are seriously going to cut the lock and move it any way.
I'm totally not kidding here folks. Don't listen to the Disney Item lists that tell you to bring a stroller lock for your stroller. We tried that once and were promptly told by two employees that due to regulations stroller locks will be cut off. They have to be able to move your stroller for emergency purposes. Once I heard their explanation, I completely understood why.
2) City Hall At Disneyland Deals With Complaints AND Compliments.
You would think you wouldn't have to complain in Disney, but it happens. If you go there enough, you're bound to run into something that goes wrong. Bad service in a restaurant, rude employees (this sadly has escalated the past few years we've noticed. Not always so happy shiny Disney) you name it, City Hall will help you out. Sometimes there is a Choose Anything Family Fast Pass in it for you, to make up for the unhappy experience. On a more positive note? They take compliments as well! So the next time a Disney Cast Member makes your day, consider dropping into City Hall and making THEIR day in return!
3) People are going to try to sell you their viewing spots.
Seriously. We were approached for the Fantasmic viewing by a guy who had a front row spot that he wanted to sell. (to get a spot you simply come early and wait for a long time. ) We of course, walked on and told the nearest Disney employees. If there is a way to scam families in Disneyland, someone WILL try it folks. Crazy.
4) The best time to shop and get your souvenirs is after the park closes.
The shops on Main street are open for an hour after closing time, but warning! This does not include the restaurants. We tried to get an ice cream on the way out at the Gibson Girl Ice Cream Parlour and no dice. They were closing down before the hour was up. The stores are busier, but if you do this you know you aren't wasting any precious ride time, as they are all closed.
5) Don't bother lining up for the Cars Fast Pass, it's a waste of time.
By the time you have received your Fast Pass (that's AFTER lining up before the park even opens!) you could have just stood in the actual Cars line up and went on the ride. This tip was straight from a Disney employee the first time we went to Carsland and he was right. We went on Toy Story Mania first to let the rush of people pass by and then lined up for the hour wait for Cars. The math doesn't make sense, a possible two hours in line for Fast Passes since you have to line up before the park opens (which aren't that fast, by the way, we have tried them and the line is still a 20 minute wait) or just wait an hour in the normal line up. It's all about not wasting your Disney time.
6) Do NOT go to other popular non-fast pass rides first.
We've all heard it, everyone RUN to Peter Pan, as soon as it opens! Well, I hate to be the bearer of bad news, but everyone else on the internet has also heard that by now. Don't waste your time. That advice is completely outdated. Try those rides later on and hit the less popular ones first thing in the morning. Plan when you have the patience to wait for Peter Pan's Flight but don't make the mistake of wasting precious morning time waiting for an hour, it's never worked out for us.
7) You cannot buy gum anywhere in Disneyland.
I'm sure we can guess why!
8) The World of Color show in California Adventure is not worth it if you have anyone shorter than 5 feet.
Wow. The viewing for this is terribly set up. We are all tall adults, I'm 5 '10 and I'm the shortest. We got our Fast Passes for the viewing spot and it was terrible. The kids saw literally nothing. I saw the top half of some cartoons in the water. I've never been so disappointed by a Disney show. Skip it entirely and watch the fireworks or Fantasmic over in Disneyland.
1) There are kitty cats that roam the park.
I'm quite serious. The internet abounds with pictures of the Disney cats and while I have yet to see one myself, there's no arguing all the pictures that are out there. My daughter is fascinated with this of course, and tried to catch a glimpse of a kitty whenever we go. Rumor has it that Disney decided it's better to have cats roaming than rats and mice.
I agree. Shudder.
10) Human remains have been dumped on the Haunted Mansion Ride
Besides the fact that people actually ask every year if they can scatter their loved ones remains on the ride (and Disney says no of course) it has been documented at least once that ashes were in fact dumped on the ride. People also scatter ashes in the rest of the park as well.
So there you go! Some personal tidbits, some random weird facts and advice. Do you have any weird tidbits? Has anyone ever tried to sell you their viewing spot? (This is the weirdest one yet for us!)
Thanks for popping in and let me know if you have anything to add to this list!
Love,
Karlynn