This post may contain affiliate links. See my privacy policy for details.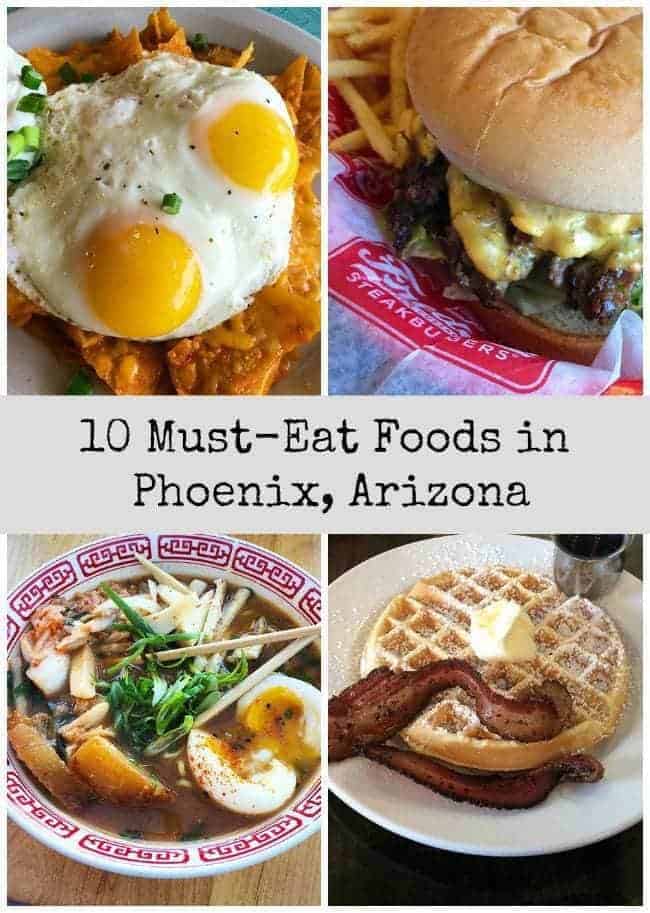 This post is in partnership with Expedia Canada & Food Bloggers of Canada
When the opportunity came up to write about some US South of the Border Eats, can you all guess how fast I jumped on board? After spending three months in Phoenix alone, I had a camera and IPhone full of delicious delights that Mike and I had eaten in California and Arizona. If there is one topic that I can write about, it's food that I've eaten in the States while travelling!
I ultimately chose to write about Phoenix as my long stay there had me solidly digging into the food scene. While Phoenix is known for its amazing desert views and hiking activities, such as the famous Camelback Mountain, there's not much written about the food there.
Speaking of hiking, I'm going to start my list with some Scottsdale area food that you can eat to fuel up after – or before- a hike in those gorgeous Camelback Mountains which are located near Scottsdale, Arizona.
1) The PBJ & Bacon Burger at Rehab Burger Therapy – 7210 E 2nd St, Scottsdale, AZ 85251
It took all my nerve to try this burger but I was rewarded with the tastiest burger I've ever eaten. The sweet jam, salty bacon, rich peanut butter and hot sriracha sauce combine to make each mouthful of this burger a culinary experience. Make sure to order it done medium so that you have a juicy burger patty.
Second place mention: The Mac n' cheese there is extraordinary.
This restaurant is right in the middle of Old Town Scottsdale, the most popular place to explore in Scottsdale so make sure that you check out the rest of the area for some shopping. There's everything from pottery to art galleries, so make sure you have a couple of hours to enjoy!
2) Freddy's Frozen Custard & Steakburgers – Multiple locations
While this may be a fast food chain, these burgers are something you need to try. The steak burgers are lightly compressed meat that melts apart perfectly when you bite into them, making them the best fast food burger I've had. If you need a quick and delicious bite to eat on the go while out exploring Phoenix, this burger is it.
3) The Deep Dish Pizza At Oregano's Pizza – Multiple Locations
If it doesn't take 45-50 minutes to cook, it's not deep dish pizza, and that's the truth. To make a proper, butter crust deep dish, you need to cook it lower and slower, this resulting in the gorgeous pizza you see below. Considering how far Phoenix is from Chicago, the Oregano's restaurants local to the Phoenix area have nailed deep dish in the desert. There is almost always a line up to wait but they allow you to pre-order your deep dish while you are waiting for your table, a brilliant move on their part.
4) Ice Cream at Tortilla Flat
Take a day and drive the Apache Trail Scenic Drive into the Superstition Mountains. Enjoy the history behind the Lost Dutchman's Gold Mine on the way to visiting Tortilla Flat where you can stop and treat yourself to some ice cream at the The Tortilla Flat General Store and Ice Cream Shop. It's hard to top eating ice cream while smack dab in the middle of the fabled Superstition mountains for a culinary experience. Their prickly pear ice cream is famous, if you're bold enough to try it!
5) The Ice Cream Cookie Sandwich at Churn – 5223 N Central Ave, Phoenix, AZ 85012
Speaking of ice cream, if you're in the downtown area of Phoenix – or even if you aren't, plan a trip there- and stop by Churn. You choose the cookies – I love trying two different ones – and your flavor of ice cream to create the ultimate ice cream cookie sandwich.
7) Build Your Own Bowl of Ramen at the Clever Koi – 4236 N Central Ave, Phoenix, AZ 85012
Available only at lunch – so check the hours before you go – the brilliant Build Your Own Bowl concept is something ramen lovers simply have to try. It's also the perfect way to introduce a newbie ramen eater to the food, you can pick a plain bowl or load it up with a ton of different ingredients. Head on in to downtown Phoenix and try this out then enjoy the surrounding shops and more.
I highly suggest the pork belly and egg as pictured in the bottom part of the bowl below as they are simply spectacular.
8) Tv Dinners At the Angel's Trumpet Ale House – 810 N 2nd St, Phoenix, AZ 85004
This culinary delight is held every Tuesday and has become an extremely popular event. Yes, it's served exactly like the retro TV Dinners but the food is a hundred times better. Head to their blog to check out the menu for every Tuesday.
The normal menu is also available on Tuesdays and worthy of mention is their "Mess" dish which is actually poutine. This Canadian girl has not had better poutine anywhere else in the States and sadly it also beats most Canadian poutine that I've eaten.
9) The Waffle with Peppered Bacon at Matt's Big Breakfast – 825 N 1st St, Phoenix, AZ 85004,
When it was featured on the Food Network's popular show Diner's, Drive In's and Dive's, they were only showcasing what the locals have known for years. There is some good darn breakfast to be found at Matt's. The one dish that I would go back for time and time again would be the light as air waffle and peppered bacon. The waffle almost melts in your mouth it's so fluffy and the peppered bacon is addicting.
10) The Chilaquiles at Over Easy – 4730 E. Indian School Road, Phoenix, AZ 85018
If I had to name my favorite dish in all of Phoenix, this would take the trophy. Over Easy is another Diners, Drive In's and Dives alumni and it certainly earned it's fame. The chilaquiles are a classic Mexican dish done very well at Over Easy and I've yet to meet their taste match. In all honesty, everything on the menu at Over Easy is a hit.
And there we have it folks! Now, that took a long of time and investigative eating on my part over the span of three months, so I hope it helps you find somewhere amazing to eat while you are in Phoenix!
Love you more than chilaquiles,
Karlynn